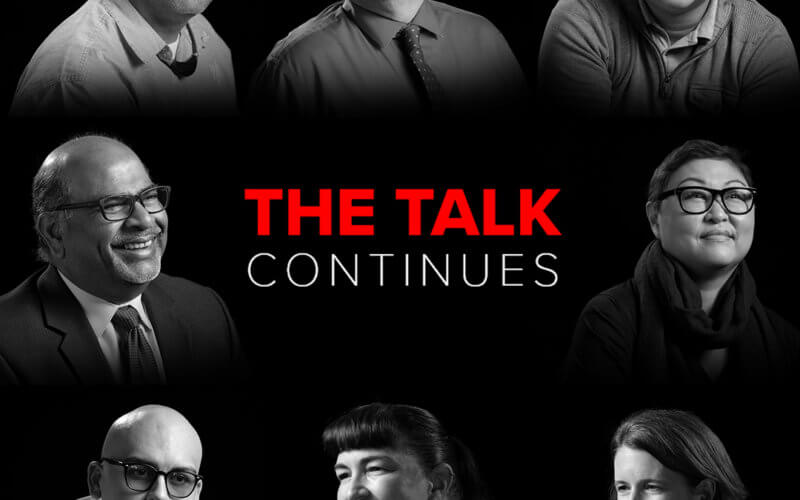 Cal State Fullerton's video series "The Talk: A Journey Toward Anti-Racism" won several awards in the annual Council for the Advancement and Support of Education Circle of Excellence awards, including a grand gold, the highest recognition in the global higher education communications program.
"The Talk" won grand gold in the marketing category for best micro-websites, silver for communications initiatives, and silver in the storytelling category.
Winners are selected based on several factors, including overall quality, innovation, use of resources, and the impact on the institution or its external and internal communities, such as alumni, parents, students, and faculty and staff.
The diversity campaign, which featured 14 Titans telling their stories, stemmed from the idea of "The Talk," the conversation about race and anti-Blackness that, unfortunately, people in the Black community are compelled to have with their loved ones from an early age.
The series, a collaboration between CSUF's Strategic Communications and Brand Management and the Office of Diversity, Inclusion, and Equity Programs was born out of the racial and social tension that bubbled to the surface across the nation after the murder of George Floyd in May 2020.
"'The Talk' is one of the many catalysts to the university's racial justice conversations and reinforces our commitment to scholarly inquiry and rigorous discussion," Ellen Treanor, associate vice president of strategic communications and brand management, said. "I thank the participants who shared stories and the production team for the inspiring work."
In 2022, CASE received more than 4,500 entries from 636 institutions in nearly 30 countries. Of those, volunteer judges selected 626 exemplary entries for bronze, silver, gold, or Grand Gold recognition.
In the spring, the university released the second edition called "The Talk Continues," which features eight Titans as they look at their journeys toward anti-racism through their own identities.
"Multiple judges remarked that this campaign had them watching more than was necessary for judging and reflecting on the stories, so much so that we were quoting some of the anecdotes that clearly hit home," CASE judges comments about the series. "The simplicity of this campaign was commented on as a perfect way to approach such a critical issue to our school communities and beyond. Fabulous work."
Earlier this year, the video series won gold in the Collegiate Advertising Awards, a national program recognizing higher education organizations for excellence in their schools' communications, marketing, advertising, and promotions. The digital edition of Titan magazine also won a silver in the contest.