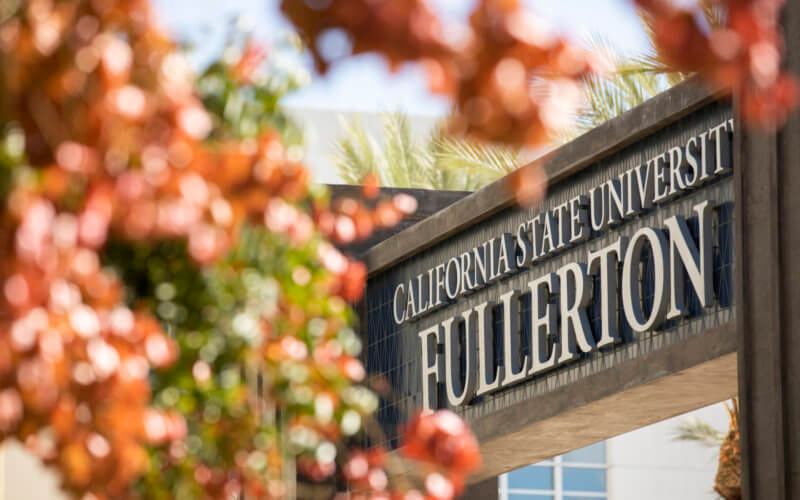 When California Gov. Gavin Newsom and the state legislature unveiled their budget for 2022-23, Cal State Fullerton received $158.4 million in the fiscal year 2022-23 state budget. The funding will benefit the following projects:
$67.5 million for the ECS Innovation Hub
Funds will be applied toward construction of the university's Engineering and Computer Science Innovation Hub allowing for the expansion of the Engineering and Computer Science campus infrastructure to support the growing need for a highly skilled, STEM-trained workforce for all industries.
$88.9 million for affordable student housing
Funding will be applied to construction costs to provide affordable housing for students.
$2 million for the Center for Healthy Neighborhoods
The Center for Healthy Neighborhoods' mission is to alleviate education and health disparities, revitalize neighborhoods, and reduce the cycle of poverty through community partnerships. This funding will be used to improve the center's sustainability and to expand outreach to more vulnerable communities over the next few years.
In addition to the programs listed earlier, Cal State Fullerton will receive funding as part of allocations made to the CSU:
The CSU will receive $5 million in funding for the CSU Asian Bilingual Teacher Education Program Consortium. CSUF will be the lead campus working with 10 CSU campuses to prepare bilingual teachers in Asian languages such as Vietnamese, Korean, Mandarin, Cantonese, Japanese and Hmong. The goal is to increase the number of credentialed teachers with Asian bilingual authorization.
The CSU will also receive $11.3 million in funding for Project Rebound, with CSUF taking the lead for the consortium. Project Rebound is a program that supports the higher education and successful reintegration of ​formerly incarcerated individuals wishing to enroll and succeed at the California State University​.
This year's budget augmentation will be used to advance equitable access, strengthen wraparound and co-curricular supports, and increase professional development opportunities for students with experiences of incarceration," said Brady Heiner, associate professor of philosophy, executive director of Project Rebound at CSUF and chair of the CSU Project Rebound Consortium. "It will also enable the Consortium to build postsecondary educational pathways and communities of care and mentorship for juvenile justice system-involved youth, and to create holistic, healing, life-affirming housing communities and basic needs and wellness supports for formerly incarcerated university students. Augmented state support will also enable the consortium to launch new programs at several CSU campuses, extending the transformative power of higher education to formerly incarcerated students in additional regions in the state.
"We are thrilled to receive this funding, which will not only allow Cal State Fullerton to better serve our students but it will also help to provide service-learning opportunities while preparing them for the future workforce," said President Fram Virjee. "As the only CSU in Orange County, we appreciate the dedicated efforts of so many — our faculty, staff and students, our elected officials, donors, and community members who advocated on our behalf and enabled us to expand and enhance these student-centered programs to meet the critical needs of our communities today and tomorrow. And while we are extremely grateful, we have more work to do. The state budget allocation is not sufficient to meet all the campus' most essential fiscal needs moving forward. We will continue to do more with fewer resources while asking the legislature to fully fund the CSU."
In addition to the governor, Speaker Anthony Rendon, President Pro Tempore Toni Atkins and other elected officials were instrumental in helping the university receive this funding. Advocates for the ECS Innovation Hub included California Sen. Josh Newman and members of the OC delegation as well as Lt. Gov. Eleni Kounalakis. California Assembly Member Sharon Quirk-Silva took an active role in advocating for funding for the Center for Healthy Neighborhoods, and California Sen. Tom Umberg championed funding for the CSU Asian Bilingual Teacher Education Program Consortium. Increased funding for Project Rebound was led by assembly members Jose Medina, Kevin McCarty and Cristina Garcia.