To better understand the impacts of drought and wildfire activity in an urban landscape, Cal State Fullerton geology researchers are developing the first-ever study to reconstruct the fire history for Chino Hills State Park.
With California experiencing prolonged dry conditions for the third consecutive year, the parched, hot and windy weather, combined with dried out and flammable vegetation, increases the probability of large-scale wildfires, said paleoclimatologist Matthew E. Kirby.
The Chino Hills park — set in an urban environment where people live next to open, dry and flammable undeveloped areas — has experienced two major fires in recent times: the Blue Ridge Fire in 2020 and the Freeway Complex Fire in 2008. The park and surrounding area has over 100 years of fire history.
"This research is important because the park borders urban development — and wildfires are becoming more and more intense and frequent, in part, due to drought and climate change," said Kirby, professor of geological sciences.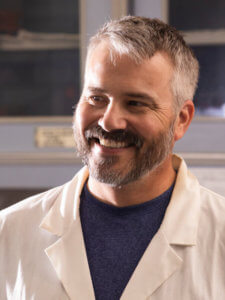 "The area faces an unknown future as climate changes and droughts continue. Our study will create a baseline understanding. For us to understand wildfires, the key is to understand their past, which will help us understand what may happen in the future."
Kirby and his student researchers will piece together the climate and fire history (over the past 1,000 years) of the state park and region, using lake sediments from a natural lake within the park. Despite the wildfire risk, Kirby noted that there are no pre-20th century records of fire activity or climate changes from the park.
With California currently under severe drought conditions, and as droughts and climate change become more severe, the threat of wildfires increases, resulting in the loss of homes and human life, Kirby noted.
Due to extreme heat and lack of snow, the state is currently in its second extreme drought in 10 years, a symptom of a warming climate. Currently, nearly 60% of the state is in at least extreme drought, according to the U.S. Drought Monitor.
Kirby's published research has shown that today's megadrought is not the worst the state has seen.
"Ongoing drought conditions may be the worst in 1,000 years, but lake records go back much further than tree rings. My studies show evidence of much more severe and prolonged droughts in California over the past 11,700 years," Kirby said.
Telling a Sediment Story
For the past 20 years since he joined CSUF, Kirby's research has focused on the climate stories revealed by lake sediments, in which each layer of mud tells a history of the surrounding region. He has studied pre-20th century history of California droughts, floods and fire, and has mentored more than 60 undergraduates and graduate students in fieldwork and in the lab.
"Lakes provide the much-needed, longer perspective on California's drought," he relayed.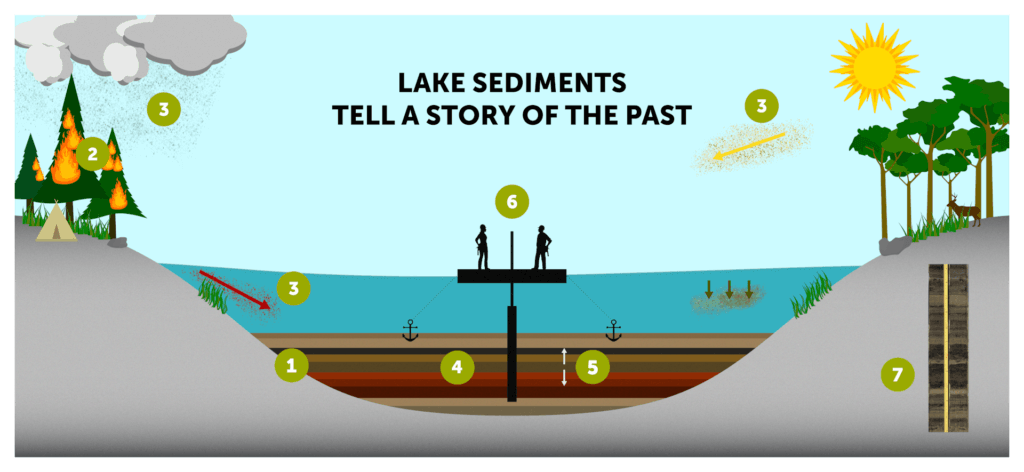 History recorded in lake mud includes past fires, past climate (drought), ecological changes (variations in vegetation) and human impacts (runoff pollution).
Indicators are preserved in geological archives such as lake sediments, or mud.
Charcoal, created by wildfire activity, is a common indicator.
Rain, runoff and wind carry charcoal into the lake.
Layers of sediment accumulate on lake bottom.
Sediment contains thousands of years of lake history.
Scientists extract and preserve sediment using cores.
Cores, or tubes of mud, are analyzed in the lab to reconstruct the history of the lake and its surroundings.
Growing up in Orange County, geology student Ashley Hansen has witnessed multiyear drought conditions that fuel the region's wildfires.
"I have been affected by the smoke and poor air quality," said Hansen, who grew up in Huntington Beach. "Wildfires are a consistent threat to both humans and wildlife in Southern California."
Hansen is conducting the study for her senior thesis project under Kirby's mentorship. In addition to Hansen, geology majors William Bourbois and Raquel Carmona also are student researchers on the Chino Hills project. The research project is partially funded by the university's Summer Undergraduate Research Academy (SUReA).
Last fall, Kirby, Joe Carlin, associate professor of geological sciences, and their students hauled 300 pounds of equipment to the secluded natural lake within the state park, and retrieved four mud cores, each containing sediment samples.
This summer, the researchers are working in the lab to analyze the sediment cores and recreate a history of the lake and its surroundings. History recorded in lake mud includes past fires; past climate, such as drought and precipitation; ecological changes, such as variations in vegetation; and human impacts like runoff pollution.
Hansen is learning how to extract sediment from a lake core and isolate the charcoal found in the mud to gain insights to past fire frequency and magnitude. The other students are working on the same sediment core to analyze indicators of the park's climate history.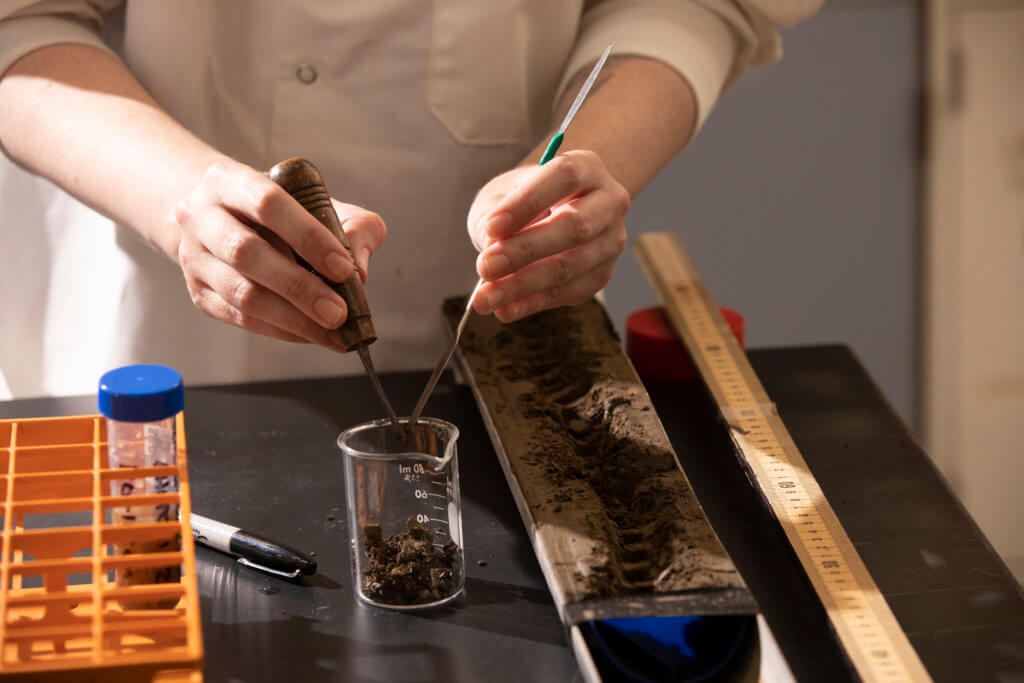 "By early August, we hope to have our first glimpse of what story we can tell by reconstructing the fire history from the sediment cores," said Kirby, who plans to publish research results in a peer-reviewed journal. His students also will present their research projects at science conferences this academic year.
Empowering Future Scientists
Hansen enrolled in community college in her late 20s and studied psychology. She transferred to CSUF in spring 2020 and switched majors to geology after becoming fascinated with past climate activity and paleontology while visiting the La Brea Tar Pits in Los Angeles.
She plans to graduate next August and pursue a career educating others about natural history and preparing for natural hazards like wildfires. She aspires to a career working at a natural history museum.
As an undergraduate researcher, she is learning proper lab techniques and procedures to use in her future career, and how to prepare a scientific presentation.
"I've had great experiences with my professors and peers. I still have a lot to learn, but this research experience is empowering me by helping me to realize my value and my strengths — and what it takes to become a well-rounded scientist."