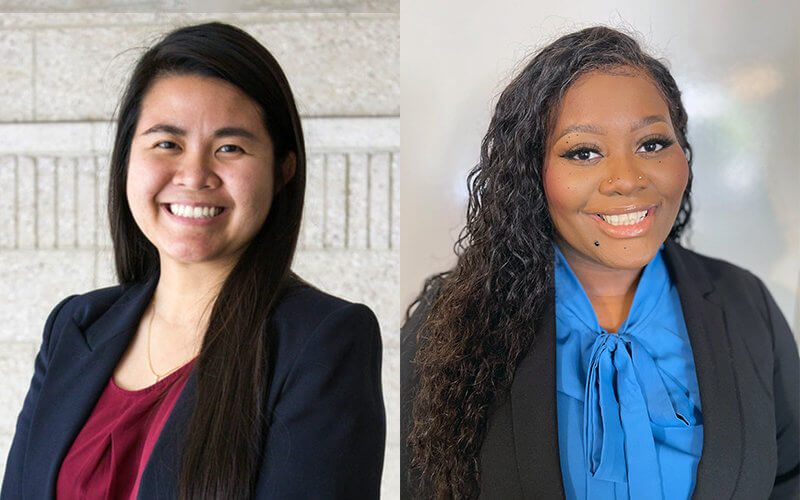 Inspired by their drive to help people, Ashley Le-Pham will continue pursuing family medicine this fall while Keytiana Hempstead plans to explore an interest in ophthalmology, the study of eye disorders.
Hempstead and Le-Pham are the recipients of the 2022 Miles D. McCarthy Health Professions Scholarship. The award recognizes health professions students who have demonstrated excellent academic achievement, dedication to serving their community and have earned acceptance into a health professional school.
Le-Pham, who graduated from CSUF in 2016 with a bachelor's degree in biochemistry and a minor in music, has already taken her next steps toward becoming a physician at Virginia Commonwealth University. But while a medical degree is her current goal, her future plans go beyond patient care.
"I am incredibly excited to be able to create and build relationships with my patients and to be able to grow with them. I can see myself going back to my advocacy roots, and so my dream career would also involve health policy," said Le-Pham.
She said that CSUF opened doors to countless opportunities, including a job as a biologist at the National Science Foundation and a research presentation in the nation's capital.
"It's been a dream, and I know that CSUF played a big part in getting me where I am today," shared Le-Pham. "I felt incredibly supported in all aspects, from my peers, professors and the administration."
At CSUF, Le-Pham worked in a research lab studying bioengineering. Her research, "Starch Bioengineering — An Attempt to Combat Global Food Insecurity," was recognized at the 2017 "Posters on the Hill" event in Washington, D.C., where she presented her work to an audience of legislative leaders, federal agency program officers and press officials.
Outside of the lab, Le-Pham embraced campus leadership as an Associated Students Inc. representative for the College of Natural Sciences and Mathematics. She was also part of the D.C. Scholars program, which afforded her the opportunity to intern in D.C. with the U.S. Department of Agriculture.
For Hempstead, a 2016 UCLA graduate with a bachelor's degree in political science, the prospect of becoming an attorney felt like it was missing something.
"Toward the end of my undergraduate career, I decided I wanted a career where I felt more connected to people and could directly make a positive impact on them," said Hempstead.
Hempstead said that she experienced a tremendous amount of uncertainty after making the choice to change careers, but CSUF's Health Professions Advising Office supported her every step of the way. Not only did she complete the program, but she got accepted to 13 schools before committing to UCLA's David Geffen School of Medicine.
"I started this process with a lot of self-doubt and wondering if I would even make it through the post-baccalaureate program," shared Hempstead. "Getting through helped me realize that I have achieved a lot as a first-generation, Black, nontraditional student, whose parents barely graduated high school and whose father is serving a long-term prison sentence."
While at CSUF, Hempstead participated in student research alongside Parvin Shahrestani, assistant professor of biological science. In Shahrestani's lab, Hempstead studied how fruit flies' immune systems change over time.
"During her time in my evolutionary genetics research lab, I witnessed Keytiana's passion for science and also her passion for making positive changes in STEM and health care," said Shahrestani. "Keytiana is exactly the kind of compassionate, self-aware and dedicated leader that our world needs."
Hempstead was part of the Latino Medical Student Association on campus and represented them on the College of Natural Sciences and Mathematics' Inter-Club Council. She also co-founded a nonprofit organization called Community Care Alliance that focuses on health, hygiene and harm reduction for people experiencing homelessness.