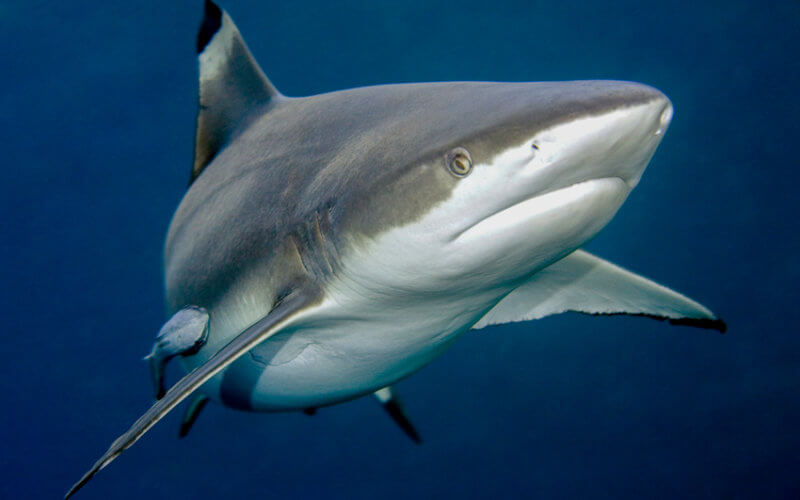 Cal State Fullerton biology graduate student Jahnita DeMoranville is getting up-close and personal with all things sharks — tiger sharks, bull sharks, great hammerhead sharks and blacknose sharks — during a summer shark science program.
"Tiger sharks are beautiful and great hunters, and they have such cool eyes," she said of an 8-foot tiger shark she encountered and tagged off Florida's Gulf Coast.
"I feel fortunate to be able to see sharks and work with them in their natural habitat. Sharks mesmerize me because they are feared by most people — and for some reason, that almost makes me want to work with them more."
As Discovery and Discovery+ presents this summer's Shark Week, beginning Sunday, July 24, DeMoranville is immersing herself into learning about the mysterious world of these magnificent creatures of the sea.
DeMoranville was selected as a participant in the Eugenie Clark Field Research Skills and Leadership Program, offered in partnership with New College of Florida, Havenworth Coastal Conservation, Chicago Zoological Society's Sarasota Dolphin Research Program and Minorities in Shark Science. Clark was a marine science legend and known as the "Shark Lady."
Diving Into Shark Science
The nine-week, paid shark science program is based in Sarasota, Florida. The field-based experience on a research vessel gives early career scientists like DeMoranville the opportunity to gain a wide range of skills to help them in their scientific endeavors.
"Through this fellowship program, I learned about shark behaviors, and I have strengthened my field techniques," said DeMoranville, who plans to graduate in 2024, earn a doctorate and pursue a career as an academic researcher in marine science. "I've also made meaningful connections with the mentors of the program and with the other fellows."
DeMoranville is getting hands-on training in different methods for catching sharks, such as longlining (long main line with baited hooks), gillnetting (a wall of netting that hangs in the water column) and drum lining (an anchored, baited hook line that sits on the seafloor).
"All summer, I have also been handling tagging and collecting measurements and samples from the animals, including taking biopsies, microbiome swabs, fin clips and blood samples," she relayed.
This research is important for understanding the movement of sharks and manta rays for conservation measures.
"Outreach is important in order to protect sharks and rays," she noted. "When people know more about these marine animals, they appreciate them more, and hopefully, fear them less."
Diversity in Marine Science
DeMoranville, who earned a bachelor's degree in marine science from the University of Maine, is active in organizations such as Black in Marine Science, Save The Bay and Minorities in Shark Science, which promotes diversity and inclusion in shark science.
"It is important to get more minorities and women in science because when you diversify these fields, you have different minds working together, and it opens the door to many more perspectives, ideas and possibilities," she said. "Collaboration is an important part of science."
She also is a member of the Western Society of Naturalists and the American Elasmobranch Society. In May, she received the 2022 Rachel Carson Scholarship in Conservation Biology from the College of Natural Sciences and Mathematics.
When she returns to campus in August for the fall semester, she will continue as a graduate researcher under the mentorship of Misty Paig-Tran, associate professor of biological science. Paig-Tran's FABB (Functional Anatomy, Biomechanics and Biomaterials) Lab uses a blend of anatomy and engineering techniques to answer biological questions about performance in marine animals.
DeMoranville will investigate the functional anatomy of squids and the biomechanics of squid bites.
"This research is important because it will create a bridge between the fields of biology and engineering," she said.
"My goal is to have a better understanding of how the beak works with the muscles surrounding it, which could be useful for the field of soft robotics, especially when robotics is used for oceanic exploration."