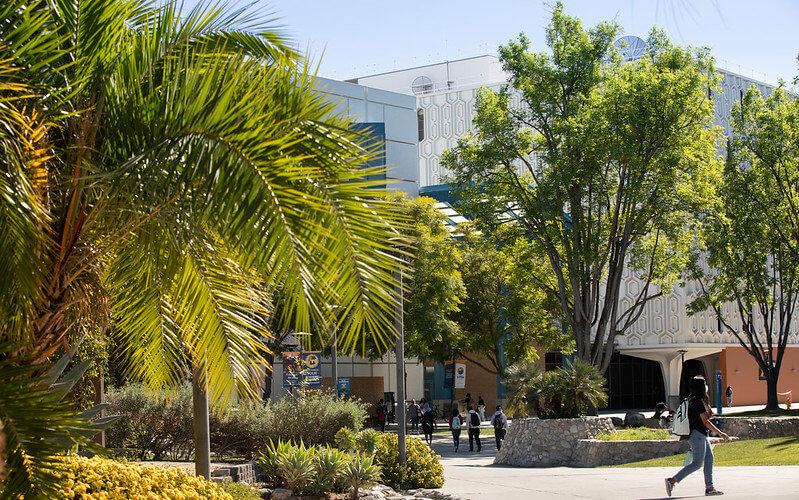 About 40,000 students will begin arriving at Cal State Fullerton, heralding the start of the 2022-23 academic year. (The fall semester officially starts on Sat., Aug. 20, but most classes begin the following Monday.)
"On behalf of the entire CSUF campus and the Titan family, I am very excited to welcome our students back as we begin the 2022-23 academic year," said President Fram Virjee. "We are coming back revitalized and focused on having our Titan family back on campus. We look forward to more opportunities for students, faculty and staff to participate in civic engagement, academic achievement, and programs designed to empower and prepare our amazing students for their bright future. But more than that, personally, I am so looking forward to seeing your smiles and greeting you as we all come home to our beautiful campus and our Titan community."
This year, about 74% of classes will be held in person, 20% of classes will be fully online, and 6% will be hybrid (in person and online).
"The Division of Student Affairs and the entire campus community are eagerly awaiting the arrival of our students this fall semester," said Vincent Vigil, senior associate vice president for student affairs and dean of students. "Most of our classes will be held in-person this year, and we have been able to resume many of the activities that our students appreciate and enjoy — student organization events, athletics, theatrical and dance performances, public lectures, and more.
"We are excited to open a new student housing building this fall and expand our locations for mental health services with our Counseling & Psychological Services. Our goal is to provide our students with a high-quality education and a rich campus experience that includes participation in a wide range of activities such as student clubs, events and activities that play a role in helping to ensure that our students' time at Cal State Fullerton is memorable and rewarding."
Changes on Campus
Students and faculty will see that the campus has undergone some significant changes over the past year. Providing a safe, clean and inviting campus is essential for effective teaching and student learning as the university's infrastructure modernizes to fit rapidly changing times.
The new six-story student housing building opened its doors in August to accommodate 600 students. The new facility includes graduate and staff apartments, lounges, a multi-purpose room, meeting spaces and more.
A special ribbon-cutting ceremony for the grand opening of the student housing suites community will be held from 10:30-11:30 a.m. Friday, Aug. 26, on the suites patio.
McCarthy Hall's second floor has undergone renovation and updates that include areas for student collaboration and informal learning spaces.
Construction was completed on the new baseball and softball facilities providing improved locker rooms, showers, coaches' offices and more.
CSUF is now home to an Olympic-sized, 50-meter pool that allows the university to expand its athletic program to include men and women's water polo. The new pool replaced the two former pools outside the Kinesiology Building.
The Visual Arts complex is undergoing modernization as well. Buildings A and E, which were constructed in 1969, are undergoing construction to bring the facilities up to date. Construction of a new art gallery building and classroom building are also scheduled. This project is slated for completion in December 2024.
While not as visible, a new battery energy storage system is being installed at the new Eastside Parking Structure (scheduled for completion in March 2023) and new boiler additions to provide extra heating capacity and cooling systems for all campus buildings.
Smaller projects included resurfacing of the tennis courts, Titan Track repairs, golf area renovation and sod installation, replacements of seats in the College of the Arts Little Theatre, more campuswide outdoor seating and laptop charging stations, and signage and painting in various areas throughout campus.