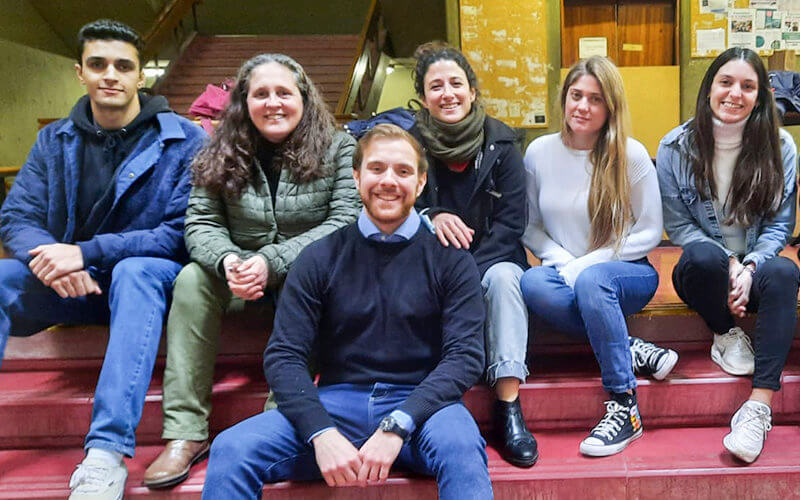 With a future goal to attend medical school, biological science student Nima Aminzadeh dedicated his summer to hands-on research and traveled abroad to study infectious diseases in Buenos Aires, Argentina.
As part of the Minority Health and Health Disparities Research Training Program, known as MHRT, the third-year student put his classroom knowledge into practice for 10 weeks at the Leloir Institute, fully engaging with health problems in his new environment and working toward solutions.
"You learn in class, but it's not every day that you get to try things out, especially in a different country," Aminzadeh said. "I wanted experience in the field, and bringing those skills into the lab in Argentina was exactly the real-world application that I was looking for."
Over the summer, 11 university students, including five from CSUF, joined the MHRT program to travel to different universities and conduct research on health problems that affect underserved communities.
Marcelo Tolmasky, professor of biological science, has been directing the program since it started on campus over 20 years ago. It's currently funded by the National Institutes of Health, specifically the National Institute on Minority Health and Health Disparities (NIMHD).
NIMHD's work helps communities that are burdened by disparities in health status and health care delivery, including racial and ethnic minority groups, rural populations and populations with low socioeconomic status. MHRT (formerly MHIRT) began in 2005.
"The program teaches students the value of national and international research collaborations as they work toward eliminating health disparities among racial and ethnic groups in the U.S," said Tolmasky.
Throughout his time at the institute, Aminzadeh studied issues related to the mechanisms of bacterial infections. This is critical information that, once understood, can be used to design therapeutic treatments or diagnostic tests.
In previous years, students also traveled to Argentina, Thailand and England to research different aspects of human health, such as infectious diseases and public health issues.
By studying bacterial genes and how they function, Aminzadeh said this research could help scientists develop an improved vaccine to treat diseases in humans, as well as animals.
"The research experience in Argentina gave me the opportunity to learn and completely immerse myself in a new culture," shared Aminzadeh. "Outside of exploring the city and making new friends, I got the chance to make a difference in the field of minority health, which was the reason I applied for the program in the first place."
Back on campus, Aminzadeh will present his work alongside fellow scholars of the program at the Sept. 17 MHRT Symposium.
This academic year, he will conduct research with Nilay Patel, associate professor of biological science, to study the effects of different drugs on neuronal gene pathways. He first joined Patel's lab in 2019 to study the effects of niclosamide, an FDA-approved drug meant to target cancer cells.