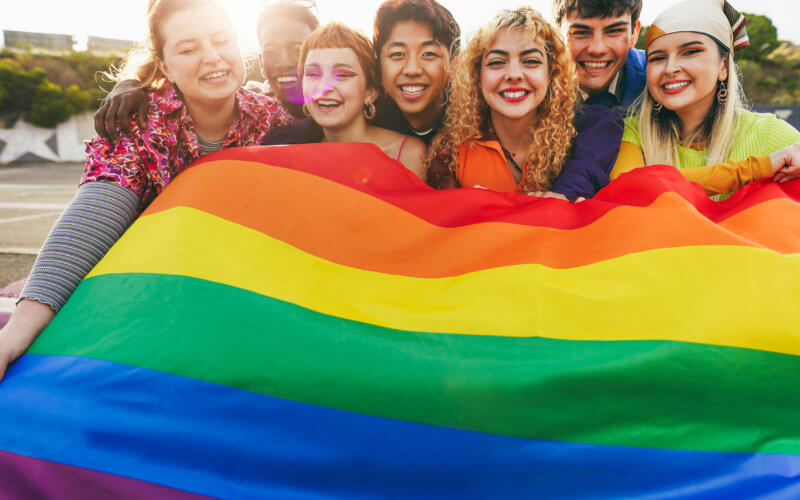 As an openly gay educator, William Toledo knows firsthand the importance of supporting LGBTQ+ college students in pre-K-12 teacher preparation programs.
Toledo, who earned a doctorate in teaching and teacher education from the University of Michigan, joined Cal State Fullerton this fall as an assistant professor of secondary education. His research focuses on ensuring how student teachers can be comfortable being gay and lesbian teaching professionals and preparing future teachers to become LGBTQ+ advocates in schools.
He is the author of numerous publications, including lead author of a longitudinal study, published in 2020 in the Journal of Homosexuality. The study focuses on two LGBTQ+ future teachers' experiences (one identifies as gay and the other as lesbian) as they navigated preparing to become public elementary school teachers and embarked on professional job searches.
A follow-up study about the two teachers' transition to the classroom and first-year teaching experiences — including challenges and difficulties, as well as positive interactions — was published last year in the journal's special issue on education.
Toledo also is co-author of a book chapter on "Preparing Teachers to Advocate for LGBTQ+ Identifying Students." The academic book for pre-service and in-service teachers, which shares how to be an advocate for students, staff and community members, has been submitted for publication.
How did you get involved in LGBTQ+ research?
As a member of the LGBTQ+ community, I was approached by pre-service teachers at the University of Michigan who identified as LGBTQ+. I unofficially started mentoring these students who needed an ally — someone with the same identity and who understood the student teaching experiences they were having. Previous studies typically have focused on the experiences of LGBTQ+ educators already actively working in public schools. Our unofficial mentorship eventually led to an official research study, which helped me begin to explore LGBTQ+ issues in education in my research. In my yearlong qualitative case study, my co-researcher Bridget Maher (University of Michigan) and I examined the experiences, perspectives and challenges of two elementary pre-service teachers, and how teacher preparation programs can recruit, advocate and support these future teachers.
What are some of your research findings?
We identified just how much context matters. One example is how pre-service teachers navigate future employment and identity protections. Teacher employment protections for LGBTQ+ individuals vary considerably state-to-state, including how "out" you can be and whether teachers can share their LGBTQ+ identities with students. In some states, you can be fired on the basis of simply being who you are. Another important finding was the importance of mentor teacher-student teacher match, particularly for our LGBTQ+ identifying student teachers. We found that pre-service LGBTQ+ teachers can be matched with teacher mentors who do not support LGBTQ+ rights. This mismatch resulted in one of our participants having feelings of exclusion, disconnection and discrimination in her field placement. Mentor teacher fit is important in student teacher preparation programs so LGBTQ+ identities are affirmed and our students are protected.
What are some of the LGBTQ+ issues in schools and classrooms today?
One big issue is the lack of LGBTQ+ advocates and mentors in pre-K-12 schools. We're also seeing exclusionary practices, such as school districts banning Pride flags and symbols, and not addressing students, or LGBTQ+ teachers, with their preferred pronouns. These actions make LGBTQ+ students feel unseen, while LGBTQ+ educators often face marginalized experiences. Representation is critically important: LGBTQ+ students need to have teachers who are "like them" as teachers — and our schools need a diverse teaching force to serve all students.
What is CSUF doing to address these issues?
Hiring faculty who specialize in LGBTQ+ research is a big step. Many higher education institutions don't have faculty who are examining ways to recognize, support and advocate for LGBTQ+-identifying teachers, particularly those new to the profession. As part of my service as a faculty member, I hope to work with school districts on LGBTQ+ inclusivity and create professional development opportunities for teachers and staff. Next month, I'm presenting a workshop on "Safe Spaces in Uncertain Times: How to Be an Ally for LGBTQ+ Students and Families" at Santa Ana College's Road to Teaching Conference. I'll offer tips and resources for future educators to help them build queer-affirming, LGBTQ+ friendly spaces for students and families.
What are the overarching goals of your work?
Despite some tumultuous and tenuous times of racial and LGBTQ+ exclusion in schools, my goals include promoting inclusive classrooms and spaces where pre-service teachers are affirmed for who they are. It is also my goal to help our student teachers develop skills and dispositions that will allow them to be affirming, inclusive educators in their own future classrooms.