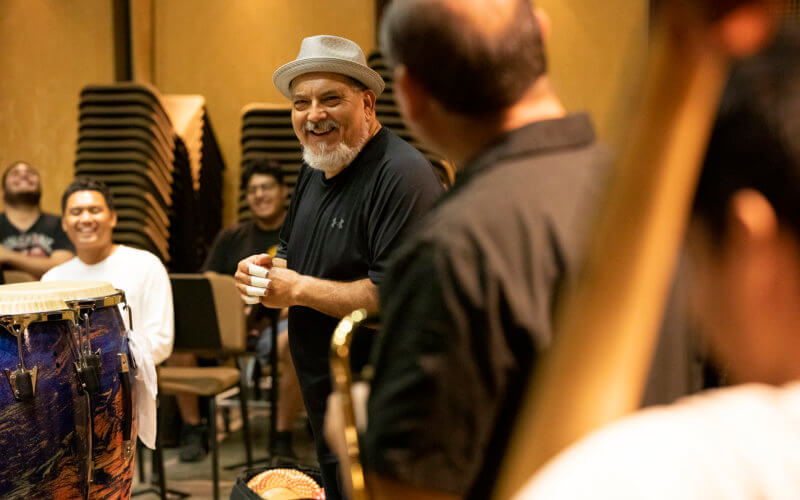 Fresh off his performance at the annual "¡Somos Titans!" ("We are Titans!") celebration, Grammy-award winning Latin jazz artist Poncho Sanchez returned to Cal State Fullerton to conduct a master class, sharing with students the secret to finding "the spirit of the drum."
"If you push yourself while you're playing and you get into it, there's another level that you enter that you get from the drum," explained Sanchez. "The spirit of the drum grows with you. There's something there, but you have to let yourself experience it."
With the help of Latin ensemble director Francisco Torres on trombone and music professor Bill Cunliffe on piano, Sanchez guided students step by step through traditional Latin jazz melodies, emphasizing the importance of sound and rhythm.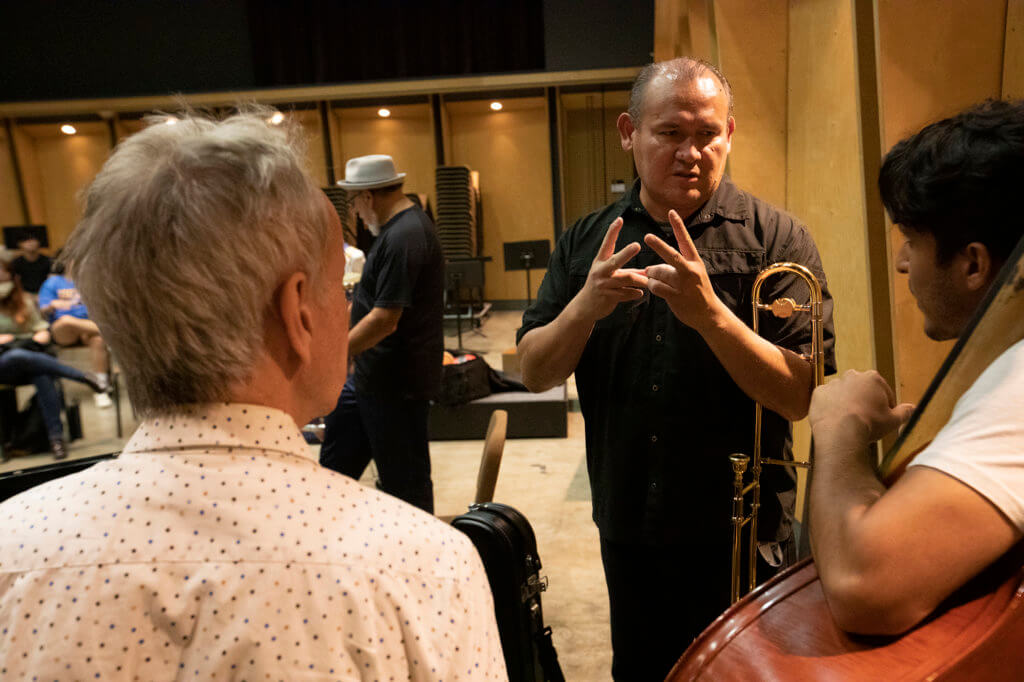 As a young musician growing up in Whitter, California, the renowned conguero said he never learned how to read and write music. But that didn't stop him from connecting with jazz and creating music through collaborations with other musicians.
"I don't know anything about reading music. In all of the bands I've ever had, I'm the only guy who doesn't know how to read music. But I've written 45 tunes, and some of them hit pretty good," shared Sanchez. "It's all about collaboration. I can hum out my ideas, and Francisco can put them on paper. We write together."
From learning more about jazz history to recreating traditional styles like son montuno and mambo, Sanchez said that there are a lot of ways for students to immerse themselves in the Latin jazz world. If they're looking to start out like he did, they need to listen to as much music as possible.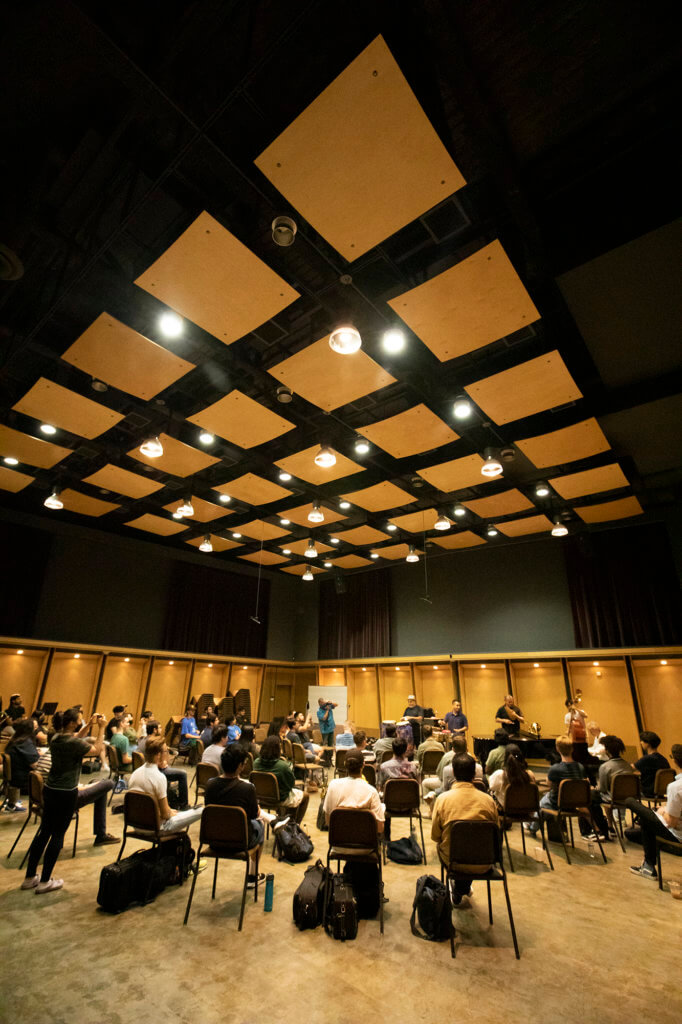 Around 16 years old, Sanchez started to listen to records in his garage and recreate the artists' work, training himself to track the rhythm and mimic the sounds. It wasn't always easy, but he assured students that patience and practice is the key to growing as a musician.
"Listen to the early stuff," Sanchez said. "If you listen to the early records from some of the foundational Latin jazz artists, you're either going to like it or you're not. But if you do like it, then you're going to get into Latin jazz. That's only one part of it, but it's enough to get you going."
Sanchez encouraged students with his own experience, adding, "When I was first learning as a boy, I would practice for five minutes and try to keep the rhythm straight. I would sometimes get tired after three minutes, but if you push yourself, there's another level. Now you're 10 minutes into it, and you're not tired. Since then, I've learned to play straight through for 25-30 minutes."
Max Haaga, a second-year mechanical engineering student, said that he attended the class because he started playing drums a year ago and wanted to learn more about incorporating jazz into his own music. He recently started taking drum lessons at CSUF with Paul Kreibich, lecturer in music. Having listened to Sanchez before, Haaga jumped at the opportunity to learn from him in person.
"I have a lot of passion for jazz music, so coming here today to see him was incredible," said Haaga. "I really resonated with what he said about listening to music. I think that's a really large portion of learning how to play."
Hosted by the College of the Arts, Cunliffe said that the purpose of master classes is to invite students to engage with professional artists, learn about diverse musical styles and develop skills that can help them reach their goals.
"The students are inspired by the high musical level and by what these artists can do," Cunliffe explained. "Poncho has a lovely personality. He's been there. He's been around the block and struggled, but he's come out on top. That story of conquering the world is something that students all need to realize that they can do too."