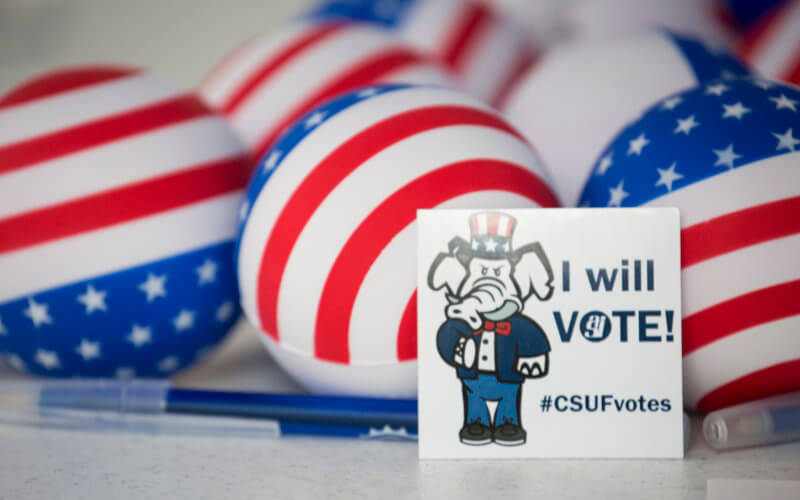 With the midterm elections just around the corner, Cal State Fullerton offers a range of programs to help voters make more informed decisions. Listed below are some of the programs open to the public (in-person and virtual).
Go Vote! Voter Education Sessions
Sponsored by Cal State Fullerton's Office of Alumni Engagement, the following lectures focus on issues related to state and local issues.
Session One: Ballot Breakdown — Oct. 19 at 6:30 p.m.
What's the difference between the state controller and the state treasurer? What does the insurance commissioner do? Shelly Arsneault, professor of political science and public affairs, breaks down the California ballot and helps explain what each position does and why it is essential to vote for them. The focus will be a review of the positions, not the candidates. This helps to ensure that voters understand their significance walking into Election Day.
Session Two: Ballot Proposition 101 — Oct. 26 at 6:30 p.m.
Back by popular demand, Ballot Propositions 101 with Sarah Hill, professor of political science, will review each proposition on the 2022 California State Ballot. Learn the pros and cons of each proposition and what a yes or no vote would mean. Attendees are encouraged to have their ballots nearby to follow along with this informative session.
Advance registration is required.
Threats to the U.S. Constitution — Oct. 24, 5:30-7 p.m.
Sponsored by the Division of Politics, Administration and Justice, the public is invited to learn about an array of contemporary constitutional challenges presented by a panel of Cal State Fullerton political science professors. The free event, "Threats to the U.S. Constitution," will be held in Pollak Library, Room 130.
Presenters include: Robert Castro – "Holding the Jan. 6 Insurrectionists Accountable," Robert Robinson – "Threats to Voting Rights and the Integrity of Elections," Scott Spitzer – "Constitutional Limits on Presidential Authority: Are These Becoming Irrelevant?" and Pamela Fiber Ostrow – "Reproductive Freedoms and LGBTQ Rights."
Voter registration assistance will be available at the event: This is the last day to register before the midterm elections.
All Politics Is Local — Nov. 3, 7-8:30 p.m.
Sponsored by Pi Sigma Alpha, the political science honor society, and the Division of Politics, Administration and Justice, "All Politics Is Local," will be held in the Titan Student Union Portola Pavilion.
Featured speakers are Raphael J. Sonenshein, executive director of the Pat Brown Institute for Public Affairs at Cal State Los Angeles, and Jodi Balma, political science professor at Fullerton College. Steven J. Stambough, professor of political science at Cal State Fullerton, will moderate.
Sonenshein, one of the foremost experts on Los Angeles politics, and Balma, a leading commentator and educator on Orange County politics, will discuss the 2022 elections, focusing on the important upcoming local elections in Los Angeles and Orange counties.
Ballot Bowl
The Cal State Fullerton community is invited to register to vote through the Ballot Bowl competition at the following link: registertovote.ca.gov.
The Ballot Bowl is a friendly competition among California's major higher education systems, including the California Community Colleges, California State University, University of California, and the Association of Independent California Colleges and Universities.
Election Day
The CSUF campus vote center, located in the Titan Student Union, opens Nov. 5 and will remain open through Nov. 8. Hours are 8 a.m. to 8 p.m. Saturday-Monday; and 7 a.m. to 8 p.m. Tuesday. There will be a drive-through ballot drop off location at the roundabout behind Titan Student Union.
Want more information?
Check out the Titans Turn Out website for more information on the upcoming election.