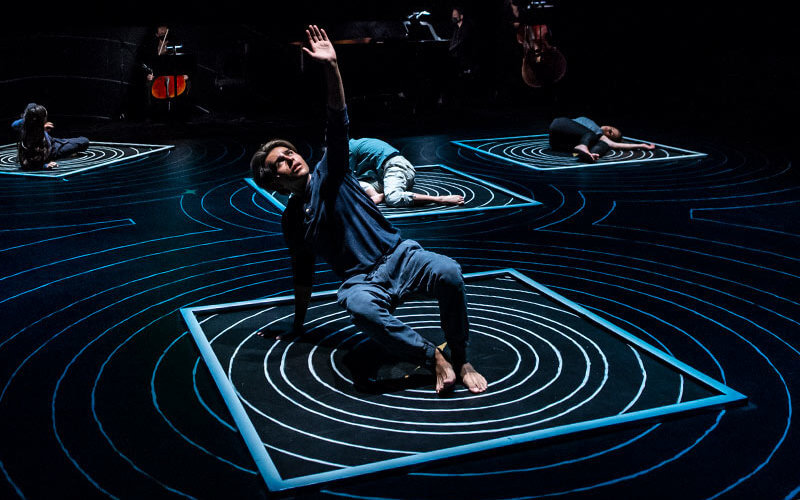 Cal State Fullerton's Department of Theatre and Dance set the stage for a new era of performance this fall by expanding its Bachelor of Fine Arts degree program to include a devised performance/physical theatre concentration that champions finding connections between traditionally separate fields of artistic study.
Devised performance combines aspects of theater, film, design, music and technology to tell a multi-dimensional story. During a performance, audience members might see tables spinning, lights dancing across the stage and actors using movement to convey emotion — all examples of devised work.
"The new B.F.A. in devised performance/physical theatre trains actors to be performing artists. Their role tends to be larger in a devised/physical theatre production than in more traditional forms of theater. They might contribute to the concept, research, writing, direct or choreograph scenes, film footage, design the costumes or the soundscape and act in the piece," said Anne James, professor of voice and movement.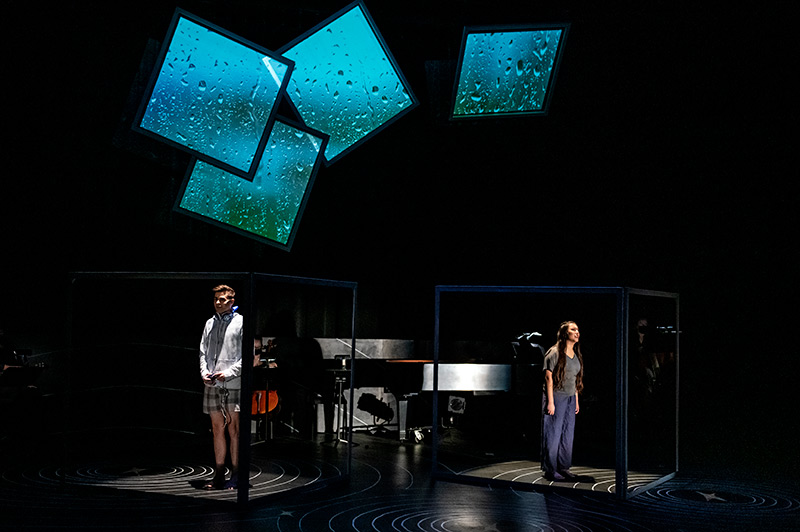 CSUF is one of the first universities in the country to establish an undergraduate degree program in devised performance/physical theatre. This program is paving the way for ingenuity and imagination by giving students the freedom to work in an artistic intersectional space, said James.
The curriculum is based in voice and movement, and expands into acting, playwriting, directing and design. Students also receive physical training to help them perform stunts and participate in combat scenes. The widespread nature of the coursework allows students to build skills across theater disciplines, and this level of training prepares them for a wider scope of career opportunities.
"They're learning the foundational elements of collaboration," said James. "They leave this place with confidence, and they're not as paralyzed when they hit the market. They can fit into a lot of different industries. Most still pursue a career as an actor, but for a devised/physical theatre student, it doesn't stop there. They might also produce their own podcast, start a theater company, get into casting, advertising, write a blog or be an entrepreneur."
James and her colleagues began developing the concentration in 2016 when they realized that too many talented students in voice and movement classes were being cut from the B.F.A. in acting program. It's no longer a cut program, but since the department started offering courses in devised performance and physical theatre, James said that retention and student morale has improved.
Aside from student need, James mentioned that the concentration also gained popularity after the pandemic. "Suddenly filmed theater, which previously you might only see in devised or physical theatre work, became mainstream." said James.
The 24-hour news cycle and the influx of social media pushed actors to crave performative narratives with more movement, speed and visual stimulation than they could find on a screen.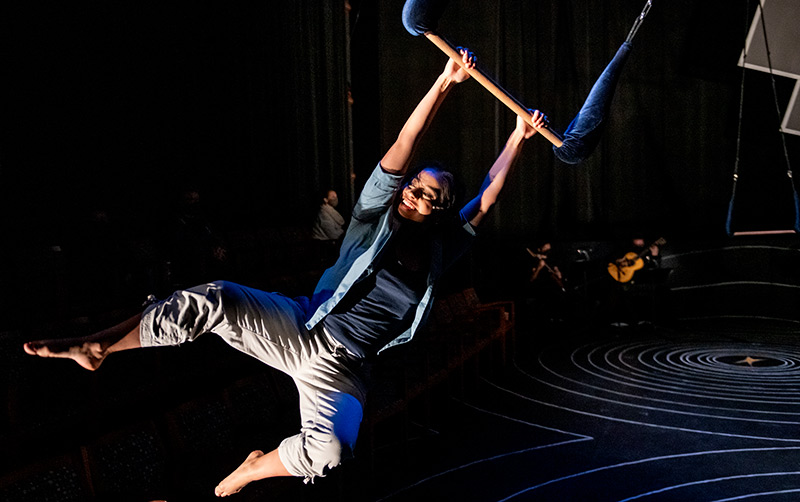 The department's first devised performance/physical theatre production of the fall semester, "She Kills Monsters," opens Nov. 10. Katie Mathers, a senior B.A. theatre major and one of the play's leads, said that working on the show has challenged her to be more confident and critically think her way through problems.
"Devised work makes me a better actor because I'm able to tap deeper into my imagination and creativity. It made me believe that my ideas are worth sharing," said Mathers. "Thinking about so many things is challenging, but there are times when the text lines up with what you are doing physically to create moments of magic that make the whole process worth it."
The cast is also working with Michael Polak, director of fight and movement, to coordinate the fight scenes in the show.
"The physical nature of devised lends itself to generate a more creative, collaborative and unique form of choreography. It tends to be more dynamic as it pushes the boundaries of what audiences anticipate from more traditional forms of theater-making," said Polak. "CSUF is ahead of the curve with this concentration, arming students with cutting edge skills and techniques for their artistic arsenal as they begin their journey into the arts."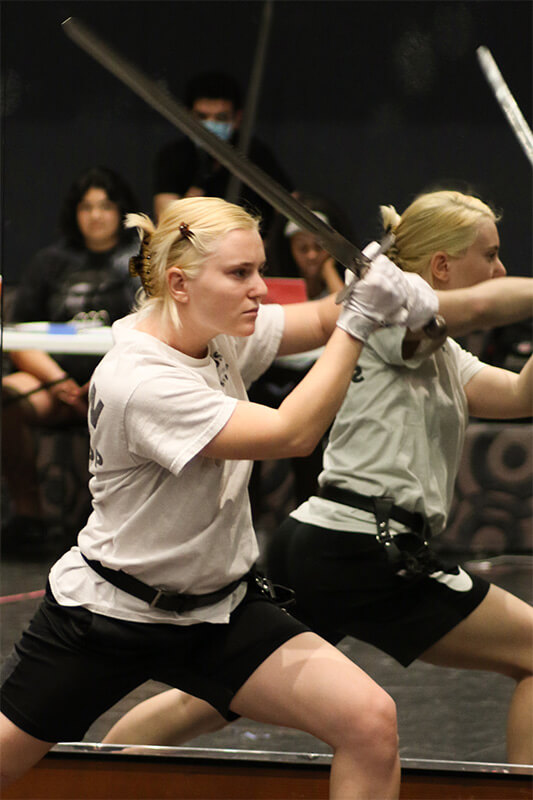 Christian De La Torre, a junior in the B.F.A. in devised performance/physical theatre program, appears in several of the show's fight scenes as an ensemble member. With multiple lifts and stunts, this is his first experience working on a devised show, but he said he's already learned so much about the physicality of acting and the effect it has on the story.
"Working on a devised performance is so aesthetically pleasing because you don't get the usual acting on stage between a few characters. You get figures and images that represent and push the story forward," said De La Torre.
"Students really weigh in and contribute to the final product," said James. "They love this type of training because it stretches them in all of these other ways, especially if they're a student with a lot of different skills and interests. For some students, traditional forms of actor training can feel too specialized. This concentration opens them up to so many different skills from an artistic and creative standpoint."