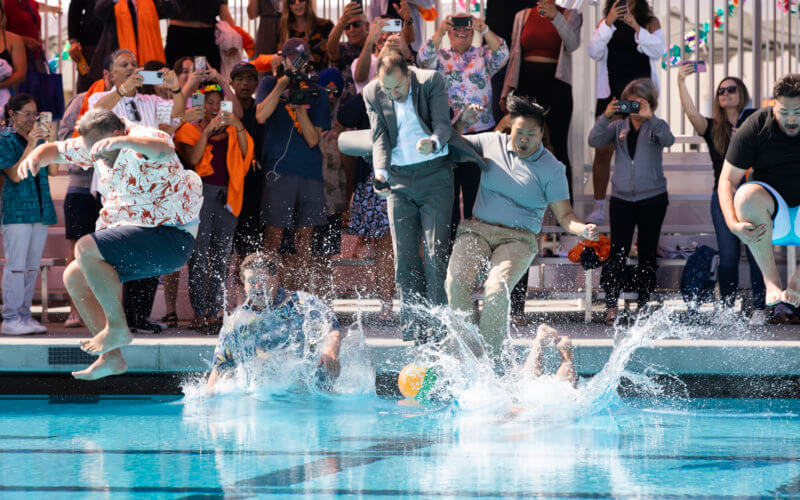 Before President Fram Virjee took a dive into Cal State Fullerton's Olympic-size pool for a midday swim, he welcomed faculty, staff and students to the Aquatics Center grand opening, inviting everyone to celebrate the "dream that has become a reality." 
"It's taken quite a while for us to get to this point. This pool represents a really exciting future for our students in the kinesiology program, in the athletics program, and for all of the students who can come and enjoy its benefits," said Virjee.
The 53-meter swimming pool will serve as home to CSUF men's and women's water polo teams, which begin their seasons in spring 2023. For the men's team, it will be the first time a CSUF men's water polo team has competed since 1985.
"We always remind our student-athletes that we stand on the shoulders of those who have come before us, and that statement couldn't be more true today," said Jim Donovan, director of athletics.
The women's team will make history as CSUF's first women's water polo team. Kyle Witt, head coach for both teams, has no doubt that the women's historic first season will be every bit as powerful as they are.
"The women's team will be the first. They are strong. They are tough. They are bold, and they are not going to give up. They work harder and harder every day, and they continue to make this campus proud of who they are and what they represent," said Witt. "We will win championships, and we will be successful."
Outside of athletics, Virjee said that the pool will be used for kinesiology classes and programs for the local community. The Aquatics Center will also host open swim sessions for faculty, staff and students Monday through Friday from noon to 1:15 p.m.
"This pool represents our investment into our students. We believe in you. You are the reason we do everything, and this is just one more example of how we believe in you, and we hope you believe in yourselves," said Virjee.