To test high-tech fire detection sensors built in the campus lab, a team of Cal State Fullerton faculty and student engineering researchers lit controlled fires in a small pit in Fullerton Arboretum's Orchard Lawn to mimic a real-life scenario of a wildfire.
The experiments were led by Ankita Mohapatra, assistant professor of computer engineering, who is leading the "Engineering Wildfire Mitigation" project. Mohapatra worked with staff at the arboretum, the university's environmental health and safety and risk management, and the local fire marshal to ensure the safety of the fire experiment over two days of testing in mid-November.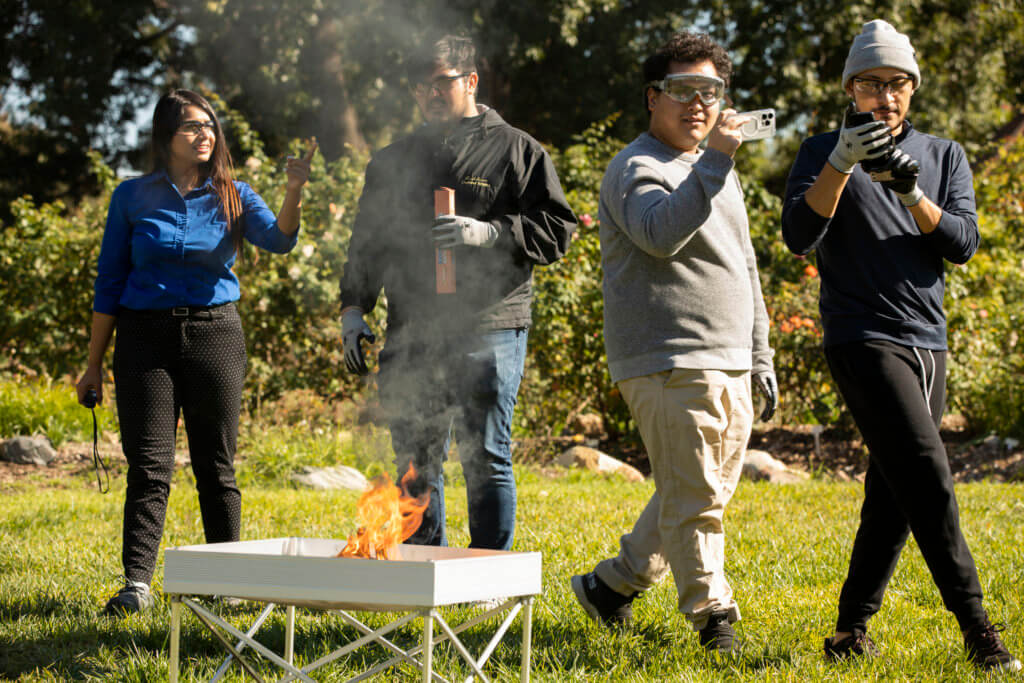 The collaborative project, one of the College of Engineering and Computer Science's "Titans of Transformation: Big Ideas," is using innovative technologies and tools to detect wildfires. The researchers are seeking external grants and philanthropic support for the project.
Working with Mohapatra on the project are undergraduate research assistants Connor Bartholomew, Brock Rivera, Gerardo Robledo, Anthony Ruiz and Andrew Takayama.
As smoke billowed from the fire, the researchers collected data to determine if the sensors actually work to detect a fire — before it gets out of control. Six small plastic containers with the smart sensors inside were placed at different distances near the controlled fire.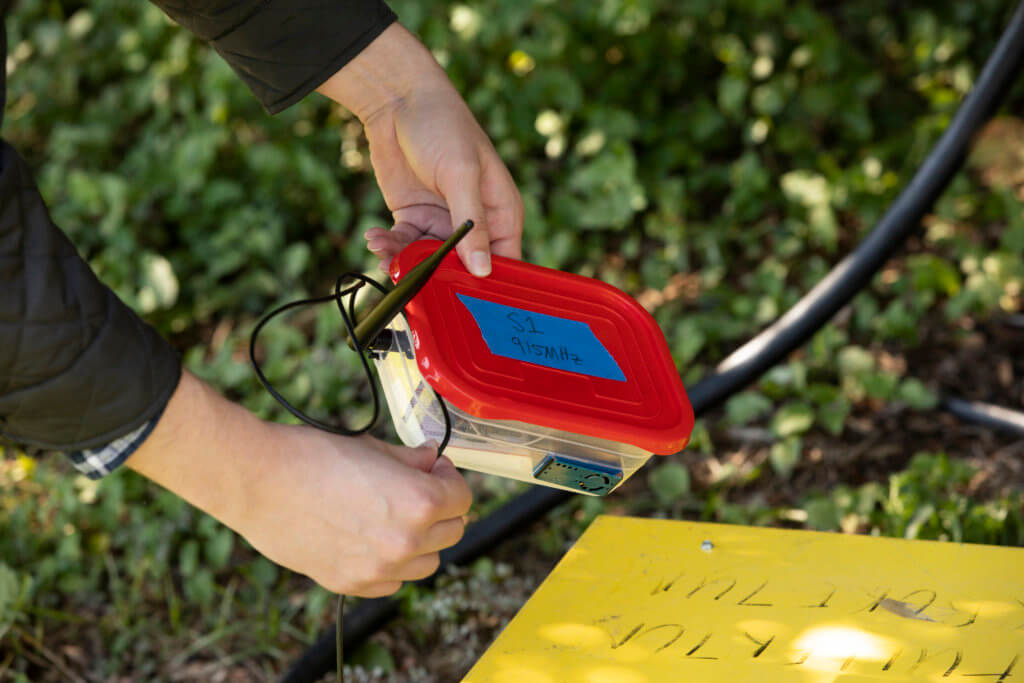 "We are using sensing nodes to monitor remote areas for any signs of a fire and to send alerts if one is detected. Ideally, with these sensors, we will be able to detect fires in their early stages so that firefighters can respond quickly to reduce the damages caused by the fire," said Bartholomew, a computer engineering major.
Bartholomew helped to develop the code required to get the sensing nodes to work and transmit data for collection and analysis.
"The data gathered will help us decide on what sensors we want to use, and hopefully allow us to eventually develop an algorithm capable of detecting when there are fires in the area, and maybe even predict their occurrence," he said.
The results of the data will take several weeks to analyze, Mohapatra said.
"The preliminary data we obtained through the testing were a crucial milestone for us to assess the viability of the sensor nodes and to better understand the modifications we need to make going forward," Mohapatra added. "The initial data looks promising and we're excited about the future of this project."
The researchers also tested the use of infrared cameras to identify the type of fire, such as an unplanned wildfire or a campfire, or the presence of humans. Mohapatra and Rakesh Mahto, associate professor of computer engineering, are collaborating on this part of the project.
Because identifying humans and fire separately is difficult during catastrophic situations like wildfires, the researchers are developing machine learning and artificial intelligence algorithms, Mahto explained.
"We're building a computer system that uses thermal cameras to identify and classify both potential and active fires as an approach to take preventative measures to fight wildfires," said Rivera, a computer engineering student.
"By using AI, we will be able to identify potential fire zones and differentiate between wildfires and man-made fires to help preserve firefighting resources and reserve them for when real wildfires are identified. This will allow fire stations to be more readily available for emergencies."
By working on the project and through guidance from their faculty mentors, Bartholomew and Rivera, both seniors who plan to graduate next year, have had the opportunity to expand their technological skill set to prepare for the workforce.
"This research has given me many opportunities to learn to grow and obtain skills that I would have never found if I didn't join the team," said Rivera, who is pursuing a career as a digital signal processing engineer.
Bartholomew, who plans to become a software engineer, relayed: "The work I am doing now on this project helped me decide that I want to do something similar in my career.
"For this project, I read facts and statistics about wildfires and I learned how destructive they can be. It adds a whole other level to the importance of this research to know that this project will hopefully be able to assist others in the future by mitigating the impacts of wildfires — and potentially save lives."