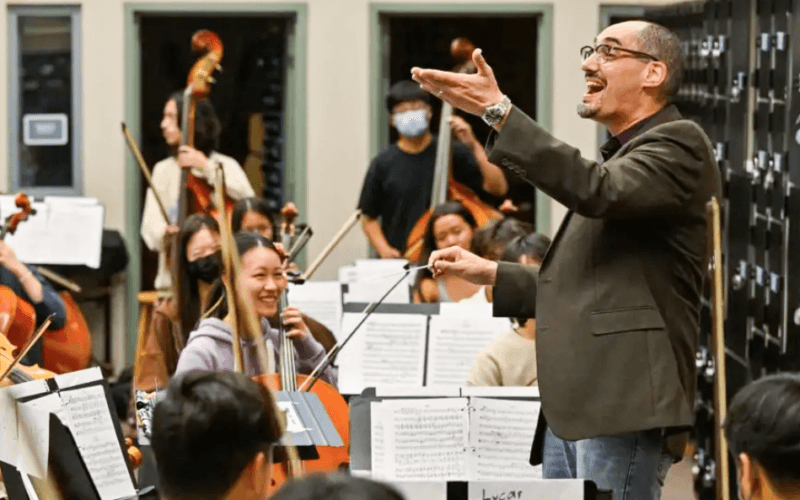 High school music teacher Ben Case joined the ranks of the teaching profession 17 years ago not to teach music, but to teach students.
"This philosophy is how I approach each aspect of my teaching," said Case, a Cal State Fullerton alumnus.
For his impact on students, and for going above and beyond during a challenging time in education, Case was selected as a 2023 California Teacher of the Year. He is one of five educators statewide recognized with the award for their extraordinary teaching careers.
"I am truly honored," Case said. "I hold my colleagues in such high regard and I am inspired by them on a daily basis. The relationships I have forged with my students and colleagues alike are by far the greatest rewards."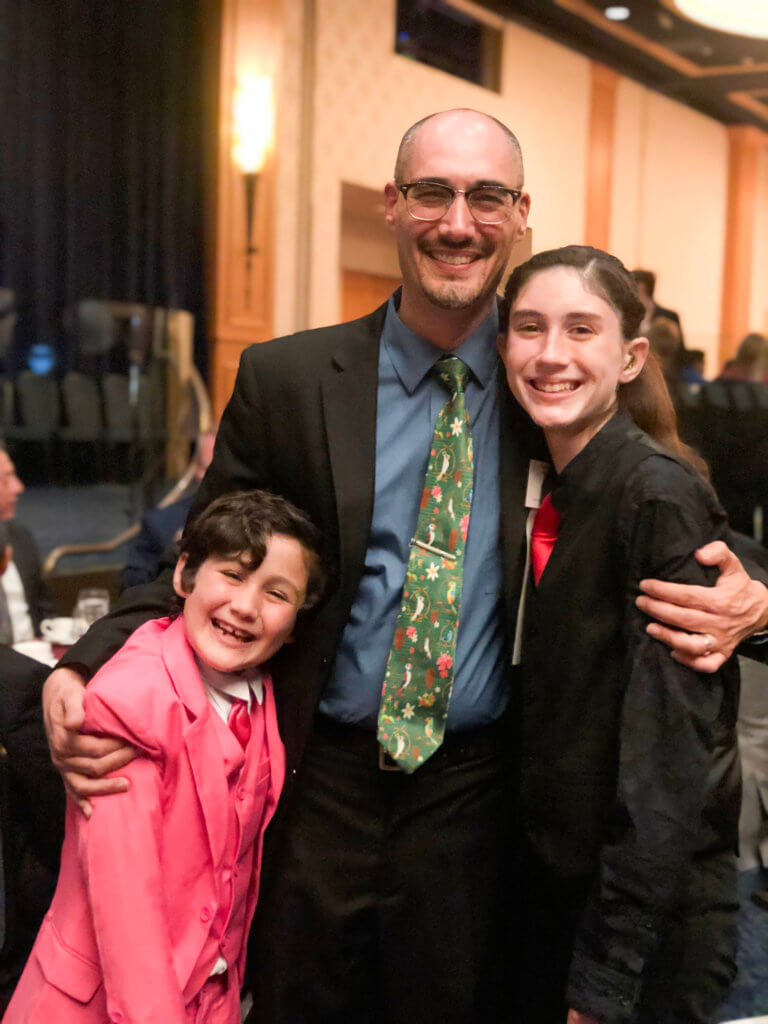 Case '05, '10 (B.M. instrumental-music performance, M.M. music-performance) is an instrumental music and music theory teacher at Northwood High School in Irvine Unified School District. He is an instrumental music director for Northwood's music program, which has received seven Grammy Signature School Awards and serves 500 students.
He directs the school's Wind Symphony, Philharmonic Orchestra, Symphonic Orchestra and one of the four jazz ensembles, and co-directs the marching band and color guard of 220 students. Case also teaches the Advanced Placement Music Theory class, and for the past 13 years, he has served as chair of the Arts Department.
Case, who studied music education and completed CSUF's single subject credential program in music in 2007, is a practicing musician as well. He primarily plays the saxophone, but also the euphonium, tuba, clarinet, trumpet and percussion. For his 40th birthday, he learned to play the bagpipes so he could perform alongside his students at a concert.
"Through all of my experiences, I get to work with incredibly talented students and colleagues in an atmosphere that consistently pushes the bar for what is possible," Case said.
Why did you enter the teaching profession?
I grew up surrounded by strong educators. Before retiring in 2016, my dad, Jim Case, was the director of CSUF's Career Center and helped students find their way after graduation. My mom was a children's librarian who helped kids with learning disabilities. My brother works for the Vermont State Department of Education, and previously worked for the National Department of Education and as a classroom visual arts teacher. I've seen firsthand the difference a teacher can make — and I want to make that difference for someone else.
What are the challenges and rewards of teaching?
Teaching has been challenging on so many levels given the constantly changing guidance surrounding COVID-19 precautions. We had to show an incredible level of flexibility in our instruction — from learning sound engineering software and teaching students to create virtual ensembles to buying Home Depot buckets to teach everyone how to drum. But even with these daily challenges, it was hard not to be inspired by the resiliency and perseverance of our students. Their compassion and willingness to reimagine their experiences served as a constant reminder of why I got into this profession.
What are some high notes as a music teacher?
I have conducted a lot of concerts and events and there will always be certain pieces or performances that stand out. But what means the most to me are the people with whom I was able to share these experiences. For example, when the COVID-19 pandemic shut everything down, I dressed in full regalia and went door-to-door to my students' houses and played "Pomp and Circumstance" on my saxophone. I will always remember the looks on my students' faces as their neighbors came outside to see what was going on. This past summer, I held an alumni concert for my students who missed out on performing on our stage because of the pandemic. Roughly 60 band and orchestra students, some who hadn't touched their instruments since graduating, turned out for a weekend of music-making and reconnecting. This drove home why I teach.
What are some of your favorite CSUF memories?
There are so many to whom I owe so much, but my mentors Mitch Fennell (professor emeritus of music) and James Rötter (lecturer emeritus in music) made an indelible mark on who I am as an educator, father and human being. During college, I remember performing in the Little Theatre before Meng Concert Hall was built and then being a part of the first concert performed in Meng. I also cherish coming back and performing, whether in the Alumni Band or leading my own students to play on that same stage in shared concerts.
How did your CSUF education prepare you for your teaching career?
I had an amazing experience at CSUF, both as an undergraduate and graduate student. From the incredible teachers and mentors to passionate fellow students, I always felt supported and challenged to reach my own potential. As a graduate student, I remember feeling like my education was far less about figuring out the answer, but instead learning to ask the right questions. This has turned into a lifelong desire to learn and grow.