Standing in front of the Capitol building as Cal State Fullerton's 2022 Panetta Congressional intern, Sama Nafea felt tears in her eyes thinking about her younger self and realizing, "I made my parents and myself proud."
The fourth-year political science student immigrated to the United States from Iraq when she was 6 years old. Despite her age, Nafea said she understood the sacrifice her parents were making as they quit their jobs and said goodbye to their families.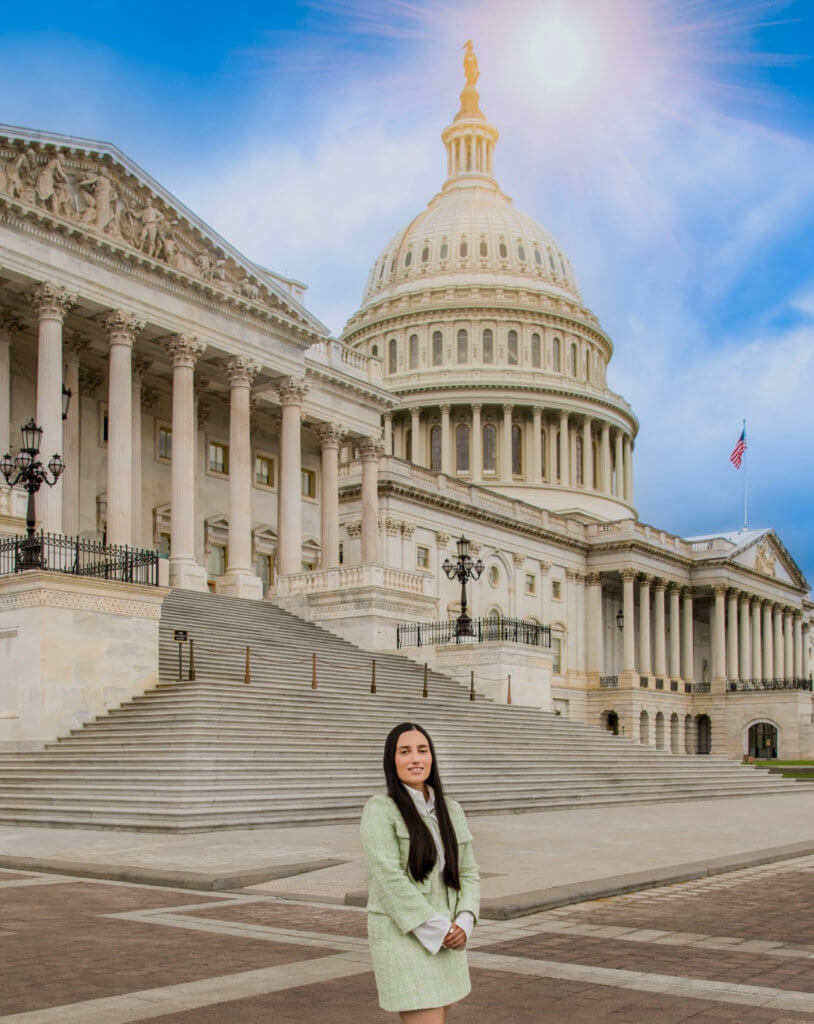 "When we landed here, we started clapping, and when I think of my past self, I imagine that little girl earning this opportunity. That little girl would have never imagined herself being chosen for such a great experience to go to the Capitol and work there," said Nafea.
The Panetta Institute for Public Policy was founded in 1997 by former Secretary of Defense Leon Panetta and his wife, Sylvia Panetta. Through the organization's Congressional Internship Program, students from the California State University system are selected to work in a congressional office in Washington, D.C., to gain hands-on experience in government, politics and public policy.
"I had the chance to have meetings with legislative directors and staffers, and they were able to educate me about what their job entails. It helped me better understand how politics and law work," said Nafea.
This fall, Nafea worked for U.S. Rep. Alan Lowenthal (D-Calif.) who oversees the 47th Congressional District, including Long Beach, Buena Park, Cypress and Garden Grove.
As an intern, Nafea attended committee hearings and briefings, wrote memos for the office and kept track of bills. But she said her proudest achievement was helping produce the weekly Safe Climate Caucus Newsletter, which is sent to 175 congressional offices. The newsletter provides updated research and news about climate change, focusing on the impacts of climate on U.S. industries and environments.
After her internship concluded in November, the congressman's team hired Nafea as a staff assistant. She currently works in Lowenthal's district offices in Long Beach and Garden Grove, where she helps educate constituents and manage Capitol-based projects. As she continues her work with the House of Representatives, the 2023 graduate also is applying to law school.
"Sama has an extraordinary personal story of perseverance that led her to becoming a Panetta Congressional intern. Her pursuit of a career in public service is inspiring, and we are lucky to have someone like her who is so dedicated to helping her community. She is a determined and perpetually positive student, and I can't wait to see what she does in the future as a graduate," shared Meriem Doucette, associate professor of public administration.
Before receiving the internship, Nafea worked on a campaign team in 2018 for former U.S. Rep. Gil Cisneros. She also has experience working at a private investigation firm, an immigration law firm and as a field representative for a state assembly member.
"I was born in Iraq, and I grew up in Dubai in the United Arab Emirates. There, as a woman, I couldn't go into law because you have to be from the United Arab Emirates to work in the law and you can't be a woman. It's been a dream come true to come to this country and be able to pursue whatever field that I choose," said Nafea.
Looking back on the experience, Nafea said she's not only proud of the professional strides she's made, but she's also proud of the personal change that she experienced and the hope she found for the future.
"One of the reasons that it was such a great opportunity is because it made me believe in myself. It made me believe that I could work in a place like the Capitol and potentially grow and learn. It gave me courage to apply to more opportunities in the future."
Applications for the 2023 Panetta Congressional Internship open Dec. 5 and close Feb. 1.