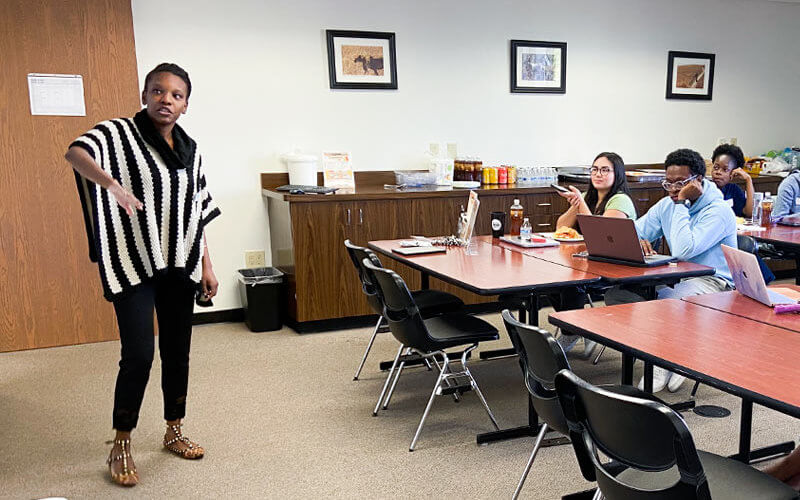 As a Black college student at a predominantly white institution on the East Coast, Jasmine Phillips Meertins recalled how much she appreciated the African American Cultural Center — a place on campus that felt like home.
Now an assistant professor of communications, she wanted to create a similar experience for Black communications students at Cal State Fullerton.
Enter Black CommUnity — a new program within CSUF's Department of Communications designed to support and retain Black students by offering advising workshops, mentoring, job and internship preparation and social events. The program guides Black communications students as they persist toward their degrees and encourages community building and professional networking.
"I hope that through the events and workshops, students can find each other and build a peer network," said Phillips Meertins. "Feeling connected is a critical factor in retention, especially coming out of the pandemic. Students are looking for opportunities to bond, and Black CommUnity is providing the space and structure to facilitate that."
One of 11 programs that received first-year funding from the Scott-Jewett Fund for Student Success and Innovation, Black CommUnity is being championed by three faculty mentors: Phillips Meertins; Miya Williams Fayne, assistant professor of communications; and Amber Wilson, lecturer in communications and internship coordinator.
As part of a universitywide call to embed anti-racist and nondiscriminatory behaviors and structures within the Titan experience, CSUF recently outlined six Guiding Principles for Social Justice. One of these principles calls for a redoubling of efforts to recruit, retain and graduate students from underserved communities, specifically Black/African American students — an area that Black CommUnity helps to address.
"Black CommUnity is a critically important addition to the Department of Communication's signature programs," said Jason Shepard, chair and professor of communications. "We want all communications students to be connected to all that the department has to offer. Building deeper connections between our Black students and faculty can nurture a sense of belonging that facilitates deeper relationships and engagement."
Shepard added that during the 2021-22 academic year, the Department of Communications enrolled a total of 1,533 students, 41 of whom identified as Black.
Phillips Meertins noted the program is planning to offer financial support for students to complete the required communications internship, many of which are unpaid. Additionally, up to 10 students will have the opportunity to travel to the International Communication Association conference in Toronto next year.
"I hope students feel better prepared to choose their classes and pursue internships, which can be overwhelming for some of them," she said. "We're fortunate enough to have a dedicated internship coordinator on hand to guide them through the process because it usually takes multiple internships to be a strong candidate in the job market after graduation."
As the program gains momentum, Phillips Meertins hopes to build up a robust alumni network. "Of course there are Black alumni from communications, but we want to formalize the process of bringing back Black CommUnity alumni and provide a platform through which they can help current students get the internships and jobs that they want.
"Fleshing out the program will strengthen CSUF's communications offerings and encourage Black students to come to CSUF because of the community we've created," added Phillips Meertins.
Although Black CommUnity is intended for students in the Department of Communications, Phillips Meertins noted the program is open to all students who identify as Black within the College of Communications.
To learn more about Black CommUnity, visit the program's web page and follow its social channels.