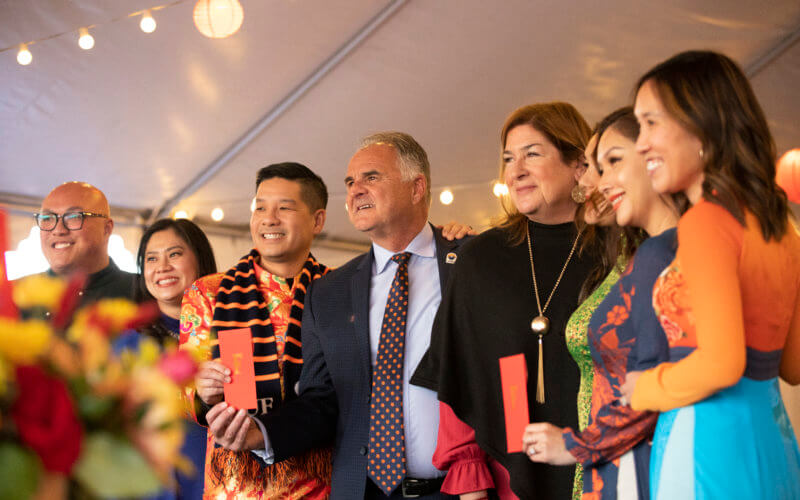 To celebrate the Lunar New Year, Cal State Fullerton recently held a dinner to honor the university's commitment to the Asian Pacific Islander community as well as the API students who contribute so much to the university.
President Fram Virjee pointed out that Cal State Fullerton is a federally designated Asian American, Native American, Pacific Islander Serving Institution (AANAPISI).
"This designation is not one that we take lightly," he told the crowd. "You will hear many institutions speak of these designations but at Cal State Fullerton, we take this designation as a promise and responsibility to intentionally serve these communities. As such, our API (Asian Pacific Islander) full-time freshman have a 75% six-year graduation rate and our API transfer students have an 82% four-year graduation rate."
During the Lunar New Year, red envelopes with money inside are frequently offered as a token of good fortune for the new year. Good fortune smiled on Cal State Fullerton during its first official Lunar New Year celebration, when a check for $500,000 was presented to Virjee by Doug Chaffee (4th District), member of the Orange County Board of Supervisors.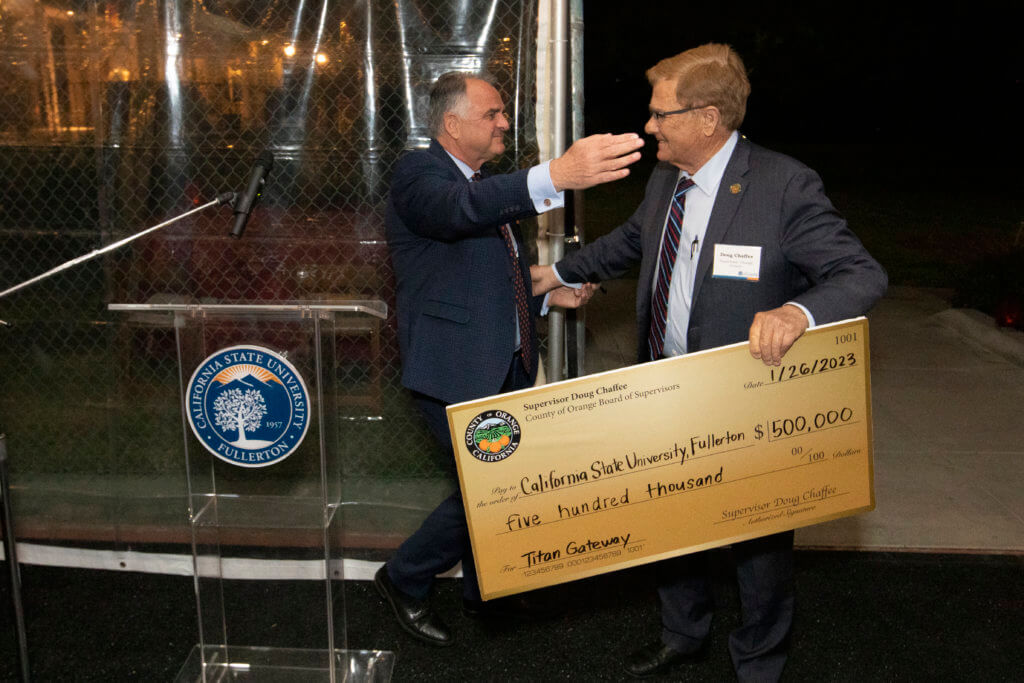 The funds will be applied toward the building of the Gateway bridge — a pedestrian bridge across Nutwood Ave. — connecting the university's College Park building to the main campus.
In presenting the check, Chaffee thanked Cal State Fullerton for its efforts in focusing on equity and justice.
"I checked out the county piggy bank before I arrived and was able to shake out a few nickels," Chaffee joked prior to the check presentation. In accepting the check, Virjee announced to the crowd of 100, "The Titan Gateway bridge will be an iconic representation of the relationship between Fullerton and the campus. We look forward to breaking ground on this project and we are grateful for your ongoing support and contribution."
Virjee noted that the Lunar New Year is a time to celebrate life, family and health. It is also a time to express gratitude.
"On behalf of the faculty, staff and nearly 40,000 students at Cal State Fullerton, I would like to say thank you for all you have done and continue to do to support the university and our incredible students," he said.
"We are a destination university you can be proud of, a transformational university that you can be sure of, and a community-dedicated university that you can rely on. Our students become an educated workforce that is socially just and responsible, civically focused and globally engaged."
Other elected officials present at the event included Assemblywoman Sharon Quirk Silva, Fullerton Mayor Fred Jung, Anaheim City Councilwoman Natalie Rubalcava, and staff from the offices of Congresswoman Young Kim, Congresswoman Michelle Steel, Congressman Lou Correa, Congresswoman Katie Porter, Sen. David Min, Sen. Josh Newman, Sen. Tom Umberg, Assemblyman Philip Chen and Assemblyman Avelino Valencia.