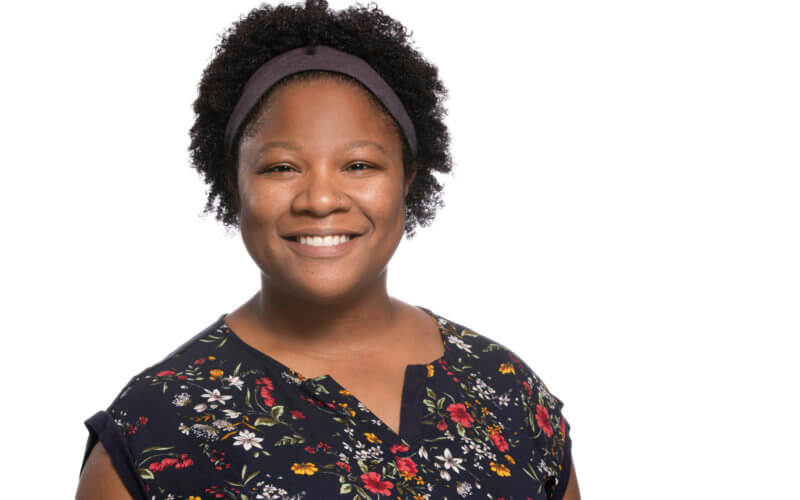 Cal State Fullerton chemist Joya Cooley has been selected for the 2023 Young Observer Program, established by the U.S. National Committee of the International Union of Pure and Applied Chemistry.
She is among 12 individuals, under the age of 45, from industry, academia and national laboratories chosen by the U.S. National Committee of IUPAC for this year's program. She will join other Young Observers from such institutions as MIT and research facilities like Lawrence Livermore National Laboratory and ExxonMobil Technology and Engineering.
Cooley, assistant professor of chemistry and biochemistry, is the first CSUF faculty member to participate in the program, according to USNC/IUPAC.
As part of the program, Cooley will attend the 52nd IUPAC General Assembly and 49th World Chemistry Congress at The Hague, Netherlands, in August.
Through the Young Observer Program, young scientists and engineers can build international collaborations, gain knowledge of global research, and participate in IUPAC global activities.
"To meet and collaborate with chemists across the world will give me the opportunity to create international ties and to do the best scientific research possible," said Cooley, who joined CSUF in fall 2020.
Research Focuses on Material Properties
Cooley researches the relationships among material properties — the connection between the structure and the way a material behaves — often used in product engineering and design. Her research focuses on understanding why some materials exhibit certain physical properties and how to change those properties for the better.
"Negative thermal expansion materials shrink when you heat them up. They are very useful as building or structural materials so you can control the dimensions of things, even if they change temperature," explained Cooley, who is presenting her research at the Chemistry World Congress.
Her students have been working on a National Science Foundation-funded research project where they make a material, change the composition little by little and see how those compositional changes affect the thermal expansion. She also has taken her students to conduct research at Argonne National Laboratory, a national science and engineering research center in Illinois.
As a Young Observer, Cooley will participate in IUPAC activities, including observing chemistry education and materials chemistry committees to help inform her teaching and research.
"I have a great deal of interest in the links between physical sciences research and how it affects society," she said. "I want to learn more about how other chemists are doing their part to make a better world."
Young Observers are awarded an amount to offset their costs to attend the IUPAC General Assembly and Chemistry World Congress Aug. 18-25.
The IUPAC is the world authority on chemical nomenclature and terminology, including the naming of new elements in the periodic table and standardized methods for measurement. Each country that is a member of IUPAC has an organization through which that membership is administered. For the United States, it is the National Academy of Sciences.
For more about Cooley's research, visit her lab website. Learn more about the IUPAC Young Observer Program from past participants here.