When Paulina Jimenez was 3 years old, her mother carried her across California's southern border to reunite with her father.
Jimenez, a Cal State Fullerton senior majoring in sociology, was among the invited guests in the balcony of the Capitol during President Joe Biden's Feb. 7 State of the Union address.
As a guest of U.S. Rep. Lou Correa, Jimenez has come a long way from the little girl who was told not to draw any attention to herself for fear of being deported back to Mexico. She is a "Dreamer" — one of thousands of undocumented residents who arrived in America as children.
Looking down from the balcony (only members of Congress are permitted on the floor), Jimenez found the Capitol awe-inspiring. She was both nervous and excited.
"Watching the State of the Union on TV is very different from being there in person," she said. "It was an amazing experience to see the familiar faces of members of Congress, the vice president and the president. But it was sad to see the divisions within the two parties. I didn't like the lack of respect that was, sadly, shown at different times during the address.
"I would have liked to hear more about immigration issues, but I did like hearing the president advocate in favor of teachers getting raises. After all, they're educating the leaders of the world," shared Jimenez. "Mostly, I was just so grateful to be given a chance to attend the address. So few people have the opportunity to do that, let alone a Latina Dreamer."
Over the years, Correa, a CSUF alumnus, has invited seven DACA (Deferred Action for Childhood Arrivals) students to attend as his guests.
"Congressman Correa and I both attended Anaheim High School and Cal State Fullerton," said Jimenez. "I remember him coming to speak to my high school class."
Before the State of the Union address began, Jimenez ran a media gauntlet with Correa, speaking to such outlets as CNN, Telemundo, Fox News and more.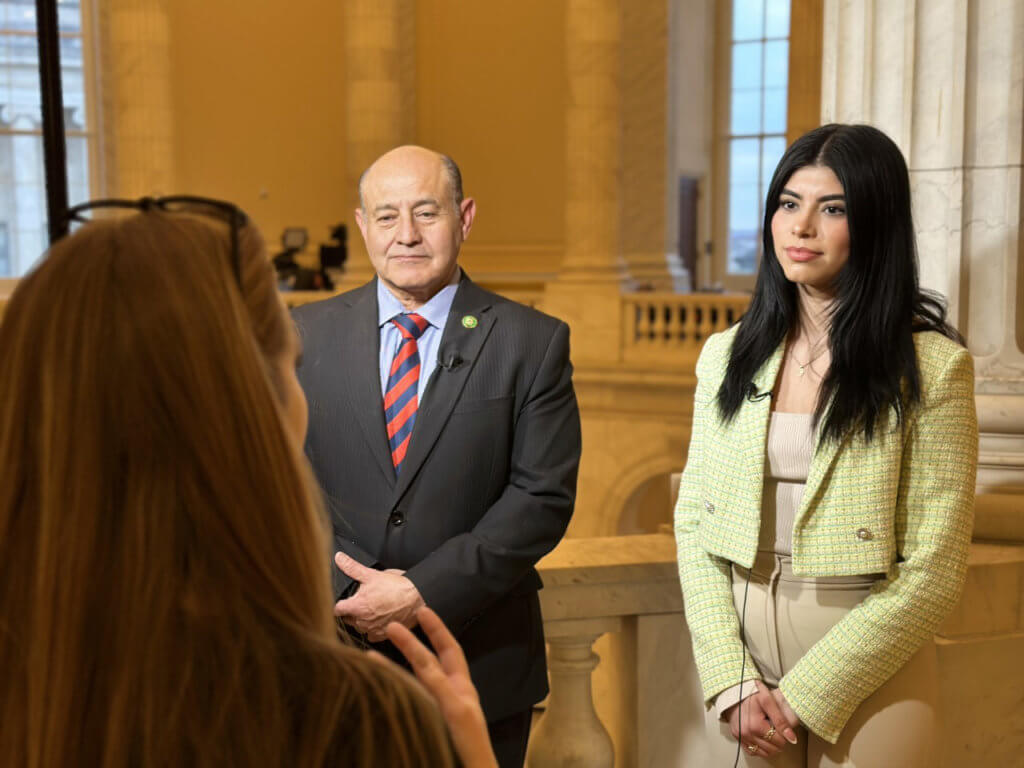 "We did 10 interviews prior to the address and two after," she said. "My parents and my family were so excited. Telemundo asked if I had any photos of myself as a little girl. My mom sent almost 50!
"I was so happy to make them proud. Their bravery in coming to this country is what enables me to succeed. I think that's what it's like for most Dreamers. Their parents wanted their children to have a better life."
This semester, Jimenez is participating in Cal State DC Scholars, a program that sends students to Washington, DC, for a semester to serve as interns, take classes and earn college credit. She is currently interning in U.S. Rep. John Garamendi's office.
"For all the Dreamers out there, don't give up. Work harder than the person next to you. Never believe that you can't accomplish the tasks set before you. Our dreams are bigger than any border walls they can build.
"To all Americans, I would say, 'See what Dreamers can do when you give us the opportunity.'"