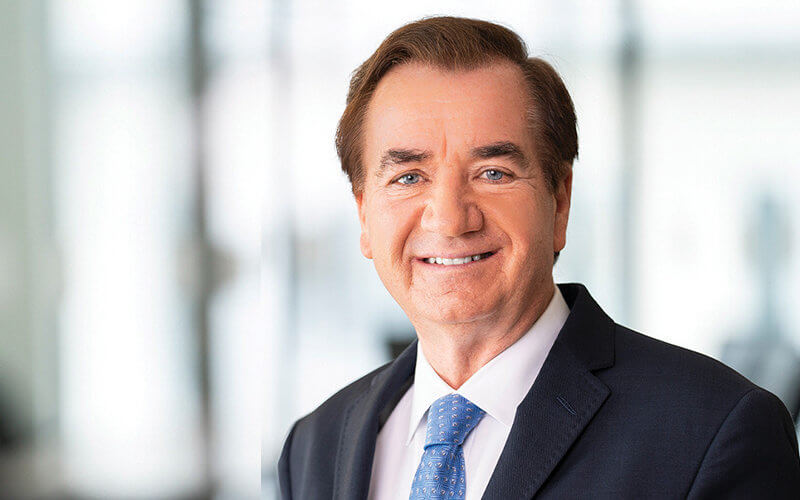 Former U.S. Rep. Ed Royce '77 (B.A. business administration-accounting, finance) and other distinguished guest speakers will offer their perspectives on foreign policy challenges currently affecting the United States Friday, March 17, at the Richard Nixon Library & Museum.
The half-day symposium features both foreign policy and academic experts. The panel discussions, focused on Europe and Asia, will be held from 1-3:45 p.m. and are free and open to the public. Although the luncheon and keynote address by Royce is sold out, live-streaming of both the keynote address and panels is available at https://titancom.fullerton.edu/ttvspecials.php. The keynote address will begin at noon, followed by the panel discussions.
Representing California's 39th Congressional District from 1993 to 2019, Royce served Orange County for more than 25 years. He also served as Chair of the House Foreign Affairs Committee from 2013-19. In his keynote address, Royce — who currently serves as policy director at Brownstein, a lobbying and law firm with offices across the western U.S. and Washington, D.C. — will focus on "American Foreign Policy in a Destabilized World."
The first panel will focus on Europe and the second will focus on Asia. Panelists are:
Europe Panel
Paul D'Anieri, professor of political science and public policy, UC Riverside
D'Anieri's research focuses on the relationship between Russia and Ukraine. His book, "Ukraine and Russia: From Civilized Divorce to Uncivil War" (Cambridge University Press, 2019), traces the roots of conflict to the collapse of the Soviet Union in 1991. His most recent book is "Ukraine's Outpost: Dnipropetrovsk and the Russian-Ukrainian War."
Tom Sheehy, principal, Quinella Global LLC
Before founding Quinella Global, a consulting firm in 2019, Sheehy served as staff director of the Committee on Foreign Affairs in the U.S. House of Representatives. The committee has jurisdiction over all elements of U.S. foreign policy, including operations of the State Department, Agency for International Development and Development Finance Corp.
Moderator: David Traven, associate professor of political science, Cal State Fullerton
Traven's research interests are in international relations — specifically the law and ethics of armed conflict. He is the author of "Law and Sentiment in International Politics: Ethics, Emotions and the Evolution of the Laws of War" (Cambridge University Press, 2021).
Asia Panel
Sean O'Neill, U.S. State Department visiting professor, George Washington University
O'Neill is a career member of the U.S. Senior Foreign Service and Visiting Professor of Organizational Sciences and Communication at George Washington University. He served from 2019-22 as the United States Consul General in Chiang Mai, Thailand, and earlier, as a Foreign Affairs Fellow on the staff of the Chairman of the U.S. House of Representatives Committee on Foreign Affairs focusing on East Asia policy and State Department oversight.
Xiaoyu Pu, associate professor of political science, University of Nevada, Reno
Pu is a member of the Public Intellectuals Program of the National Committee on United States-China Relations (NCUSCR). He is the author of "Rebranding China: Contested Status Signaling in the Changing Global Order" (Stanford University Press, 2019). He serves on the editorial boards of The Chinese Journal of International Politics (Oxford University Press) and Foreign Affairs Review (China).
Moderator: Alexei Shevchenko, professor of political science, Cal State Fullerton
Shevchenko's research interests include international relations theory and Russian and Chinese foreign policy. He is the author of "Quest for Status: Chinese and Russian Foreign Policy" (Yale University Press, 2019), co-authored with Deborah Larson.
To register, visit fullerton.edu/royce.To receive symposium updates, email roycesymposium@fullerton.edu.