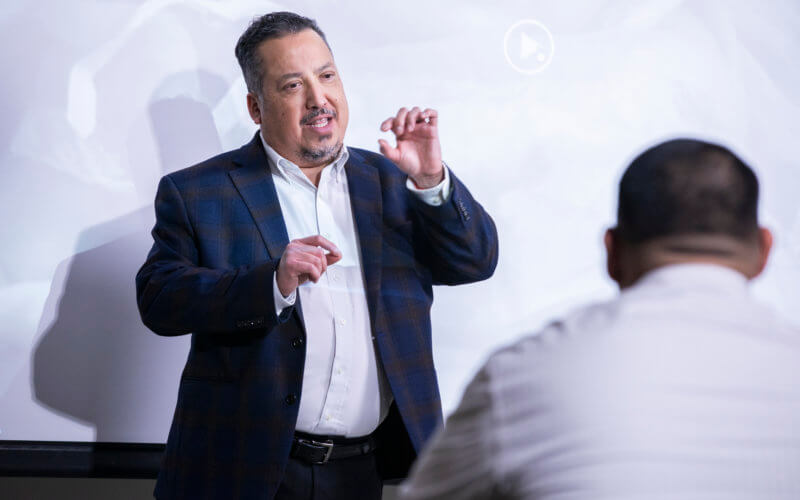 This June, Cal State Fullerton's Latinx Lab will launch what it hopes will be an annual event: the Social Justice and Storytelling Summer Institute. Funded by a $1.2 million grant from the Mellon Foundation, the lab's two-week program wants students to examine society's systemic practices and understand how America's history, political system, laws and economy play a role in social inequality.
"There are common hallmarks in how we experience social justice in the U.S. and in the world," said Alexandro Gradilla, associate professor of Chicana and Chicano studies. "The type of inequality we see is not just personal. There are systemic issues we need to address. And we want to teach these students how to lead change."
The free program runs 8:30 a.m. to 3 p.m., Monday through Friday from June 12-16 and June 19-23. Applications for the institute must be submitted by May 5. This year, 25 students will be selected to participate. CSUF and community college students who plan to transfer to CSUF may apply to the program. Graduating seniors and graduate students are also eligible to apply.
Mornings will be focused on the history of ethnic studies in higher education and society. Afternoons will be spent on storytelling and creating a zine with Marlén Ríos-Hernández, assistant professor of Chicana and Chicano studies. Ríos-Hernández studies punk (and its political aspects) as well as the post-civil rights social movement in the 1970s.
In addition, there will be panels and speakers talking about career paths for those who major (or minor) in ethnic studies, how they use what they've learned in their careers, how to apply for graduate schools (and what type of graduate school and programs are best, depending on area of study) and how to create resumes/cover letters.
"The goal is to introduce students to the possibilities that majoring in ethnic studies can provide," said Gradilla. "We want them to understand how they can use the information they're learning in class and through extracurricular activities to make a difference."
"Students don't have to worry about grades and tests," Gradilla said. "Our goal is to help them understand how to use the information they're learning to become leaders."
Gradilla noted that students frequently don't feel they have enough experience to lead.
"But I tell them that most civil rights and social justice movements were led by young people," he said. "For the past 120 years, young people have been at the forefront of change. We hope to show them that your college years are not just about grades but about being engaged citizens and leaders. Social justice isn't passive. Instead of watching, you need to start doing."
Gradilla believes that the storytelling portion of the program does just that. Since zines can be either print or digital, students have the chance to tell their stories beyond the university.
"Why focus on storytelling? The goal of the zine is to share knowledge. We want data, of course. It's the backbone. But data alone doesn't always win over people — they need the story so they can care about the tables and charts. Those who can communicate effectively will be those who are successful," he said.
"Combining storytelling and ethnic studies allows students to imagine possible worlds…and how to make them a reality. As author Octavia Butler reminds us, we must write ourselves into the future. We can do that through understanding, working for social justice with others and collaborating across our differences," Gradilla continued.
"We're not just preparing you for a career — we're preparing you to lead," he said. "Leadership plus social justice gives students a sense of meaning."