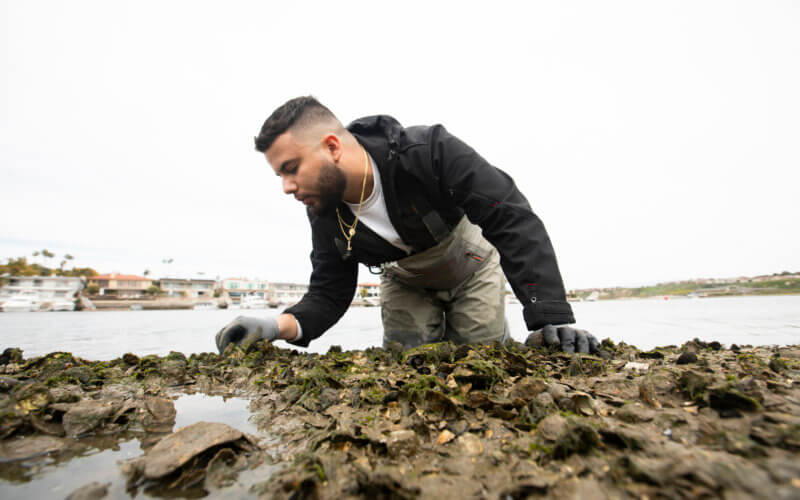 Biology graduate student and future ecologist Brandon Quintana is studying how oyster biomass and condition — proxies for oyster health — are responding to different factors, such as sedimentation and eelgrass, in a living shoreline setting.
Living shorelines are restored native habitats that combat coastal degradation and protect local communities. They are protected, stabilized coastal edges made of natural materials, such as plants and oyster reefs.
"I wanted to do research centered around coastal restoration to contribute to sea-level rise and climate change solutions," said Quintana, who is studying marine biology.
Under the mentorship of Danielle Zacherl, professor of biological science, Quintana hopes to inform restoration management of living shorelines areas, such as in Upper Newport Bay. The goal of his thesis project is to better protect coastal communities while increasing habitat and biodiversity.
"My work advances the field by informing living shoreline management across our coasts," he said. "My research efforts intersect with environmental justice, policy and education as a bridge to connect with, and support, low-income and vulnerable communities."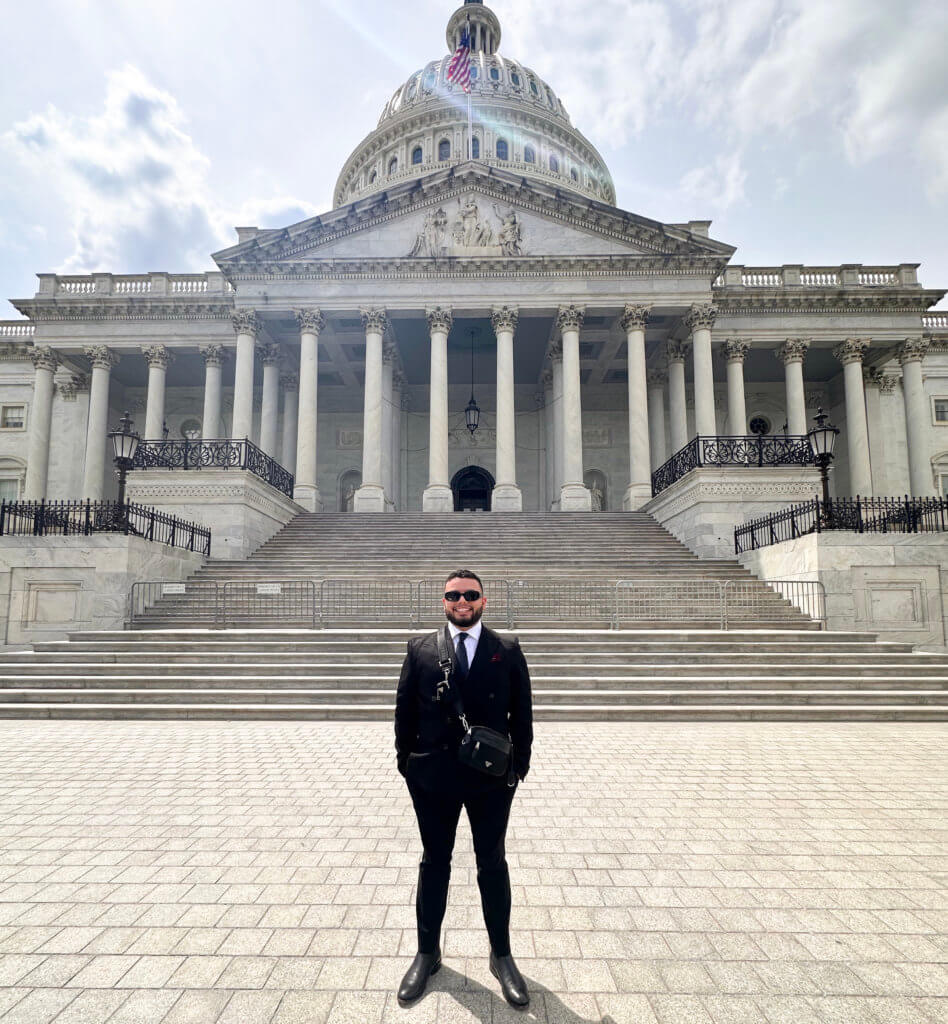 For his work, he is the recipient of the Ecological Society of America's 2023 Katherine S. McCarter Graduate Student Policy Award. The national award offers graduate students hands-on training and science policy experience.
This spring, Quintana traveled to Washington, D.C., and met with congressional decision-makers, federal agency officials and ecologists to discuss the importance of federal investments in the biological and ecological sciences.
"I hope to gain a better sense of how policymakers support ecological research efforts and build a strong foundation that opens a dialogue between scientists and policymakers," he said.
His study will allow biologists to evaluate potential new strategies for coastal and marine conservation by increasing their scientific understanding of the relationship West Coast filter-feeders, such as Olympia oysters, share with eelgrass and with the physical process of sedimentation.
His project is part of the California State Coastal Conservancy's Climate Ready Program to assess and counter the impact of sea-level rise on vulnerable communities and natural resources. Countless species depend on the integrity of coastal ecosystems to sustain their populations.
The California State Coastal Conservancy, Honda Marine Science Foundation and the California State University Council on Ocean Affairs, Science & Technology (COAST) are supporting his project. Quintana also has received numerous grants, including the California Sea Grant Graduate Research Fellowship and National Geographic Society Level 1 Explorer Grant.
"The next step is to publicize lessons learned from this project so that restoration practitioners can use it to inform their own coastal restoration across the West Coast," he said. "Our final goal is to gain support from policymakers to advance legislation and funding for coastal restoration."
An Advocate for Environmental Justice
Quintana grew up in a low-income neighborhood with a lack of green spaces in southeast Los Angeles, which made it difficult to physically connect with nature.
Since childhood, he has had a lifelong fascination with water and marine life, mostly through watching National Geographic documentaries.
With the help of financial aid and scholarships, he was able to pursue higher education and earned a bachelor's degree in environmental studies at UC Santa Barbara.
"In today's climate crisis, protecting our ecosystems and the people who live there is more important than ever," said Quintana, who plans a career in conservation biology at a government agency.
Inspired by his late father, who set an example of service and self-sacrifice, he became an advocate for environmental education and justice. He also strives to maintain an inclusive and welcoming environment for historically excluded communities in science.
He is involved in various organizations, including the Ecological Society of America, Western Society of Naturalists and California State Coastal Conservancy Explore the Coast.
This summer he will intern at the California Ocean Science Trust and interact with policymakers, researchers, and the local community to magnify the impact of equitable coastal and ocean solutions.
Quintana also has received numerous awards and accolades, including the 2023 Coppel Graduate Science Award, given to an outstanding graduate student. He was recognized at the recent College of Natural Sciences and Mathematics' awards reception.
As an environmental education intern with Orange County Coastkeeper, Quintana educates K-12 students and the community about important coastal management issues and solutions.
"Many of these students haven't been to the coast before; I see myself in them. A teacher recently told me that on their bus ride home, students said they want to be just like me," said Quintana, a first-generation college graduate who is queer and Latino.
"I am the representation in science that was absent for me. I hope to inspire others to pursue their goals to become ecologists."