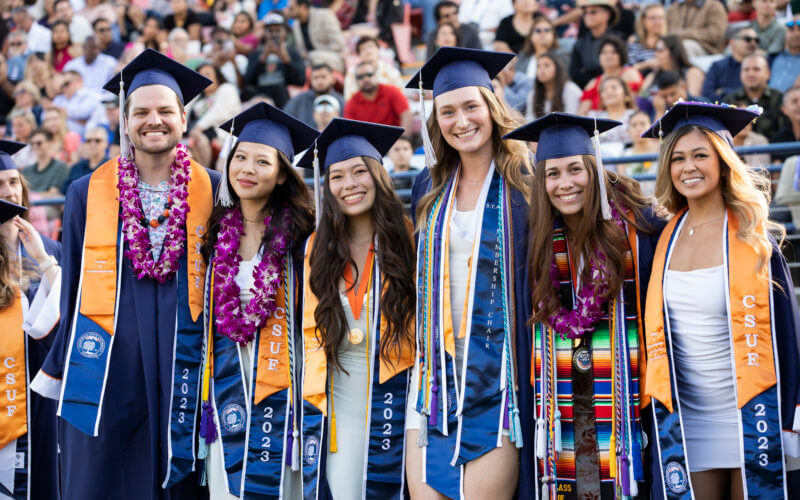 There were cheers, tears and the tossing of caps in the air, as proud families and friends watched Cal State Fullerton's Class of 2023 graduates cross the commencement stage.
For many, this day marked the fulfillment of a dream that was years in the making: Earning a college degree.
This year, 13,095 students were invited to participate with about 9,600 Titans taking that long-awaited trip across the commencement stage. They were cheered on by about 100,000 friends and family members who have supported them through the years.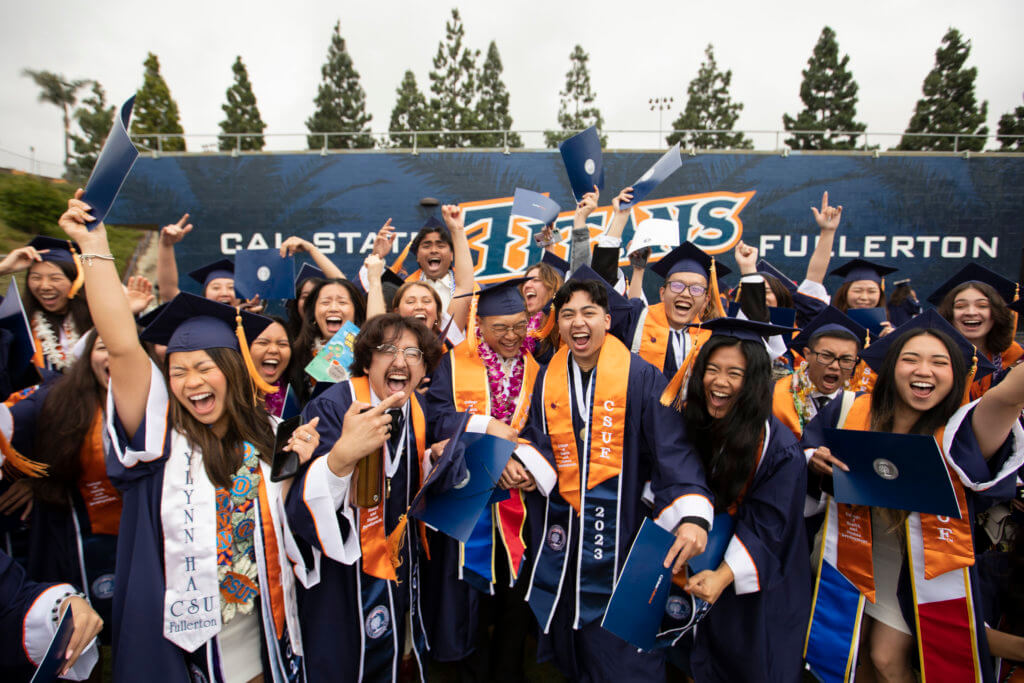 From May 22-25, 12 ceremonies were held from the university's eight different colleges. Students gave speeches, offered their parents tours of the campus, hugged their friends and posed for photos. The traditional strains of "Pomp and Circumstance" filled the air. Guests also heard the music of bagpipers, the theme song from "Star Wars" and even a small band who serenaded a new grad.
Philanthropist and entrepreneur Charlie Zhang received an honorary Doctor of Humane Letters for his contributions to the Titan community, as well as his generous and steadfast commitment to education and the arts in Orange County and beyond.
"Education does have the power to transform us to build our communities and the world into a better and stronger place to live," said Zhang. "But education is not only about acquiring knowledge; it is all about using that knowledge to make a positive impact. It is about using our talents and abilities to contribute to our communities and the world.
"To all the graduates, you have been gifted with knowledge, skills and creativity. I encourage you to use your education to make a difference in the world, and to inspire others to do the same."
CSUF President Fram Virjee, who will retire at the end of July, addressed many of the graduates during the four-day celebration.
"I have been on this Titan journey with many of you from the beginning," said Virjee. "Your gifts are too great not to share with the world. When you jump into the Titan experience with all your heart, you not only transform your own life but the very nature of this campus, your family's legacy and the lives of all Titans who aspire to follow in your footsteps."