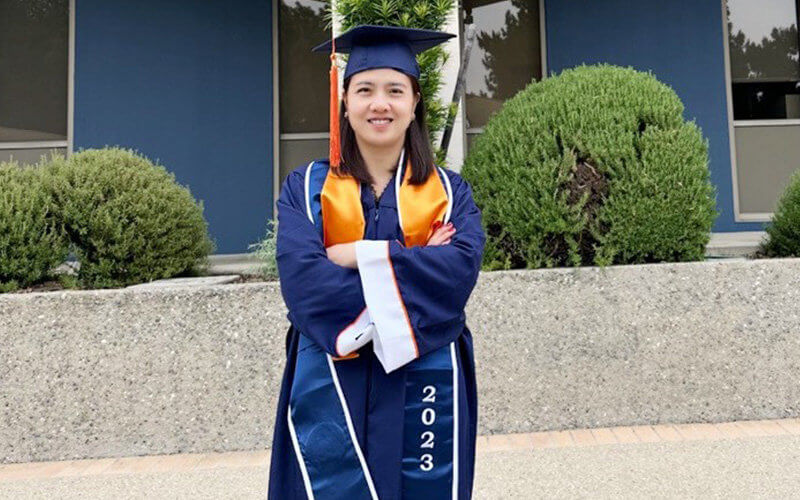 Graduating mechanical engineering student Tin Luong-Uhl's family grows rice for a living in northern Vietnam. She was raised in a small village outside of the seaport city of Haiphong and started working in rice fields at age 10.
"I hated it so much when I had to pick rice on a hot and humid day," Luong-Uhl recalled.
One day, as she sat in the middle of a rice field with her older brother, who was teaching her how to tie the rice bundle to bring home, Luong-Uhl declared that she wanted more out of life.
"I told my brother, 'I won't do this forever.'"
Luong-Uhl kept her promise. As a young adult, she went to work in production at a Nike shoe factory, then later moved to South Vietnam in search of a better job. There, she ended up in an office job at Nike.
"I was still struggling with finances and had no future ahead of me," Tin Luong-Uhl said. "I vowed I would leave Vietnam for a better opportunity. The American dream was the only chance for me to chase my future success."
At 22, she left her home country to come to the United States.
"When I stepped onto the airplane, I was so scared to leave my country and family. I could barely speak English," she said.
Today, the Cal State Fullerton Class of 2023 graduate has no regrets of leaving Vietnam. She is finally achieving her goal of earning a bachelor's degree in mechanical engineering after beginning her educational journey more than a decade ago.
The 38-year-old wife and mother, who has a daughter and two sons with autism, is the first in her family to earn a college degree. Luong-Uhl's husband, 9-year-old daughter and father, who lives in North Vietnam, along with coworkers, will be at the College of Engineering and Computer Science commencement ceremony to cheer her on.
"I always wanted to be a successful woman. I want to be a model for my kids when they grow up," she said. "By earning a college degree, I can support my family to the best of my ability and my children will have better lives than me. My dream of becoming an engineer is my proudest achievement."
Persistence Paid Off
Luong-Uhl started taking classes in 2009 at Orange Coast Community College to learn English. She studied mathematics and chemistry, and four years later, earned an associate degree.
Since transferring to Cal State Fullerton in 2014, she has taken classes in between getting up at 5 in the morning to first work a full day at her job at a medical device company and caring for her children at night. She took time off school after the birth of each of her sons, now ages 7 and 4.
Luong Uhl wanted to give up on college many times. Instead, she overcame barriers and persisted to achieve academic success.
"There have been plenty of challenges. It has not been easy trying to study while working and being a mom," she said. "But I told myself, 'I must finish school no matter what.' Thinking about my kids gave me the strength to keep going."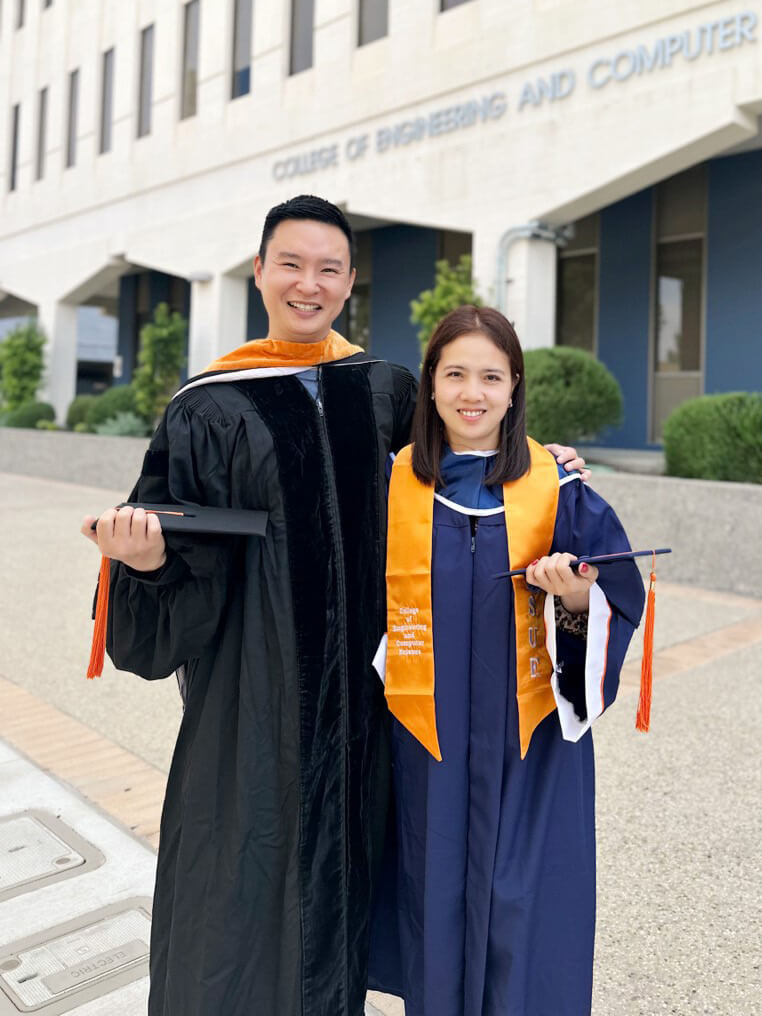 Faculty mentors like Haowei Wang, professor of mechanical engineering, gave her encouragement and support.
"Tin's story is the epitome of triumph of the human spirit," Wang said.
The classes she took and mechanical engineering research she participated in, which included a team project for a medical technology company that makes artificial heart valves, prepared Luong-Uhl for her career.
"My CSUF mentors helped me strengthen my skills and knowledge, demonstrated how an engineer's mind works and gave me advice to be a successful engineer," she said.
For the past 16 years, Luong-Uhl has been employed at MicroVention Inc., a global company in Aliso Viejo that develops medical devices to improve treatment of cerebrovascular diseases, such as strokes. The engineers at the company inspired Luong-Uhl and fueled her desire to become one.
She began as a production operator in a "clean room," a sterile and controlled environment where medical devices are manufactured, and over the years has held various positions of increasing responsibility. Her current position is senior specialist in research and development.
"I love my job and will continue my career at my company after graduation," she said. "I was impressed by the engineers at my work and how their designs became so valuable in helping people.
"I want to become a good engineer in the medical device field because I want to design products that treat patients and save people's lives."