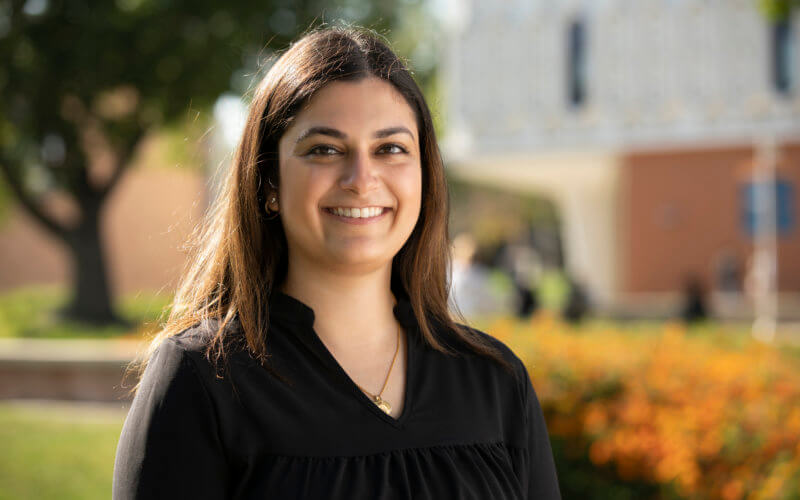 As the daughter of refugees forced to flee Afghanistan following the 1979 Soviet invasion, psychology graduate student Aryan Afshar studied the experiences and trauma of Afghans who settled in America.
Afshar grew up learning about her parents' lives in their homeland and stories about immigrating to a new country and adjusting to life in the United States.
To showcase the strength and authentic voices of Afghan natives, the Class of 2023 graduate focused her research on better understanding the essence of first-generation Afghan American refugees within a social and ecological framework.
For her outstanding research, Afshar was selected as a recipient of Cal State Fullerton's 2023 Giles T. Brown Thesis Excellence Award.
The award recognizes distinguished scholarly achievement at the master's level. Biology graduate Luis Solano also is a recipient of this year's award.
"Tears welled up in my parents' eyes when I told them that I won the award. They shared that their dream of having successful and educated children had come true," said Afshar, who is earning a master's degree in clinical psychology and graduating with a 4.0 GPA.
"In honor of my parents and their experiences, I am pursuing a career in psychology. As a therapist, I want to take advantage of my privileged position to advocate for, and amplify, the authentic voices of the Afghan community."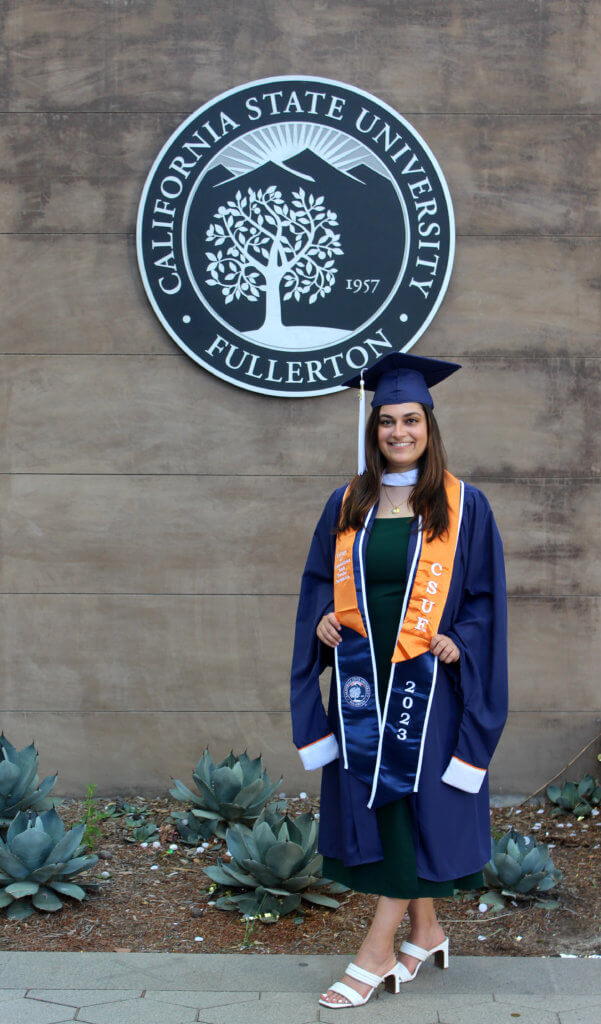 Amplifying Afghan Voices
Afshar interviewed 12 individuals — six men and six women with an average age of 62 — who immigrated from Afghanistan to the U.S. after the Soviet invasion. She analyzed their experiences as refugees, mental health, resilience and reflections.
All participants reported experiences of trauma that resulted in symptoms of mental health disorders, including post-traumatic stress disorder, anxiety and depression. Of these individuals, only one person received professional mental health treatment.
Her study revealed that factors such as support from friends, family and community members, motivation, faith and self-sufficiency provided a source of strength for successful integration to life in the U.S.
Afshar, the youngest of three children, shared that her research experience also helped her better relate to her ethnic identity and the struggles she faced with anxiety as a child.
"My parents didn't see the symptoms of my anxiety because, like in many minority cultures, mental health is a taboo subject in Afghanistan," said Afshar, who earned a bachelor's degree in psychology from Cal Poly San Luis Obispo.
"After hearing the personal experiences of my participants, I feel a stronger sense of duty to connect with, and support, my community."
Afshar chose CSUF for graduate school because of the rigorous clinical psychology program, which combines training in scientific and applied areas of study. Students are given the opportunity to conduct research and practice clinical skills.
Her thesis adviser William Marelich, professor of psychology, gave her support and mentorship throughout her graduate studies. Afshar plans to publish her thesis in an academic journal with Marelich's guidance.
"Whenever I doubted my abilities, Dr. Marelich provided encouragement and helped me see that I am capable of so much more than I originally thought," said Afshar, who serves as vice president of the student-led Psychology Association of Graduate Students of Color and Allies.
After graduation, Afshar will work toward completing 3,000 clinical hours and passing the clinical examination to become a licensed marriage and family therapist.
"Due to my own experiences as a child, I hope to advocate and provide clinical services to children and adolescents to improve their mental health and successfully transition to adulthood," she said.