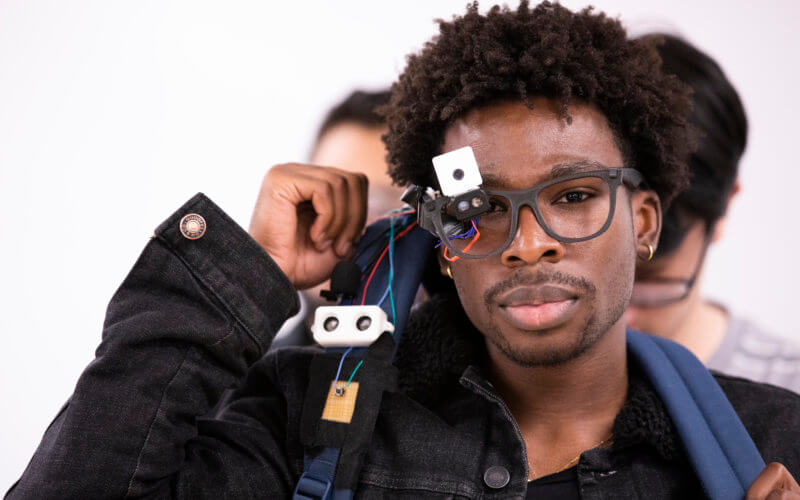 Juanita Herrera is visually impaired and relies on her guide dog, Jayden, to assist her with daily tasks like crossing the street, avoiding obstacles and locating doors.
But the single mother of a toddler wants to "see" everyday objects, such as finding a chair in a crowded room or navigating an unfamiliar outdoor place.
With Herrera in mind, Cal State Fullerton computer engineering students developed "Assistive Glasses," a hands-free wearable technology device. The glasses can help Herrera and others with visual impairments detect and identify often-used objects — something a guide dog cannot always do.
Class of 2023 graduates Jeremy Chang, Abel Desoto and Rodney Nobles and their faculty adviser Kiran George, professor of computer engineering, worked with Herrera on the project. The project emerged as part of an ongoing partnership between Sagil James, associate professor of mechanical engineering, and the Dayle McIntosh Center for the Disabled in Anaheim.
The prototype uses smart technologies, including artificial intelligence, machine learning, voice recognition and a bone conduction speaker, which leaves the ear canal open, unlike traditional headphones. Desoto explained that the speakers are close to the ear and in contact with the head to amplify noise by vibrating directly on the bones.
"Students bring fresh perspectives and ideas to help individuals with disabilities, which can lead to innovative thinking, creative problem-solving and groundbreaking solutions," George said. "Their involvement in creating projects fosters their personal growth, skill development and social impact while fostering a more inclusive society."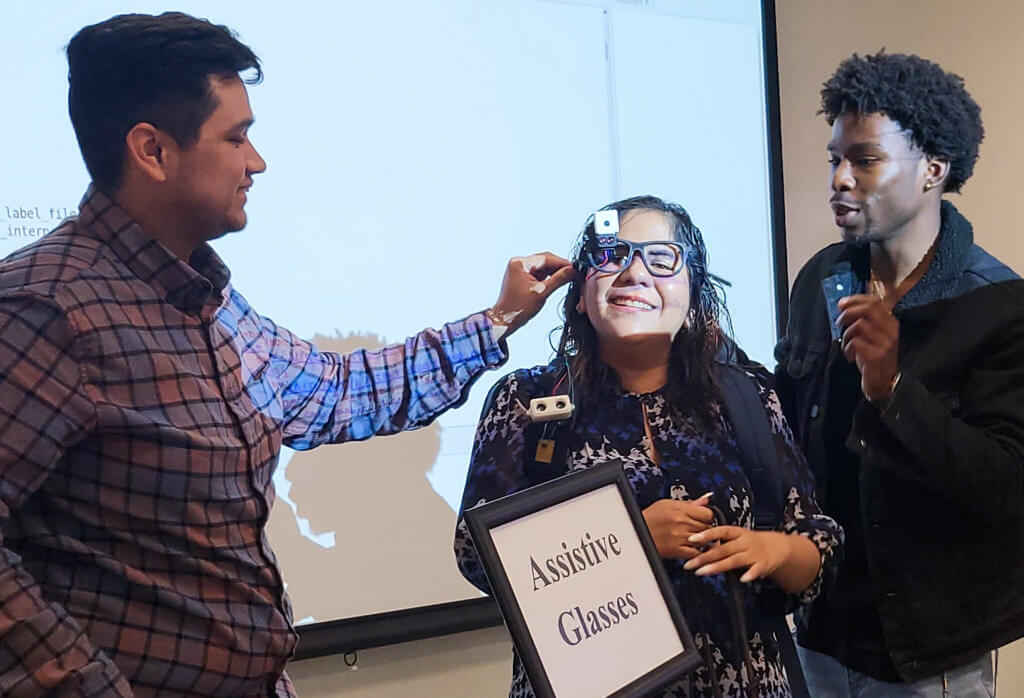 Herrera, lead assistive technology advocate at the Dayle McIntosh Center, is excited about the possibilities after she tested the assistive glasses.
"This type of device is an important breakthrough because it allows a blind or visually impaired person to be more independent when traveling alone," Herrera said.
Herrera was born with congenital glaucoma and underwent eight surgeries by age 3. She gradually lost her eyesight and is now blind.
"This type of device would not replace a guide dog or white cane, but it is an additional tool that can enhance the use of mobility devices."
Creating Wearable Technology
Using 3D printing technology, the team created the lightweight eyeglass frame, which holds the camera, distance sensor and bone conduction speaker.
The camera captures an image and determines the distance between the wearer and an object. For example, the glasses can assist an individual in finding a chair or bench to sit on or locating stairs, Desoto said.
Desoto added that pairing the glasses with a backpack to hold computer components, a power source, a microphone and a distance sensor, which helps the individual avoid bumping into other people or objects, allowed the team to use less expensive components.
The students won an honorable mention in the Best Projects Overall category in the spring ECS Student Project Innovation Expo, hosted by the College of Engineering and Computer Science.
Tackling Solutions to Real-World Problems
During the two-semester multidisciplinary capstone course, students receive hands-on learning experiences and apply the knowledge and skills learned in their academic program to real-world problems.
"This helps bridge the gap between theory and practice, making students better prepared for the challenges they may face in their future careers," said George, whose research interests include assistive technology.
Students develop skills in conducting user-focused research while gathering feedback and incorporating user preferences and requirements into their project designs. They learn to think critically, analyze problems from multiple perspectives and develop creative approaches to address the specific needs and limitations of the user.
The course also helps students grasp the value of an iterative design process, which involves prototyping, testing and refining their solutions based on user feedback.
"Students embrace failure as a learning opportunity, which allows them to make iterative improvements to their designs," added George, CSUF Outstanding Professor.
Next academic year, George's future students will expand on the work of this year's design team to refine and further test the "Assistive Glasses" prototype before Herrera receives the final product.
"Working on a real-life project to benefit Juanita forced us to design a safe, reliable and comfortable device," Nobles said.