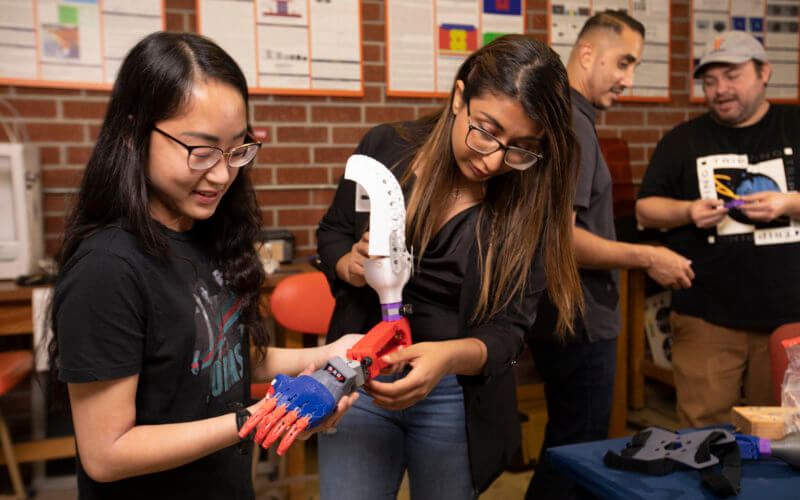 In impoverished and remote regions of Guatemala, individuals who have lost their arm above the elbow need affordable prosthetics to help them return to work and live a life of normalcy. 
Using 3D printing technology, Cal State Fullerton mechanical engineering undergraduate students designed and developed a prosthetic for individuals to replace the lost function of their missing upper arm.
"I hope our prosthetics will help individuals get back to work, earn acceptance within their communities and help change their lives," said Aitiena Mac, the project's team lead.
Mac shared that people lose upper limbs due to accidents, face discrimination because of their disability and cannot work.
In addition to Mac, the other team members are Youssef El Bassiouni, Miguel Garcia, Yasser Ghazi, Kevin Mazon, Kelwyn Mondragon and Dustin Nguyen, all Class of 2023 graduates.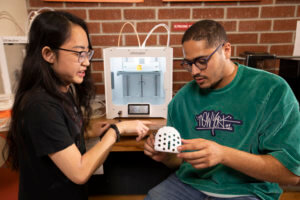 The project is part of the "Additive Manufacturing Engineering" upper-division course taught by Sagil James, associate professor of mechanical engineering. Students work collaboratively on projects that tackle real-world issues or problems and learn about trends in additive manufacturing processes — also known as 3D printing.
"They learn about different disabilities, develop human-centered design skills and grasp a deeper understanding of the challenges faced by people with disabilities," James said.
"They work in diverse teams, which exposes them to different perspectives and fosters a broader understanding of disability-related issues that leads to a more inclusive society."
Last year, students designed a 3D-printed prosthetic arm for an individual and will finish the final iteration this summer.
Real-World Solutions Using 3D Technology
Eric Lamoray, who makes 3D-printed prosthetics on his boat for people in Guatemala, contacted James about having his students create an open-source prosthetic design for individuals needing an above-elbow prosthesis.
Orange County couple Nadia Flores and James Long, who met Lamoray through their nonprofit outreach efforts in Guatemala, learned about James and his students' work on 3D prosthetics.
They serve as the local coordinators of the prosthetics project and regularly meet with James and his students to offer insights regarding the needs of amputees. The couple also attended a recent student presentation about the project.
"The students' innovation inspired us to help," Long said. "These prosthetics will give people their lives back and restore their dignity. We're excited about this partnership."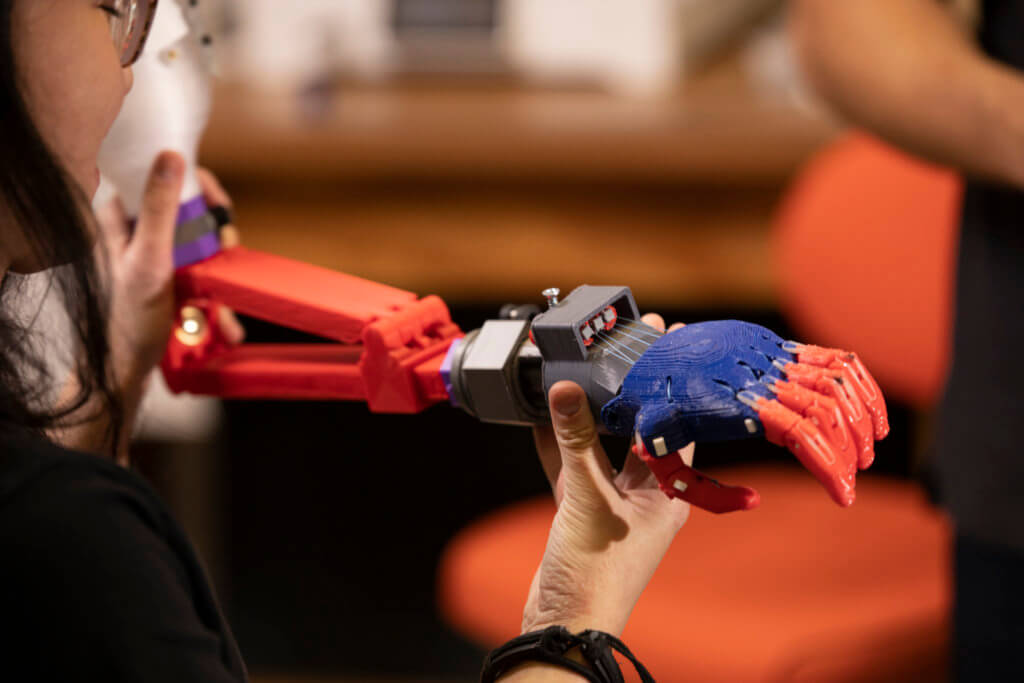 Students are making three prosthetic arms for individuals in Guatemala and are working on the final iterations.
"Next academic year, students will continue with the project and integrate groundbreaking human-centered design concepts to construct sustainable and innovative solutions," James said.
Lamoray plans to use the students' design to 3D-print prosthetics and, with the help of nonprofits in Guatemala, will distribute them for free to people who need them.
Originally from Quetzaltenango, Flores shared that when visiting the country, they saw the need for prosthetics to transform lives positively. Flores relayed that about 60 people who have lost their arm above the elbow need a prosthetic.
"Those who are benefiting are hardworking people from rural areas of the country and would not have the means for any other type of support," she said.
Mazon, who was involved in designing and printing the prototype, shared that the prosthetic arm is affordable, lightweight and adjustable for a child or adult. The prototype also was engineered with highly durable 3D materials to withstand the challenging weather conditions in Central America.
The finished product cost is about $25, including hardware and straps, said Mac, who plans to pursue a biomedical engineering graduate degree and aspires to start a nonprofit to make affordable prosthetics.
James said that students engaged in disability-related engineering projects acquire knowledge of diverse technologies to prepare them for the workforce. They gain valuable learning experiences in 3D printing, scanning, robotics, sensor technologies and virtual and augmented reality.
"It is important to learn about 3D technology because it can open doors to designing affordable medical devices," Mac said.
Mazon, who plans to design medical devices, was eager to learn new technologies to help others in need.
"I hope our project gives people a better quality of life," he said. "This project was not easy, but it was rewarding to accomplish our team's final goal of a completed prosthetic arm. I will remember this experience for the rest of my life."