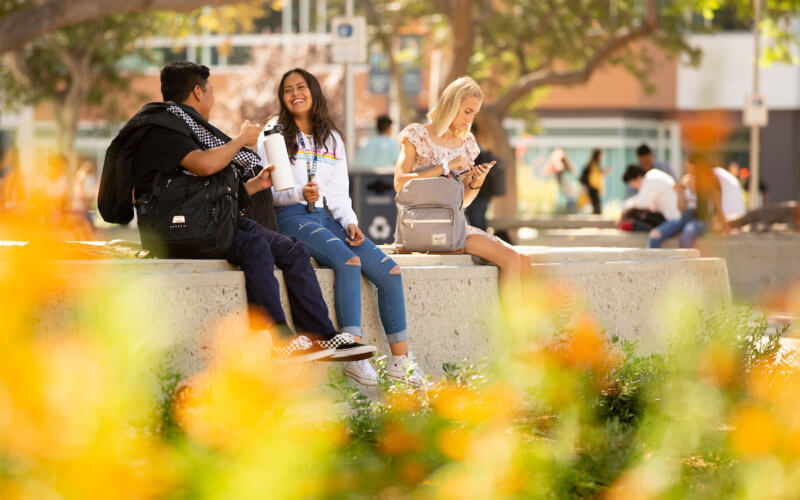 From dealing with financial struggles to navigating family obligations, there are several reasons why students put their education on hold. For those students, Cal State Fullerton has options to help them re-enroll in school and achieve their goal of earning a college degree.
"We have a commitment to our students…all of them," said Elizabeth Boretz, assistant vice president for academic affairs. "We want them to know that we see them as people with busy lives who face competing pressures."
With that in mind, staff members in the university's Division of Academic Affairs began reaching out to students who hadn't re-enrolled to see if they could help. They started with an email and followed up by mailing letters to students' physical addresses. They also utilized social media and outreach campaigns.
They even created something they'd never had before — a webpage for students who would like to return to campus.
"We want them to understand that we'll work through whatever issues they are dealing with that have prevented them from returning," Boretz said. "Financial concerns were the number one problem we heard from our students. However, most of these students weren't aware of all the financial resources that are available to them. More than 66% of our students receive Pell Grants, other forms of federal aid, scholarships and more. Many expressed a lack of awareness regarding how to gain access to these resources."
The emails included a link that directed students to the "Bring Back Titans" page, filled with information about their return to campus. These outreach methods have already yielded positive results.
Last spring, 139 students returned after being contacted. At the end of the semester, all but 22 of them were in good standing. For those who showed signs of academic struggle, efforts are underway to reach out and see what assistance they may need.
"If students are struggling academically, we direct them to campus tutoring programs or resources to help them," Boretz continued. "Many students feel ashamed when they need to ask for help and don't realize that many other students find themselves in the same situation. We let them know we understand that this didn't work out for them but there are solutions, and we want to help them succeed."
Family obligations were also a concern. For students who are first generation, their families may not be aware of their need for time to study, attend meetings and prepare for tests.
"We have counselors who will role play with students to help them explain to family members why they may not be able to contribute as much time or resources to the family because of their time commitment to their studies," Boretz said. "We help them frame the conversation to demonstrate that by taking the time to complete their education, they will be able to be of even more help once they graduate and can move on to better careers."
What has also helped is that students understand that they're not alone. They know that others have faced the same difficulties, and in some cases, this can help ease the transition back to higher education.
"Returning Titans have the potential to be 'overcomers' and role models," said Boretz.
For more information about "Bring Back Titans," visit their webpage.