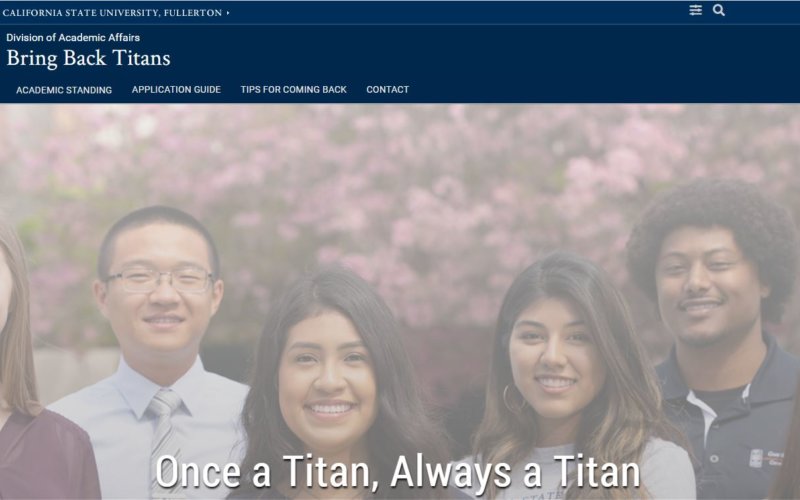 After four consecutive years of watching the equity gap at Cal State Fullerton shrink, the goal of closing it completely seemed in reach when it hit an all-time low in 2020.
Then, the COVID-19 pandemic hit and – like universities across the nation – the California State University system saw a decrease in student persistence among first-time freshmen who enrolled in fall 2019 and fall 2020, particularly students of color. At CSUF, more than 2,000 students from those cohorts stopped out, according to the Office of Assessment and Institutional Effectiveness.
As a response, a cross-campus team of faculty, academic advising specialists and enrollment experts formed to launch Bring Back Titans, an initiative that aims to re-engage and re-enroll Titans so they can complete their degrees.
The first action was creating the Bring Back Titans website, which went live March 14. Designed to connect with students and take them through the re-enrollment process, the website breaks down the steps of coming back to CSUF while offering several avenues of assistance, including academic advisors, resource links, and tips to help people return.
"The CSU has made re-enrollment a top priority in its mission to close the equity gap," said CSUF Provost and Vice President of Academic Affairs Carolyn Thomas. "This is great for us because we have long wanted to create an easier path for our Titans who stopped out and now want to return and graduate. The Bring Back Titans initiative will improve our graduation rates. More importantly, it will ensure these former students are able to complete their degrees and create positive change for themselves, our communities, and society."
Closing the equity gap is one of the two major components of Graduation Initiative 2025 (GI2025), a systemwide plan that aims to improve graduation rates and bolster the workforce statewide. While graduation rates at CSUF have steadily increased since 2015, success at closing the equity gap in those graduation rates between student populations has been more sporadic.
The intent behind Bring Back Titans is to work in concert with other efforts to recapture Titans who have stopped out, including the outreach campaign conducted by Retention Specialists that recaptured more than 1,500 students who originally declined to re-enroll in January 2021.
"We're hoping Bring Back Titans builds upon our Retention Specialists' success," Thomas said. "Their individual outreach is helping us support students' return in the face of challenges. Still, Bring Back Titans is necessary because it reduces the administrative barriers that can discourage students. Together, with those Specialists, this new program will offer a powerful combination of support.