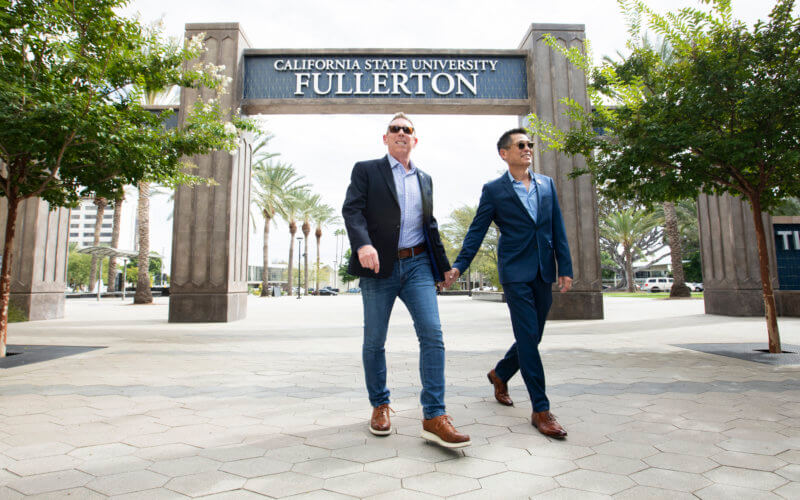 Since alumnus Michael T. Losquadro came out in 1983 as a Cal State Fullerton student, he has been a champion for the LGBTQ+ community.
Losquadro, who studied management, became a regular member of what was then CSUF's Gay Student Union. He participated in the student organization until he graduated in 1986 with a bachelor's degree in business administration.
As a young professional and throughout his three-decade career in fundraising, Losquadro and his husband, Dr. Brian C. Keller, a Kaiser Permanente family physician, have advocated for LGBTQ+ rights.
It is only fitting that Losquadro and Keller are now giving back to support the university's LGBTQ+ student community.
The Seal Beach couple, who have been together 30 years and married in 2008, has pledged a $1.5 million planned gift to the university to benefit the LGBT Queer Resource Center and student scholarships in the College of Business and Economics.
Of their gift, 80% will benefit the center and its programming. The center will be named in their honor as the Losquadro Keller LGBTQ Resource Center. A renaming celebration will take place in October following National Coming Out Day.
"I spent nearly my entire career assisting wealthy and not-so-wealthy people in achieving their philanthropic goals. It seemed appropriate that we would want to support the LGBTQ community at CSUF," Losquadro said.
"What's most rewarding is knowing that our support will go on in perpetuity and that this gift will provide scholarships to deserving students and programmatic support for the center."
Losquadro praised his solid education in the College of Business and Economics and wants students to benefit from scholarships so they can focus on their academics and graduate from college.
"We'd like our scholarship to enable students to pursue their careers without having to work as many hours as I did as a student. We hope the scholarship will allow the recipients to discover more and work a little less," he said.
With a reputation as a caring, dedicated physician, Keller has worked most of his career in the Kaiser Permanente Downey service area and has served in numerous leadership roles. For 12 years, he was an LGBTQ Center OC board member, including a long stint as treasurer and serving on committees to strengthen the center's processes and activities.
"It is truly an honor for us to support the Titan queer community and allies," Keller said. "By supporting the center, we hope the programming will build students' confidence, laying a strong foundation for a successful future."
The LGBT Queer Resource Center serves as a home away from home for students — lesbian, gay, bisexual, transgender and other sexual and gender minorities — to study, relax and build community with one another.
"This gift is such a great blessing and honor for the center. In a time when there is so much uncertainty about the future for LGBTQIA+ people, it is meaningful to have such a significant commitment to our community," said Nat Betancourt Arellano, senior coordinator of the LGBT Queer Resource Center.
"This contribution will allow the center to grow our educational and cultural programs and provide additional resources for our LGBTQIA+ Titans to thrive."
The gift will go toward hosting future "Tusk Ball" events, a program launched earlier this year that promotes and provides a space for students, particularly queer and trans students of color, to celebrate and explore identity and fashion.
"Students perform in dance and fashion categories that express gender and culture, coached by professional artists from Black and Brown LGBTQ+ ball communities," Betancourt Arellano said.
Career and Pride Journey
Losquadro, who grew up in La Palma, worked more than 50 hours a week to support himself and pay for his college education. He was a grill cook for a food service vendor in the university's food court, which later parlayed into a manager position.
A few years after graduation, Losquadro landed an unexpected career in fundraising. He held top-level fundraiser positions in higher education, including at Long Beach State, Cal State Dominguez Hills and UC Irvine. He retired in 2021 from the California State University Chancellor's Office as senior adviser for campus advancement in University Relations and Advancement.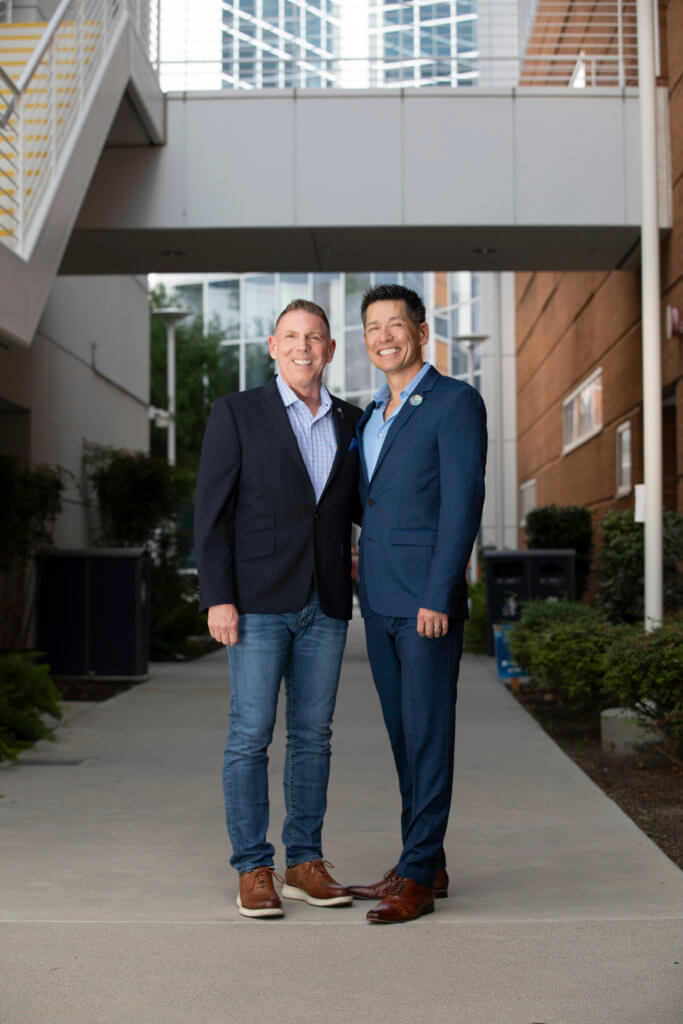 "I look back on my career knowing that, due in part to my work, I helped to raise hundreds of millions of dollars to support students, faculty and programs at California State University campuses," he said.
Losquadro was an early leader in Orange County's LGBTQ community, including serving as a board member and treasurer of the Elections Committee of the County of Orange. The organization was one of the first nonpartisan LGBTQ political action committees in the country.
He was a lead volunteer for the first AIDS Walk in Orange County and was on the board of Orange County Cultural Pride, the nonprofit producer of the LGBTQ pride parade and festivals.
In the late 1980s, Losquadro was the program administrator for the LGBTQ Center OC's Young Adult Program and also served on the board of directors. In 2013, he was awarded the center's Torchbearer Award for his advocacy work.
For more than 20 years, he has volunteered with the Orange County Sheriff's Department as a reserve lieutenant on the search and rescue team. He is believed to be the first openly gay man to complete the rigorous academy.
Titan Moments
Losquadro shared that studying business management gave him a foundation for using best practices and data to inform his decisions as a leader in university advancement.
One of the highlights of his college journey is the day he graduated. As he walked across the commencement stage, then-university president Jewel Plummer Cobb stopped him. Cobb personally congratulated him and wished him well in his future career.
"I got to know President Cobb from my dining service duties on campus. Having the president recognize me like that still speaks to me all these years later. It was a great management lesson about developing relationships with the people on your team."
Losquadro recalled how Ronald Rietveld, professor emeritus of history, and Jane Hall, professor emeritus of economics, uplifted and inspired him.
"Professor Rietveld was masterful in how he brought world history alive. I looked forward to his lectures and was proud to join my classmates in giving him a standing ovation on the last day of class," he said.
"Professor Hall left an imprint on me with her deep knowledge of theory and practical applications. The nation was in a turbulent economic time when I was an undergraduate. Her insight was captivating."
Losquadro credits his time at the university for giving him the tools to succeed in his career — and the motivation to contribute more fully to the community around him.
"I pushed my boundaries in multiple ways, made some lifelong friends, and started a career path that enabled me to achieve things I'd never even dreamed were possible."