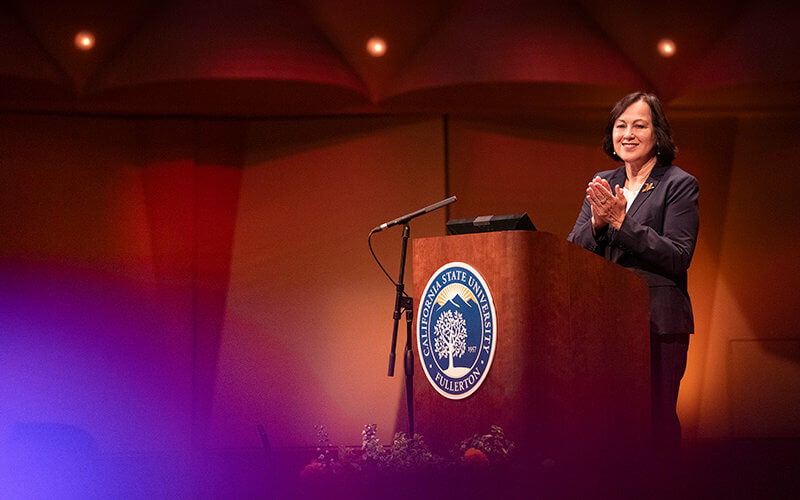 Speaking before several hundred attendees in Meng Hall (and hundreds more online), new CSUF President Sylvia Alva outlined her priorities for the upcoming academic year, celebrated the accomplishments of the past year and shared details of her own history as a first-generation student.
For some in the audience, it was an introduction to the new president but for others, it was a homecoming as Alva spent the first 20 years of her career at Cal State Fullerton, starting as an assistant professor of child and adolescent development.
"It is an honor and a privilege, and quite frankly, slightly surreal, to be here with all of you," she said. "This is a beautiful and fulfilling full-circle moment that reaffirms why the CSU is the greatest driver of social mobility in California and the nation.
"There is no question that Cal State Fullerton is an exceptional driver of social mobility in California and the nation. Like so many of our students and alumni, I relied on financial aid, scholarships and a part-time job to pay for my undergraduate education. Like so many others, my education changed the trajectory of my life and has elevated my family and community in countless ways."
Alva is the daughter of Mexican immigrants who came to America as newlyweds, with the hope of a better life for their family. She shared that she, her parents and five siblings share a rich linguistic and cultural heritage.
"Our parents instilled in us a strong sense of family and gave us wisdom and useful advice," she explained. "They instilled in us a strong work ethic and an unwavering belief that with faith, discipline, hard work, perseverance and 'una buena educación,' you can achieve your goals.
"It is my calling and privilege to pay forward what my parents, faculty, and countless mentors and colleagues have given me throughout the years."
During Alva's first six weeks as president, she listened and engaged with multiple groups, finding that while many things changed or moved, the can-do spirit that makes Cal State Fullerton a leader in the CSU system remains alive and well.
"Empathy and compassion must continue to be present as we fine-tune how to provide a welcoming and inclusive university experience," she said. "The power of belonging, and the understanding that each of us has a role to create a more welcoming place for students and one another, is a movement worth leaning into."
Accomplishments
Alva shared some of the highlights of the past year, including:
In May, nearly 11,000 Titans crossed CSUF's commencement stage.
The demand for a Cal State Fullerton degree is high. This fall's incoming class includes 7,100 first-time freshmen and 4,000 transfer students. This is the largest incoming class in Titan history.
Cal State Fullerton now has 323,000 Titan alumni.
CSUF is No. 2 in the state for degrees earned by women.
CSUF is No. 3 in the nation for degrees earned by Latinx and underrepresented students.
The university is No. 7 in the nation for social mobility.
The campus proudly embraces its HSI (Hispanic-Serving Institution) designation, and its unique role in serving Latinx students. Beyond the designation, this work has been recognized with the Seal of Excelencia, a national certification for institutions that strive to go beyond enrollment to intentionally serve Latinx students.
"As one of California's greatest and most powerful engines of social mobility and prosperity, we must recommit to taking our rightful position as a national leader in providing authentic access and an equity-centered approach to student success.
"We must continue to build on our data and technology infrastructure to guide and support our students in achieving key success milestones, and be ready to intervene in a more proactive and integrated way when they need our support," Alva said. "Our academic programs fuel the region's economy. They meet workforce needs and prepare students for impactful and rewarding careers. The vitality of the region points back to the success of our programs and the contributions of our alumni."
Alva noted that the university completed the largest and most successful comprehensive fundraising campaign in Cal State Fullerton's history.
The original goal for the "It Takes a Titan" campaign was $175 million. After MacKenzie Scott's transformative $40 million gift, the goal was raised to $250 million, and ultimately, more than $270 million was raised to fund the university's priorities and key initiatives.
"But fundraising and friend-making never stop," Alva continued. "University Advancement raised $35 million in philanthropic contributions last year alone, and I look forward to working closely with them to build on this extraordinary effort and momentum."
CSUF faculty and staff secured $46.1 million in grants and contracts in 2022-23, the largest total amount the university has garnered in a single year and a 32 percent increase from the previous year.
Alva also noted that peer-reviewed research publications from faculty propelled Cal State Fullerton to notable heights.
"When faculty bring high-impact practices to their classrooms and labs, students are often engaged in valuable real-world research and presentation experiences," Alva noted. "Last year, undergraduate students presented more than 220 research and creative projects at regional and national conferences and events.
"Our students come to us from so many walks of life and the gifts they bring from their diverse experiences help shape who we are as a university," Alva said. "Teams from Student Affairs are there at every step of the student journey to support them on their paths to graduation. Our teams have developed programming to create a sense of belonging, level the playing field and break down barriers to success.
"Few universities can compete with us when we commit ourselves to authentic access. Built on the foundation of excellence and inclusion, Titans graduate and go out into the world as champions of inclusion, equity and consequently, the cycle of educational opportunities and social mobility is multiplied.
"I read and re-read our Six Guiding Principles of Social Justice and see these principles embraced across our university community from professional development offerings in the Division of Human Resources, Diversity and Inclusion to the new holistic and inclusive tiered-safety approach adopted by our police department and to the formation of the Commission on Equity, Inclusion and Social Justice. We need champions to keep steering this work and I look forward to seeing how the commission will help us shape a community of practice to inform and guide this growth.
"I appreciate that our IT Division approaches their work through an equity lens and actively deploys programs and services to eliminate the digital divide."
The Physical Campus
Looking ahead, there are many capital projects that will continue to strengthen the physical infrastructure of the campus, including:
Construction on the Visual Arts Complex, with occupancy scheduled for fall 2024,
Design in progress for the Center for Leadership, known as Landmark Hall, with occupancy scheduled for November 2025,
Construction set to begin December 2024 on student housing phase 5, with occupancy slated for fall 2026,
Design about to begin on the new Engineering and Computer Science Innovation Hub, with occupancy expected in July 2026
Start of construction on the Titan Gateway Bridge, beginning October 2025
Moving Forward: Enrollment Management
"The first call to action is finalizing our 2024-29 Strategic Plan so we have a road map for the next generation of Titans to grow and thrive under our stewardship," Alva said.
"Last spring, the university-wide review and reflection activities attracted 5,100 participants, including 2,609 students and 2,491 faculty and staff members. The participants mirrored our diverse community, representing all colleges and divisions, and contributed rich data to the discussion on the future of the university.
"We need to prioritize a holistic model of equity-centered student success that addresses strategic enrollment management and refines the student journey."
Alva also focused on enrollment management, not only in admitting new students but retaining and supporting students on their journey to a college degree.
"You may be wondering why strategic enrollment management should be prioritized when Cal State Fullerton is the biggest university in the CSU," she said. "Here's why. Strategic enrollment management helps us plan for robust years like this when we are net neutral, but also for the time when we may see a much smaller pool of potential students.
"This is an all-university conversation because enrollment informs how we schedule classes in every academic program and how to plan support services. In addition to traditional college-going students, we will need to create new on-ramps to college–professional certificates, flexible degrees designed for working adults, re-enrolling those who have some college units but no degree, more learner-centered approaches to providing graduate programs and professional doctorates…and the list goes on.
"When done correctly we have a road map," she continued. "We decide what is the right enrollment target for the university, based on a realistic and sustainable financial model that secures the resources needed to reach and serve new audiences."
Building a Strong Culture of Care
Alva's second call to action is to build an even stronger culture of care and accountability. The CSU systemwide Title IX review gives recommendations that campuses can use to cultivate more transparency and accountability to build a robust culture of care, safety, belonging and respect. An implementation team has been established that will guide the university in these efforts.
"The Commission on Equity, Inclusion and Social Justice is also key and will be tracking our campus climate and setting priorities, so the university community has the tools it needs to change and improve," she added. "Every Titan deserves to learn and work in an environment where they're free from microaggressions and other conduct of concern."
What Is Your Why?
Alva spoke about her "why" being a deep commitment to elevating inclusive excellence and student success through equitable and inclusive practices. She encouraged members of the audience to know and share their own "why."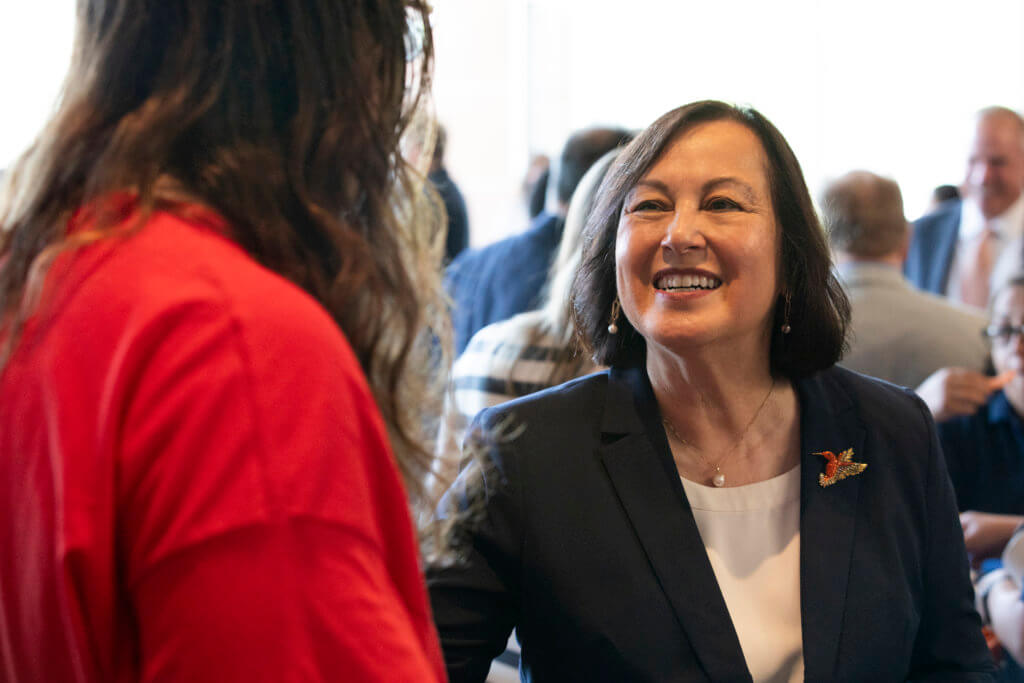 Power and Strength in Community
In closing, Alva acknowledged the work of many and her support for overcoming challenges the university may face.
"There is power and strength in community," she said. "Our values as educators unite us and ground us. Please know that I appreciate, value and respect you. I am inspired by the transformative work that you do each and every day."