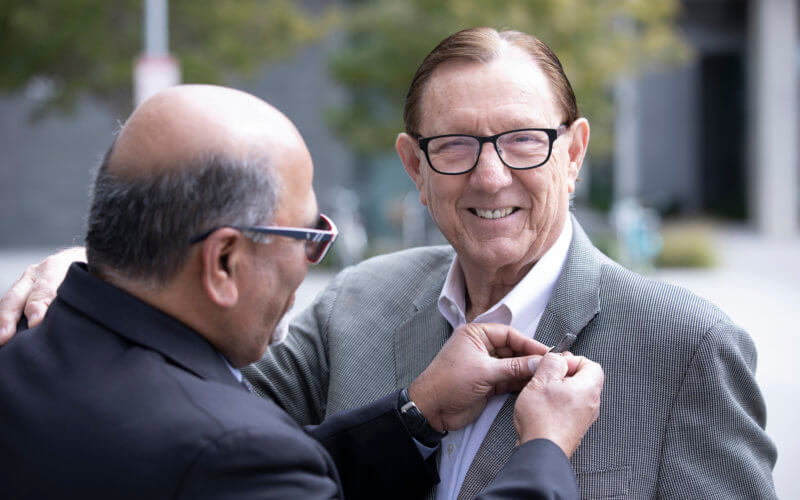 Cal State Fullerton lost a generous and dedicated supporter: Paul Folino, chairman emeritus of Emulex Corp., died Oct. 14. Not only did Folino greatly contribute to the continued growth of Cal State Fullerton, but he also helped power Orange County's economy as well as numerous philanthropies, mostly notably in education and the arts.
"We have lost a true Titan," said CSUF President Sylvia Alva. "Countless students at Cal State Fullerton have been the beneficiaries of Paul Folino's dedication and generosity. His support advanced many areas on campus, including the College of Business and Economics, Center for Oral and Public History, and men and women's golf programs. His willingness to share freely of his time, connections and resources, made him a Titan in the truest sense of the word."
"Paul was, quite simply, a force of good for the university," said Greg Saks, vice president for university advancement. "He was not only a major donor to Cal State Fullerton, but enjoyed interacting with students, faculty and staff. His business acumen and willingness to help benefited us all and we will truly miss him."
College of Business and Economics
"It would not be an exaggeration to say that the College of Business and Economics building may not have been built without the generous support of Paul Folino and his leadership role in the fundraising campaign," said Anil Puri, former dean of the College of Business and Economics and current director of the Woods Center for Economic Analysis and Forecasting at CSUF. "His first visit to the college in early 2003, as the result of a cold call I made to him, led him to realize the tremendous contributions university alumni were making to his business and those of others in Orange County.
"Coming from humble beginnings himself, he felt a genuine connection to Cal State Fullerton, and for the next 20 years he was deeply committed to the success of the College of Business and Economics as well as the university," he continued. "While the street next to the college bears his name, Folino Drive, our debt to him is everlasting. He was a true friend, with a big heart and nothing but kindness of spirit."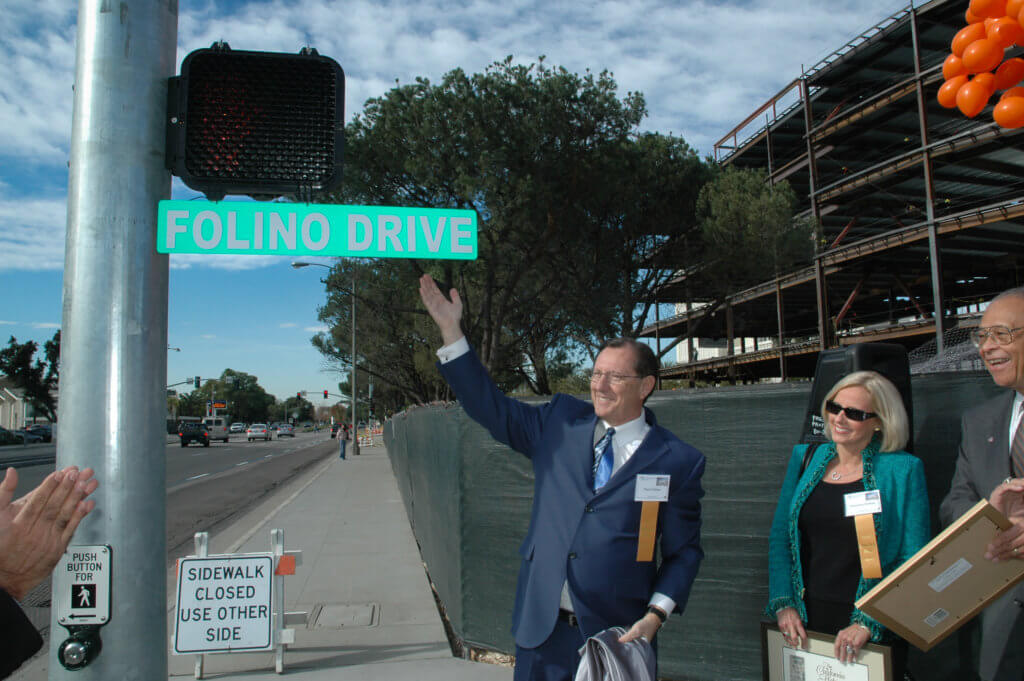 In fact, Folino has the distinction of having the only campus street at Cal State Fullerton named in honor of an individual.
"Paul Folino's support for the College of Business and Economics spans over three deans and two decades," said Sridhar Sundaram, dean of the College of Business and Economics. "He saw himself in our students, many of whom come from humble beginnings with a passion to succeed. His rich legacy includes the many students he supported with his generosity and the positive impact he had on the Titan community. Personally, he was a friend and a mentor, who will be truly missed."
Sundaram noted that Folino served on the Dean's Advisory Board at the college and had been the leader in organizing the college's golf tournament in support of the Business Honors Program. Folino met with these students on a regular basis and supported them with his network. He also was very involved in supporting the School of Risk Management and Insurance.
Men and Women's Golf
"Paul was a remarkable leader, man and supporter of Cal State Fullerton and the Titan men and women's golf programs," said Athletic Director Jim Donovan. "He was the epitome of class, and he always kept his word. Paul will be greatly missed by everyone at Titan Athletics who benefited from his leadership and philanthropy."
In a meeting with former President Milt Gordon, former Athletics Director Brian Quinn, and current Titan men's golf coach Jason Drotter, Folino committed to raising the necessary funds for a Titan men and women's golf program for its first five years of existence. Gordon agreed that after the five years, the university would fund the programs.
Folino was the architect of the Folino Invitational, a fundraising golf tournament that raised more than $1 million during the five years of his commitment. When the first five years were completed, at the behest of Donovan and Drotter, Folino kept the Folino Invitational going for another five years to build a $1 million endowment for the Titan men and women's golf programs.
Lawrence de Graaf Center for Oral and Public History
"Paul Folino was very generous with his time and support for the Lawrence de Graaf Center for Oral and Public History," said Natalie Fousekis, professor of history and director of the Lawrence de Graaf Center for Oral and Public History. "As someone who was passionate about history, he understood our mission and eagerly connected us with Orange County philanthropists who cared about preserving the region's history and recording the individual stories of this diverse region. These connections resulted in several major gifts that helped the new De Graaf Center space become a reality. The center and Cal State Fullerton could not have asked for a better champion."
About Paul Folino
Among Folino's career successes was the role he played as a member of the original Xerox Corp. team that launched Ethernet networking products in the 1970s. During his three-year tenure as president and chief operating officer of Thomas-Conrad Corp., he spearheaded the company's revenue growth from $18 million to almost $60 million, earning the manufacturer recognition from Inc. Magazine as one of the nation's fastest-growing privately held corporations.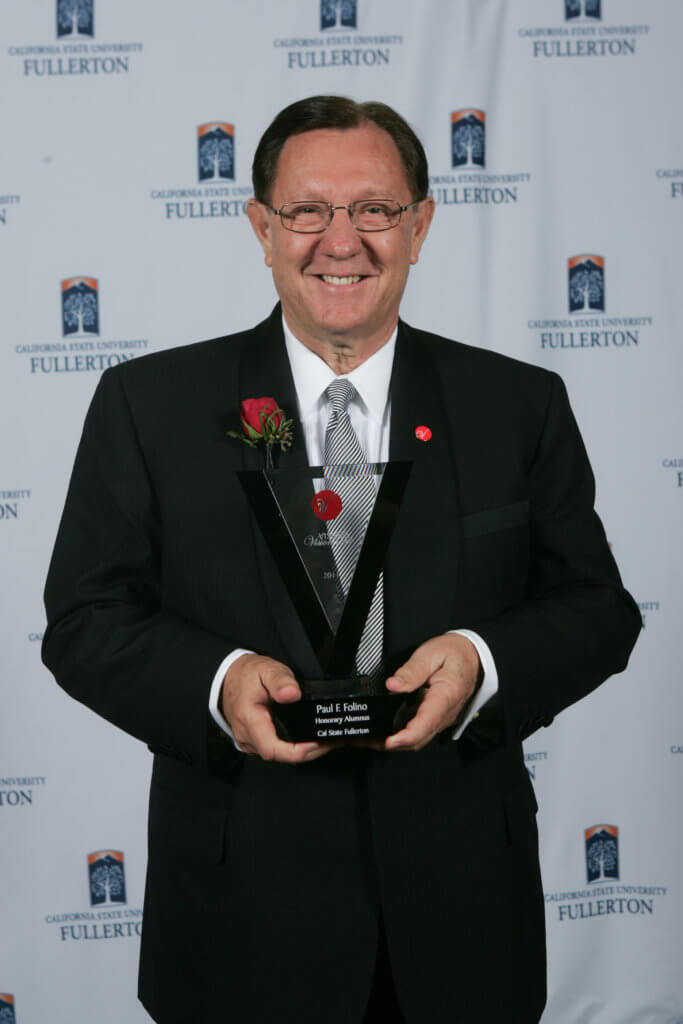 Folino joined Emulex, a manufacturer of devices for data storage networking, in 1993 as president and chief executive officer. Under his stewardship, the company had the No. 1 performing public stock in Orange County in the 1990s. His leadership was recognized by Ernst & Young LLP in 1999, when he was named Orange County Co-Entrepreneur of the Year in technology, and in 2000 as Orange County Director of the Year for high-growth technology. In 2006, the Los Angeles Times named Folino "one of the top 100 most influential" people in Southern California.
The Washington native earned his bachelor's degree in social sciences from Central Washington State University. Like many CSUF students, he worked full time while completing his MBA at Seattle University.
In recognition of Folino's professional accomplishments and commitment to the university and higher education, the Board of Trustees of the California State University conferred upon him the honorary degree of Doctor of Humane Letters.
​He received the university's Orange County Titan Award in 2005 and was named Orange County Philanthropist of the Year in 2006 by the Association of Fundraising Professionals. Folino served on the Cal State Fullerton Philanthropic Foundation Board of Governors and College of Business and Economics Dean's Advisory Council.
In 2011, Folino was a recipient of the university's Vision and Visionaries Award, awarded to those who are among the top leaders in their fields.
Folino was inducted into the Toshiba Classic Hall of Fame, becoming only the fourth nonprofessional golfer of the Toshiba Classic Hall of Fame tournament to be elected and honored for immeasurable contributions to the event.
In 2015, Folino was inducted into the Titan Athletics Hall of Fame for his critical contributions to the Titan men and women's golf programs, raising more than $2 million for these programs.
In 2013, Folino was recognized by the Orange County Business Journal as one of the "top 50 most influential business leaders" in Orange County.
Celebration of Life
The Folino family will celebrate the life for Paul Folino on Thursday, Jan. 11 from 11 a.m. to 2 p.m. at the South Coast Repertory Theatre, 655 Town Center Drive, Costa Mesa. (Parking is available in the structure off Anton Boulevard and Park Center Drive.)
Please RSVP to kathy@paulfolino.com if you will be attending.