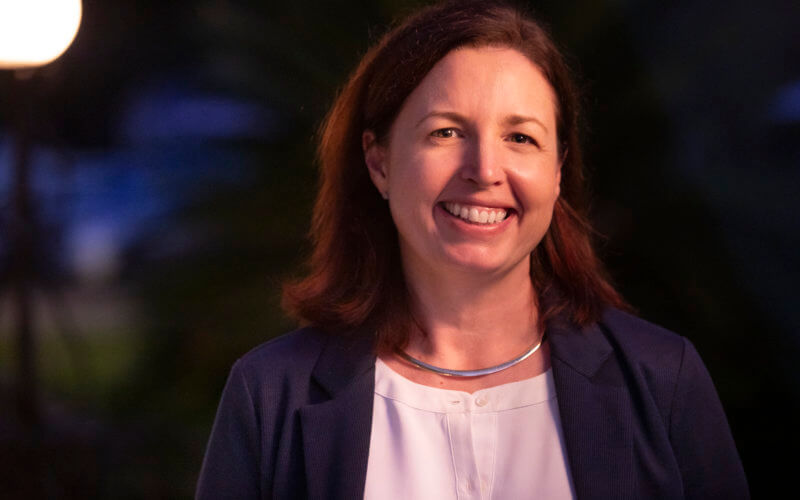 Kate Bono has been appointed interim dean of Cal State Fullerton's College of the Health and Human Development, effective Oct. 23.
"I'm honored to have the opportunity to serve the college in this new role," said Bono, professor of child and adolescent studies. "One of my highest priorities is to be a transparent leader who leads decisively, but with compassion and empathy, with open communication, and most importantly, with integrity."
Bono earned her bachelor's degree in psychology from the University of the Pacific and her master's degree and doctorate in applied developmental psychology from Claremont Graduate University before she joined CSUF in 2006.
Since she's been on campus, Bono has supported students, faculty and staff in a variety of leadership and campus governance roles, including serving as the college's associate dean and department chair for child and adolescent studies. She has also chaired such committees as the Faculty Research Committee and Health and Human Development Strategic Plan Evaluation Committee.
Throughout her time in the College of Health and Human Development, Bono said she's impressed with the faculty's dedication and commitment. Not only are they champions of student success, but they are passionate about positively impacting communities through their work in health, wellness and human development, she said.
"The College of Health and Human Development provides high-quality education and support to students, many of whom are first–generation college students, so they can achieve their dreams," said Bono. "This new role will provide me with ample opportunities to support our faculty, staff and students in a way that involves compassion, empathy, strong leadership and day-to-day support."
In the Department of Child and Adolescent Studies, Bono has conducted research on the influences of parenting, intervention and executive function on developmental outcomes in children and families. Her work has been published in such academic journals as the Journal of Early Intervention and Infants and Young Children.
She also has a passion for advocacy and supporting underserved communities that inspires her work both on and off campus. She co-directs the CSUF Resilient Families Program, an intervention program for English- and Spanish-speaking families that aims to increase children's developmental capacity for resilience.
A partnership between the departments of child and adolescent studies and human services, this community-based program trains students to study and interpret data as well as work with parents to strengthen parent-child attachment, promote children's self-regulation skills and support better management of parenting stress. Bono said she hopes to continue fostering community support in her new role by collaborating closely with campus centers and institutes and the college's community partners.
"Our faculty and students conduct cutting-edge research that informs and affects change locally, nationally and globally, and provide valuable service to the campus and surrounding community. I am excited to be able to support all of this work through collaboration with my colleagues in the college and across campus," said Bono.