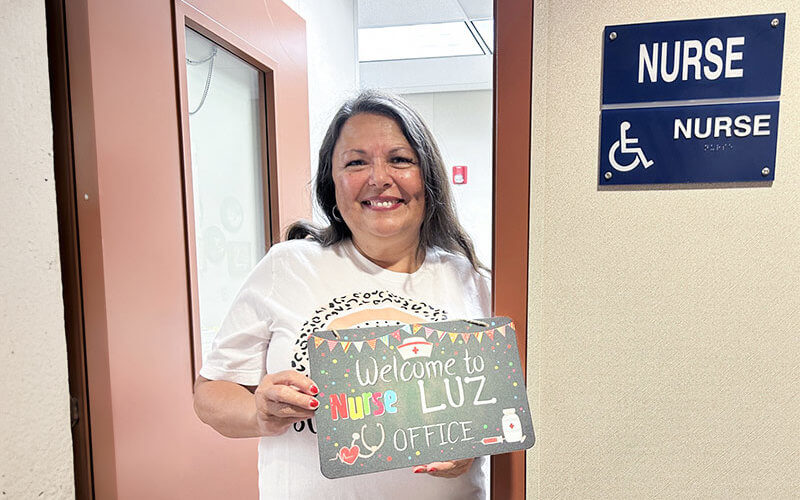 Carrying a stethoscope around her neck and dressed in a white uniform, Luz Horn remembers hearing a patient's heartbeat for the first time while participating in a high school Health Allied class. That was the moment she knew her calling was to become a nurse in an educational atmosphere.
After high school, she enrolled at Santa Ana College and earned her associate's degree in nursing before being accepted to Cal State Fullerton's School of Nursing.
Today, the CSUF alumna is a school nurse for Horace Mann Elementary School in Anaheim, and the recipient of the Osher Lifelong Learning Institute's 2023 Betty Robertson Award for her commitment to lifelong learning.
The Betty Robertson Award is granted each year in memory of "The Godmother of OLLI," who tirelessly worked to create a program for senior citizens' continuous learning. The award includes a year's free membership in OLLI-CSUF and $1,000, which Horn said she intends to use toward postgraduate education.
Horn's path to becoming a nurse was not without challenges. Language barriers, racism and family health issues put her education on hold several times.
"Despite my challenges, I was determined to become successful and make a positive impact here in the U.S.," said Horn, who immigrated to the United States from Mexico in 1969.
While pursuing her bachelor's degree at CSUF, Horn was a single mom caring for her three children and her mother. During her second semester, her mother passed away and Horn's depression loomed over her schooling. She expressed her gratitude for Elaine Rutkowski, professor of nursing, who was compassionate and helped Horn get back on track to earn her bachelor's degree in 2014.
During her last semester of undergraduate studies, she enrolled in a Community Health Nursing class taught by Maria Matza, professor of nursing. Matza asked if Horn wanted to volunteer at the Anaheim Elementary School District flu clinics. After volunteering for one month, Horn received a call from the nurse supervisor offering a school nurse position.
"Little did I know, I would become the school nurse for Horace Mann Elementary. I was so happy to land at the school I graduated from in 1972," said Horn.
Flipping through glossy yearbook pages, the school librarian showed Horn photos dating back to her childhood and her siblings' class portraits. "My school nurse job allows me to help families with special needs children," said Horn. "My Spanish-speaking skills are an additional skill that helps this community."
Horn returned to Cal State Fullerton in 2019 to complete the school nurse services credential, which prepares nurses to promote health and safety, intervention practices and provide case management services.
After completing the credential program, Horn decided to pursue her master's degree in nursing at CSUF.
Horn said she constantly refers back to protection laws for children with disabilities, which she learned in the credential program. She said the laws apply to her department's Infant Preschool Assessment Team and Individualized Family Service plan.
"My responsibilities are to perform vision and hearing screenings, obtain detailed health histories and request medical records to develop individual health plans," Horn said. "During the assessments, I identify children's needs or procedures needed such as medication, diet plan, nasogastric tube feeding, ventilator, oxygen or suctioning."
After graduating with her master's degree in nursing in spring 2023, Horn joined the OLLI-CSUF community to learn more about successful aging, current affairs, exercise and engaging with university life.
"I look forward to making a difference in the lives of children and their families, advocating for their well-being and creating a brighter future for all," said Horn.
For those embarking on college degrees later in life, Horn emphasized that it is never too late to pursue any dreams and life is not a race.
"Embrace challenges and don't be afraid to fail. Perseverance is the key," said Horn. "Most importantly, find joy in your passion and determination will lead you to success."