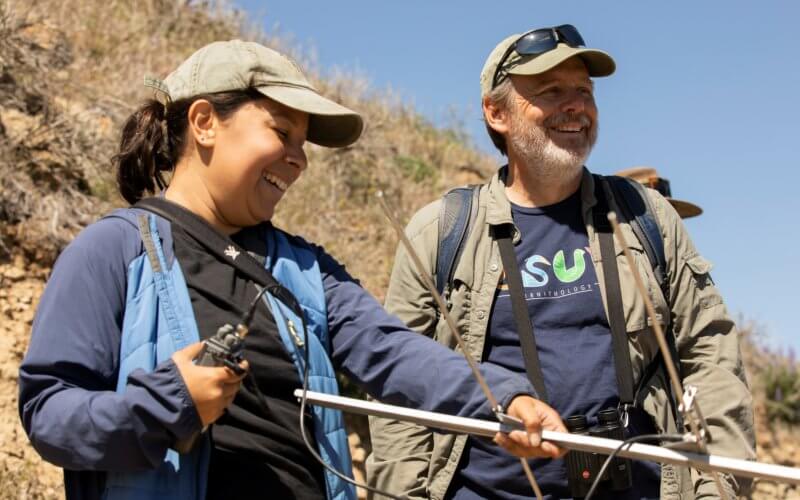 Cal State Fullerton biological science alumna Jennifer Ibarra works at the Bitter Creek National Wildlife Refuge in Maricopa, California as a field technician. She is in charge of scanning skies, tracking and tagging California condors using radio telemetry technology.
During her time at the refuge, Ibarra and her team have identified around 100 condors residing in the refuge. Ibarra aims to protect endangered species such as the California condor by using her field work and research experience obtained at CSUF.
In 2022, one of CSUF's ornithology classes visited Ibarra at the Bitter Creek National Wildlife Refuge. Ibarra shared skills with the students that she learned during her time at CSUF.
William "Bill" Hoese, professor of biological science and CSUF's 2021 Outstanding Professor, said former students like Ibarra and current students are doing important work in supporting animal conservation across the Southwest.
Hoese said: "Seeing my former student lead this adventure was so rewarding. Not only was she showing us how the radio worked, but she was teaching them and giving them the opportunity to learn and engage their skills in real-time."
"Field trips are featured in all of my classes. It's an opportunity for students to see the actual organisms in real life and meet with professionals in the field."
Ibarra said: "I wanted to inspire students and give them a positive representation of what this career looks like. I hope that seeing me in the field — seeing CSUF alumni doing this important work — motivates them to keep pursuing wildlife ecology. I know what it's like to feel defeated in this major, but there is a light."
Learn more at Titan Magazine.