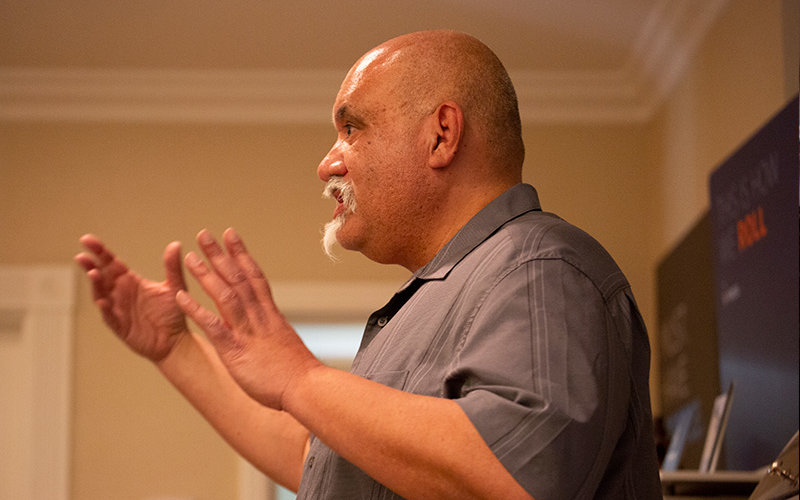 Immigration advocates applauded the U.S. Supreme Court's recent 5-to-4 ruling that signaled the end of Migrant Protection Protocols, often referred to as the "Remain in Mexico" program. Cal State Fullerton professor of political science and criminal justice Robert F. Castro says about 5,000 immigrants may be permitted to reenter the U.S. and wait for their asylum hearings if the program is terminated quickly.
As the U.S. Department of Homeland Security moves to terminate the Trump-era policy forcing some U.S. asylum seekers to wait in Mexico, Castro said other concerns still affect the lives of migrants seeking safety and asylum in the U.S.
Castro said Title 42, a COVID-19-related public health order that expels migrants to Mexico if considered a threat to public health, remains relatively untouched and fully operational.
"Most persons expelled under Title 42 are not given the opportunity to file an asylum claim," Castro said. "Permitting Title 42 expulsions to continue while muting the MPP program does little to implement a more just and humane tone at the U.S.-Mexico border."
Migrants waiting in "squalid" camps in northern Mexico are often exposed to disease, personal hardship and routinely victimized by local gangs that subject them to batteries, assaults, rapes, kidnappings and robberies, Castro said.
What complicates matters – and perhaps limits the efficacy of Biden v. Texas – is that the Biden administration may assign specially trained U.S. Customs and Border Patrol agents to adjudicate asylum claims in special hearings to speed up asylum processing at the border, Castro said.
Castro said this responsibility should instead go to duly authorized immigration judges.
"Judicial officers – at a minimum – are supposed to be neutral and impartial magistrates, not law enforcement personnel," Castro said. "Having CBP agents adjudicate asylum claims is akin to having front-line police also act as judge and jury in conventional criminal proceedings – throttling the idea of unbiased hearings."
Castro said a more common sense approach would be to hire and train more immigration judges to fairly adjudicate sensitive claims like asylum actions.
"CBP agents would have little incentive to act in a fair-minded and impartial manner when reviewing asylum claims, ultimately putting immigrants not only at a clear and present disadvantage with respect to their individual claims, but also at greater risk of being returned to situations where they might face persecution and death," Castro said.
About Cal State Fullerton: The largest university in the CSU and the only campus in Orange County, Cal State Fullerton offers 110 degree programs, and Division 1 athletics. Recognized as a national model for supporting student success, CSUF excels with innovative, high-impact educational practices, including faculty-student collaborative research, study abroad and competitive internships. Our vibrant and diverse campus is a primary driver of workforce and economic development in the region. CSUF is a top public university known for its success in supporting first-generation and underrepresented students, and preparing all students to become leaders in the global marketplace. Our It Takes a Titan campaign, a five-year $250 million comprehensive fundraising initiative, prioritizes investments in academic innovation, student empowerment, campus transformation and community enrichment. Visit fullerton.edu.