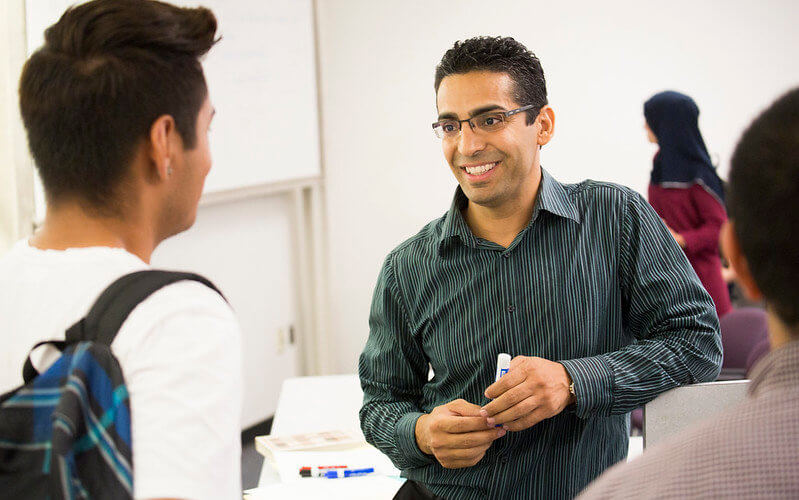 A team of Cal State Fullerton faculty members who teach critical courses with high concentrations of repeatable grades joined the Improvement Science Academy, an in-depth program that focuses on methods to eliminate inequities and decrease the proportion of repeated grades in their classes.
Made possible by a three-year $170,000 grant from the Chancellor's Office, the faculty members began to work with renowned learning scientists Louis Gomez and Kim Gomez, professors of education at UCLA who have spent decades working with education institutions to improve student learning outcomes.
"It's an inquiry process where faculty try to get to the root cause of inequity in student outcomes," said Vice Provost Estela Zarate, who helped secure the grant for the program. "It's not a turnkey solution; rather every instructor examines their practice and expands the range of data to use to understand the factors that contribute to high repeatable grades."
The four courses chosen for the program have had a steady increase of repeatable grades since fall 2020, with repeat-grade percentages ranging from 16 percent to 35 percent. The courses include general chemistry, cell and molecular biology, world civilizations to the 16th century, and financial accounting.
The core principles of the program are to make the work problem-specific and user-centered; address the variation in students' performance in a specific course; understand the system that is producing high repeatable-grades; embed measures of key outcomes and processes to gauge whether any changes are an improvement; address any failures quickly and view them as another opportunity to learn; and to build a community network within the program to accelerate improvements.
"It was great to work with people in other disciplines," said Sachel Villafañe, a participant who teaches general chemistry. "I was able to learn from them and also to see the similarities and differences between the course and the approach used in each course."
The first phase of the program began this semester, and Phase 2 will commence in the fall. One of the goals of the program is for faculty to take what they've learned and share their knowledge of continuous improvement methods with their colleagues so it will become an individual and collective practice, a habit of mind, that will guide future inquiry and improvements.
Laichen Sun, who teaches world civilization to the 16th century, said the students who struggle in his class have problems viewing the material from a global perspective. After working the Improvement Science Academy, Sun implemented techniques that helped students break out of their provincial approach toward understanding world history, including defining the era and concept of early modernity from a global perspective.
"I was surprised to see the results," Sun said. "I was not sure if students could grasp the 'early modernity' concept because even senior history majors do not understand it, but most of this class did and scored very well."