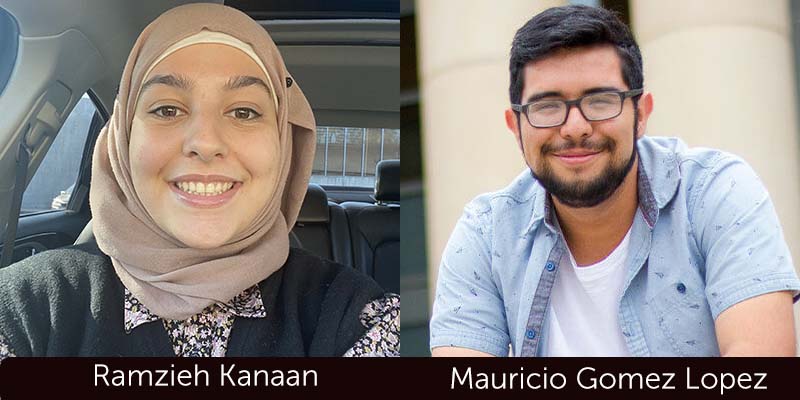 Two students at Cal State Fullerton will represent California at Posters on the Hill, an annual event designed to ensure members of Congress clearly understand the importance of undergraduate research and the educational programs for which they provide funding.
The Council on Undergraduate Research (CUR) chose seniors Mauricio Gomez Lopez and Ramzieh Kanaan as two of 88 undergraduates from across the nation to participate in the event, which will take place virtually April 26 and 27.
Students who wish to participate in Posters on the Hill submit abstracts describing their research in any of CUR's divisions, said Terri Patchen, faculty fellow for CSUF Student Creative Activities and Research. The divisions include arts and humanities, biology, chemistry, engineering, geosciences, health sciences, mathematics/computer science, physics/astronomy, psychology and social sciences.
"Few things demonstrate the value of undergraduate research more effectively than the words and stories of the student participants themselves," Patchen said.
Physics major Gomez Lopez worked with his mentor, Dr. Wylie Ahmed, to present his research poster, "Studying Living Materials for Next-Generation Applications."
Exposed to active matter during his freshman year, Gomez Lopez was fascinated with its collective dynamics at various sizes, from a flock of geese to swarms of bacteria. His research delves into the essence of what makes living matter special and its potential to create a new class of functional materials to address societal challenges.
"After some time, I learned that there is an overlap between this field and cancer research," Gomez Lopez said. "My grandfather, an advocate of my studies, died due to cancer my sophomore year. This really motivated me to study these collective behaviors and is a reason as to why it is so important to me."
After taking a soil mechanics course with her mentor, Dr. Xenia Wirth, civil and environmental engineering major Kanaan said she felt encouraged to pursue geotechnical research and gain more practical experience with geotechnical materials and tests.
Her presentation, "Geotechnical Properties of Ashes and Soils Exposed to Wildfires," explores the engineering behaviors of ash and burned soils to pinpoint which communities near burned hillsides are at risk of experiencing a landslide after a wildfire.
"California wildfires pose a huge threat to the communities affected every year or season," Kanaan said. "Doing research is important to me because it makes me feel like I can make a good impact on the environment, even if it's a small change."
The CSUF Office of Research and Sponsored Projects (ORSP) encourages students to participate in Posters on the Hill by reimbursing student registration fees for those selected. Titans represented CSUF in the event in 2015, 2016, 2017 and 2020, said Dr. Binod Tiwari, associate vice president for ORSP.
"This is the fifth year CSUF undergraduates have been invited to this prestigious event, and it's imperative – now more than ever – that their voices are heard on Capitol Hill," Tiwari said.
Provost and Vice President for Academic Affairs Dr. Carolyn Thomas said she is thrilled to see two Titans selected to showcase their work in such a public forum.
"The CUR's mission is to advocate for undergraduate research at the federal level, and Posters on the Hill is a main stage for that advocacy," Thomas said. "With their selection, our students are being celebrated for their impressive work. They're also getting a chance to communicate their findings to lawmakers who can take action. What a fantastic opportunity to make a difference for our Titans!"