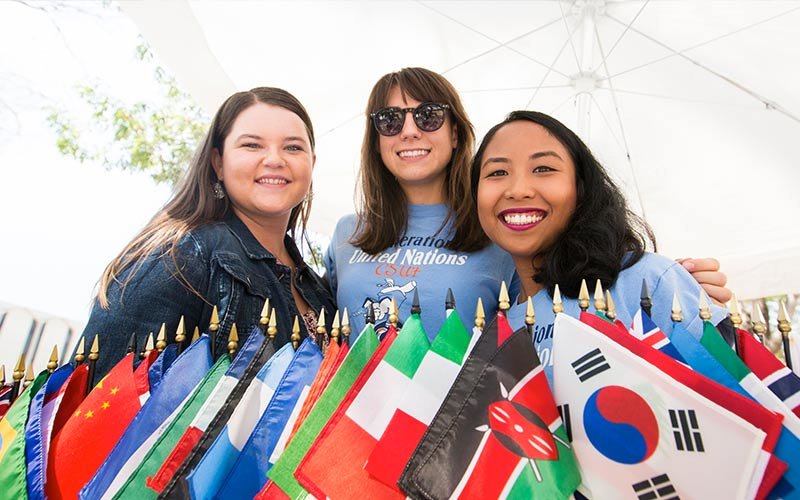 To celebrate International Education Week 2022, which takes place from November 14-18, CSUF Extension and International Programs invites all Titans to "Study Abroad in a Day!" This event will feature activity tables representing a wide variety of international cultures, hosted by different student organizations and international campus partners. There will be games, crafts, live performances and more!
"Through this event, we want to cultivate curiosity, appreciation and respect for all cultures by providing enriching experiences with diverse individuals and groups," said Tim Mercado, a graduate student assistant for Study Abroad & Global Engagement (SAGE) who is helping to plan this event. "It's an opportunity for CSUF students, faculty, staff and alumni to practice being Global Titans."
While more participants are expected to join "Study Abroad in a Day" on Tuesday, November 15, here are the featured tables that you can look forward to seeing so far:
Matthias Gerling & Julia Lockowandt, Exchange Student: Hochschule der Medien Stuttgart University (Germany)

Sunwoo Lee, Exchange Student: University of Paris-MICEFA (France)

Kayoko Aoi, Exchange Student: Nanzan University (Japan)

Aileen Vickory, Study Abroad Advisor: Daruma Dolls (Japan)

Matthew Sherman & Arjun Mann, Exchange Student: University of Birmingham (England)

Yousef Saja, Exchange Student: University of Hull (England)

Morgane Gourlot, Exchange Student: Université Paris 1 Panthéon-Sorbonne; MICEFA (France)

HSS-Dean's Office: Summer Session Study Abroad Programs

College of Communications: Maxwell Center

OLLI CSUF: OLLI Connections and Conversations-Let's Talk!

CTVA & HCOM in Spain, Summer Session 2023
If you're ready to explore a world of cultures, come by Becker Amphitheater on November 15 from 11 a.m. – 2 p.m. for "Study Abroad in a Day!" Throughout the rest of International Education Week, there will also be other events to look forward to.
Visit extension.fullerton.edu/international for more information.