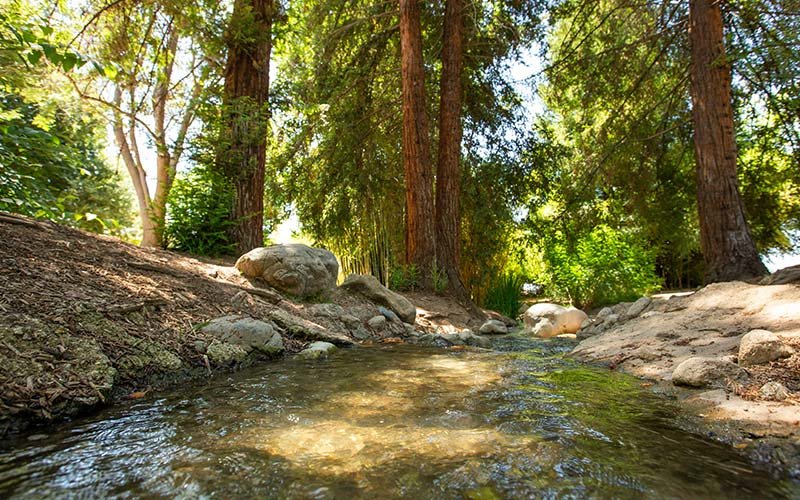 As much of California and the West continue to endure a worsening drought, it's more critical than ever to prioritize water conservation. The Fullerton Arboretum Director, Greg Dyment, offers, "Water is an important natural resource in California and is not to be wasted. Here at Fullerton Arboretum we have implemented a water conservation plan, that includes selecting plants for our collection that are appropriate for our Mediterranean climate and prolonged drought conditions. Our goal is to water very little and keep plants healthy by not overwatering. We should all be good stewards of our natural resources and water is one of those resources."
Fullerton Arboretum has taken several steps to reduce water use while still being able to maintain the health of the beautiful garden collections. Here are 6 ways that they are working to fight the drought:
Lawn Reduction:

Grass lawns have been removed around Oak Hall and Heritage House and replaced with native vegetation.
Irrigation:

High-efficiency sprinkler heads, irrigation valves, and automated controllers have been installed throughout the Arboretum.
Plant Collections:

A large portion of the Arboretum consists of drought-tolerant collections.
Horticultural Techniques:

The horticultural team continuously monitors the irrigation equipment for any leaks. They also use compost and mulch, some of which are produced from campus food waste, to retain soil moisture and reduce evaporation.
Infrastructure:

The waterfall, stream, and pond at the Arboretum all operate with a recirculated hydrological system. There are also low water use bathrooms at Bacon Pavilion.
Campus and Public Education:

The Arboretum staff educates the public on water conservation through social media, "walks and talks," school tours, native plant sales, discovery stations, and workshops.
Support Fullerton Arboretum and their water conservation mission by becoming a member, making a donation, visiting the gardens, or simply volunteering! Learn more at https://fullertonarboretum.org/.