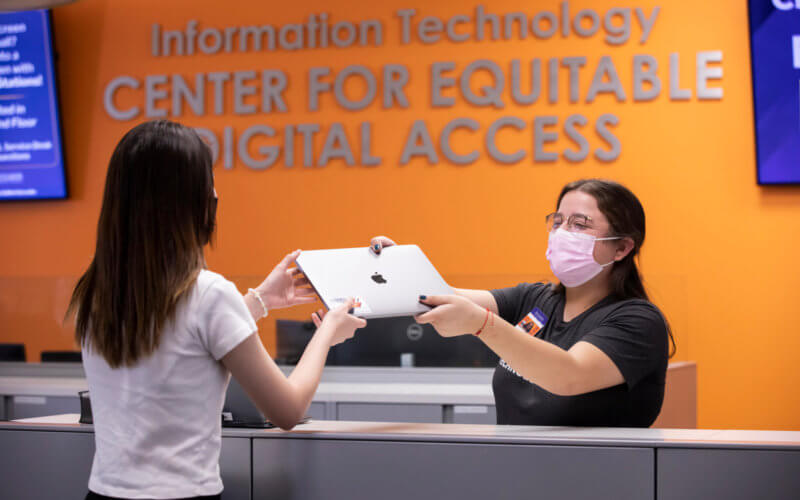 To advance student success, Genesis Bank recently helped the university establish a partnership to improve digital equity amongst CSUF students. Sharing a similar commitment to supporting the needs of underrepresented communities, Genesis Bank leveraged its business network to connect CSUF with Excess Telecom. Through this connection, Genesis Bank helped to lay the groundwork for a new program that provides opportunities for CSUF students to gain free access to MiFi devices.
The new program is a collaboration between CSUF's Center for Digital Access (CEDA) and Excess Telecom. Established in fall 2022, CEDA aims to serve as a hub for technology resources, services, and activities designed to advance student success. Located on the 2nd floor of the Pollak Library, CEDA seeks to provide all students with the technology solutions needed to thrive academically and in the workplace.
Through the partnership with Excess Telecom, MiFi devices are now available to CSUF students at no charge. Any CSUF student – or community member – receiving financial assistance through a federal support program, such as a Pell Grant or MediCal, is eligible for a device.
CSUF recently reached out to approximately 1,000 CSUF students receiving Pell grants as part of a pilot phase. In less than two weeks, more than 100 students responded and received a MiFi device. Due to strong interest, Excess Telecom has generously offered to host additional Pop-Ups later this fall and spring semesters.
The connection made by Genesis Bank has been a game changer for CSUF and its students, who now have access to additional meaningful technical resources. This program will impact hundreds of CSUF students and community members, ensuring more equitable access to critical technology that supports personal, academic, and career success.