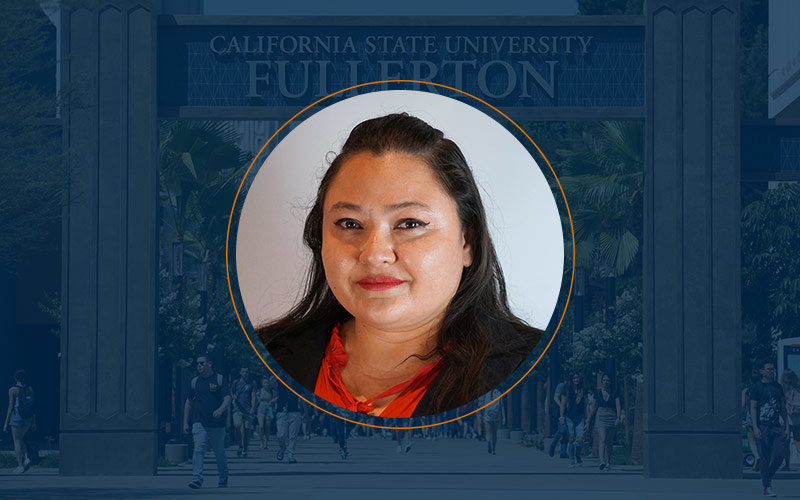 Osher Lifelong Learning Institute, or OLLI-CSUF, is a program at Cal State Fullerton that allows older adults to continue learning in a university setting. They offer classes, events, and educational trips that keep participants engaged and socially active.
Every year, OLLI selects a CSUF gerontology graduate student to be recognized for their outstanding contributions to the field. This year, Melina Wulin Ulloa was the recipient. She was presented with the Master's in Gerontology Outstanding Graduate Award, along with a $1,000 scholarship. OLLI recognized Melina for her "exceptional resume of leadership, dedication, and perseverance."
Wulin Ulloa immigrated from Mexico and faced many challenges coming to the U.S., including the language barrier. However, she persevered and succeeded in earning her GED, which would be the first step in achieving a college degree. From there, she continued polishing her English skills by taking ESL classes.
After earning an associate's degree in psychology at Fullerton College and a bachelor's degree in psychology from Cal State Fullerton, she is now pursuing a master's in gerontology at CSUF.
Last semester, Wulin Ulloa interned as an aging studies student coordinator, managing undergraduate interns who were working at Project LIFE and St. Jude Medical Center. This semester, she is interning with North Orange Continuing Education as an older Adult Educator Apprentice. She also interns for Working Wardrobes, where she is learning "all facets of helping underemployed and unemployed people."
Upon completing her master's degree, Wulin Ulloa plans to enroll in a Ph.D. program. She's particularly interested in studying evaluation in applied research methods or cognitive sciences. She hopes that with her Ph.D. research and the knowledge that she gained from her degree, she can find a way to improve people's well-being. "By studying and changing behavior, we, as a society, can be healthier with greater longevity," said Wulin Illoa. "I wish to be a part of this progressive potential."
Osher Lifelong Learning Institute at Cal State Fullerton http://olli.fullerton.edu/ is administered by CSUF Extension & International Programs (EIP). To learn more about EIP, visit https://extension.fullerton.edu/