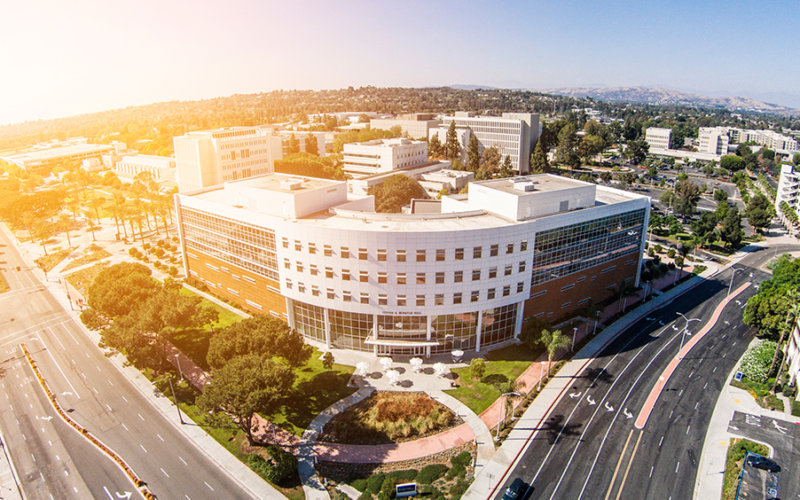 By Daniel Coats '15, '18
Accounting and auditing professionals, academics, policymakers and students gathered both in person at Cal State Fullerton and virtually from around the world for a hybrid 21st annual SEC "Hot Topics" Conference on Sept. 23. The one-day event, held each September as a service to the professional community, informs the industry and academic world about the latest trends transforming the financial reporting and compliance fields and provides continuing education credits for industry attendees.
"This event is important for auditors and companies, as well as for CSUF," explains Vivek Mande, chair of the School of Accountancy and the school's Center for Corporate Reporting and Governance (CCRG), which hosts the annual event.
"For the companies and auditors, it informs them of corporate reporting and governance issues in the corporate environment. It gives them a chance to hear directly from the rule makers at the SEC and FASB. Besides that, the audience also listens in on a few panels which discuss the current business climate 'hot topics' of interest. This year, the conference's focus was climate change and cybersecurity and their impact on business."
Dynamic high-profile speakers make the annual event particularly noteworthy for companies, which, in turn, provides high-level networking that benefits students, faculty and professional attendees.
"This event connects many premier companies to the business school and allows them to form relationships. This benefits our students as these companies will look to recruit and hire CSUF graduates and bring them into their organizations. We are already seeing this in the Orange County accounting field, as many CSUF graduates work for Big Four, mid-tier and local firms," says Mande.
The highlights of the 2022 conference included keynote addresses by SEC Commissioner Hester Peirce and KPMG Chief Economist Diane Swonk.
Peirce discussed the climate change and cybersecurity regulations under consideration at the SEC and the need to balance action while avoiding overregulation of business. After a lively exchange with conference attendees, Peirce said she planned to take the feedback to the SEC as they consider national policy.
Swonk discussed macro forces impacting the economy, including the war in Ukraine and other geopolitical threats around the world dragging the economy downward, as well as inflation and the Federal Reserve's response. Though addressing the challenges the economy faces, Swonk ended her discussion on an optimistic note about the future, believing U.S. institutions to be strong.
CCRG is committed to advancing corporate reporting and governance through education, research and collaboration with the business community and regulators. For more on the center and its mission and activities, read more of our articles on corporate reporting and governance.