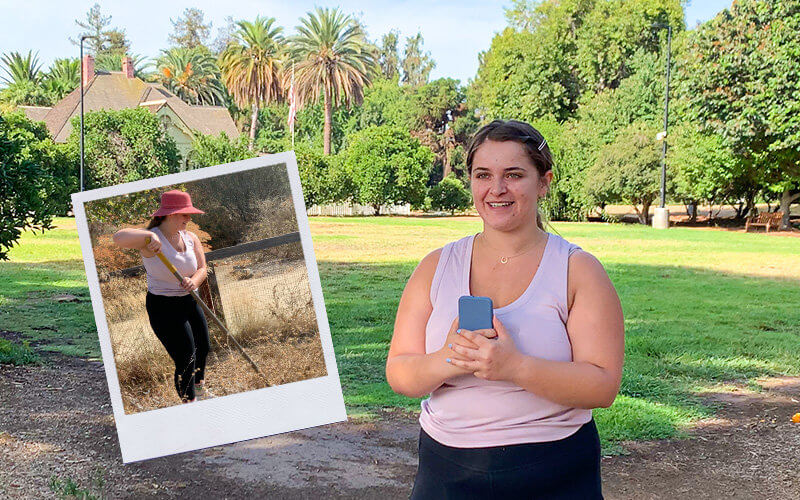 2.5 months. 120 hours. Countless overgrown weeds. One determined student.
From June 1 to August 19, CSUF environmental studies graduate student Alexandra Lewandowski worked to restore the California Native Meadow at Fullerton Arboretum. From 8:30 a.m. to 12:30 p.m. each week, she would head to the meadow with nothing but her weeding tools, trash bins, and a lot of determination.
Alexandra graciously took on this project as a summer internship, which was certainly no easy feat.
"For the last two years or so, Fullerton Arboretum was closed because of the pandemic, which resulted in a lot of neglect and overgrowth of weeds," Alexandra explained in an interview with CSUF Extension & International Programs (EIP). When she first began the process, the area was so overgrown she could hardly open the front gate to enter the meadow!
By the end of her internship, however, Alexandra had made incredible progress in clearing the weeds. During the fall semester, she continues to work on the California Native Meadow for her graduate project, but now she will be focusing on a restoration plan to add new plants back into the space. "I'll be planting things like evergreens, perennials, and other stronger, long-lasting plants that will hopefully resist the return of more weeds."
Alexandra enjoys getting to do this work, but she emphasized that the Arboretum is always in need of help. Volunteers and interns help make it possible to keep the gardens maintained and prevent overgrowth and neglect such as happened with the California Native Meadow.
"The Arboretum needs help! A lot of help," Alexandra said. "And working outside is a huge benefit. I've been getting pretty fit this summer and much stronger from working outside. So there's a really good physical benefit.
There are also so many different learning opportunities! There are so many things to do. We get people from biology, environmental studies, psychology, and education, just to name a few."
No matter what area of interest or expertise you have, there is an opportunity available.
To learn more about internships, volunteering, and other ways to get involved at Fullerton Arboretum, visit https://fullertonarboretum.org/