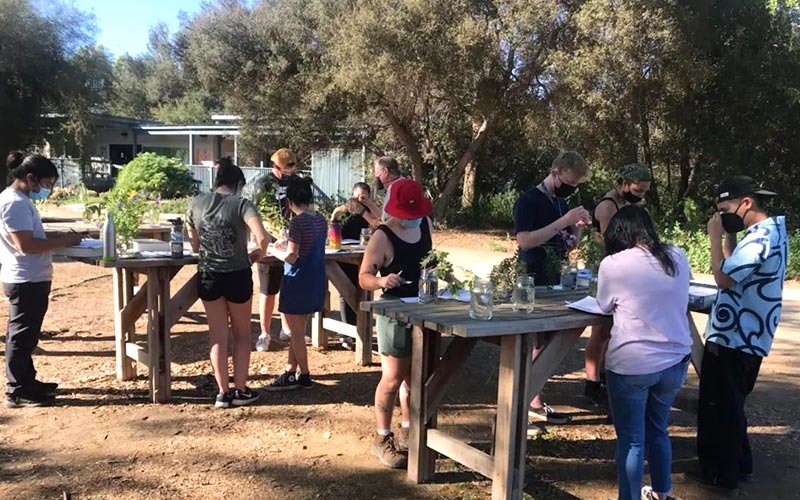 For CSUF students who love nature and spending time outdoors, Fullerton Arboretum has a perfect internship opportunity waiting for you!
The Engaging Environmental Experiences (E3) Internship provides CSUF students with real-world environmental projects under the mentorship of Arboretum staff members. Interns are trained to be future leaders in science, conservation, environmental education, horticulture and more.
"The Arboretum is accredited at the highest level, not only because of the living collections here, but also because of the scholarly work that is done," says Harriet Bouldin, the development/membership/volunteer manager at Fullerton Arboretum. "So the opportunity for any student to be a part of the E3 program will definitely further their academic goals."
The E3 internship is available to all CSUF students, and there are opportunities for any major. For instance, Illustration major Arshya Bakhtiani designed banners and a mural for Fullerton Arboretum. "The garden opened the opportunity of creating work that involved the themes I enjoy the most," said Arshya, who enjoys nature and often uses it as inspiration for her artwork.
Another nature lover, Environmental Studies major Alexandra Lewandowski, completed a summer internship where she cleared out weeds in the California Native Meadow. She enjoyed getting to work outdoors and encourages other students to get involved. "The Arboretum needs help! A lot of help," Alex said. "And working outside is a huge benefit. I've been getting pretty fit this summer and much stronger from working outside."
No matter your interest or skill set, there is an opportunity for you to intern at Fullerton Arboretum. To learn more and apply for the Engaging Environmental Experiences (E3) Internship, visit https://fullertonarboretum.org/internships.aspx