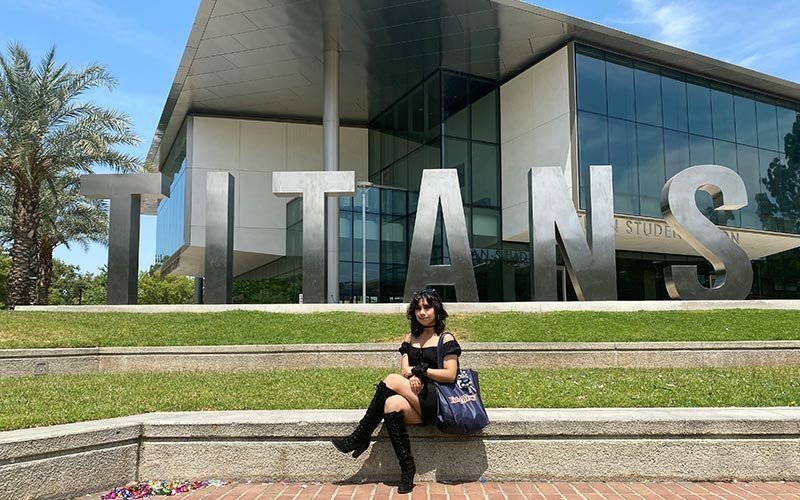 After just one year at Cal State Fullerton, Beverly Gonzalez has already made some impressive accomplishments. Not only does she serve as a Global Titan Ambassador, but she is also a mentor for underserved students in Mexico and Ghana…all without having to travel anywhere!
It began when Gonzalez attended the Fall 2021 virtual International Education Week, hosted by the Study Abroad and Global Engagement (SAGE) office at Cal State Fullerton. It was there that she learned about a service-learning program called Village Book Builders. When she discovered their online mentor option, she saw it as a great opportunity to help others while still being able to complete her studies at CSUF. "I really like working with children…so I definitely wanted to sign up, even if it's not within my career goal of wanting to be a graphic designer, it's still a really good opportunity because overall I just want to help the world."
Even though Gonzalez doesn't study abroad through this program, she is still making an impact abroad by mentoring students in Mexico and Ghana. That's why she was able to become a Global Titan Ambassador (GTA). The GTA team serves to share their experiences and inspire other Titans to participate in international programs.
Gonzalez started as a GTA last spring and will be continuing for the 2022-2023 academic year. "Overall, it's been really fun! It's kind of like working backstage in the Study Abroad and Global Engagement office." She gets to help fellow students start their study abroad journey, and this includes hosting virtual info sessions for them. "It's really nice, because I'm learning how to be more professional with my speaking skills…and it really helped my resume; I was able to get a job!"
At the Study Abroad Office, Gonzalez also gets a chance to practice her skills as a graphic design major, creating posts for the office's social media accounts. "You get so much work experience, so I really recommend it."
Gonzalez strongly encourages other students to get involved with CSUF Study Abroad and Global Engagement. She emphasizes there are many global opportunities to choose from, including virtual ones like Village Book Builders, and it doesn't always have to involve traveling to a different country.
Are you ready to discover the virtual, domestic, or global opportunity that's right for you? Get started at https://extension.fullerton.edu/studyabroad/.
The Study Abroad and Global Engagement Office is part of CSUF Extension and International Programs (EIP). To learn more about EIP, visit https://extension.fullerton.edu/.