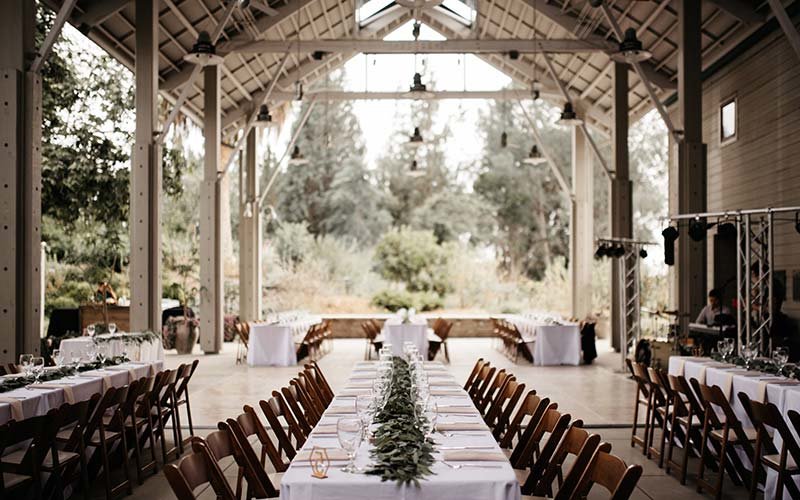 Picture yourself hosting a wedding, family celebration, educational presentation, or corporate or community event in a peaceful garden setting. The weather is warm, there's a pleasant breeze, and all the attendees are admiring collections of unique plant species.
This can all be made possible when you plan your event with Fullerton Arboretum!
Fullerton Arboretum venue rentals are available to host events with anywhere from 10-300 guests. There are several options to choose from, based on your event details:
Bacon Pavilion
Bacon Pavilion is an open-air patio that seats up to 300 guests. With its stunning views, outside catering options, and full-service kitchen, this is the perfect venue for dinner parties, dances, receptions, fundraisers and corporate events.
Wisteria Arbor
Wisteria Arbor provides an intimate covered arbor in the gardens with seating for 25-150 guests. This is perfect for wedding ceremonies, services, and team retreats.
Bacon Pavilion Meeting Rooms
Need to host a seminar, workshop, or team retreat? The Bacon Pavilion meeting rooms provide a serene and tranquil environment that can accommodate up to 75 guests. State-of-the-art audio and visual equipment is also available for rent.

No matter the occasion, Fullerton Arboretum will help make your special event, business meeting, business retreat, or social gathering memorable for everyone. To reserve a venue, please submit a quick and simple Event Request Form. The team has a list of approved vendors to make planning easier with those who are familiar with the garden setting and accommodations.
Fullerton Arboretum is administered by CSUF Extension & International Programs (EIP). To learn more about EIP, visit https://extension.fullerton.edu/