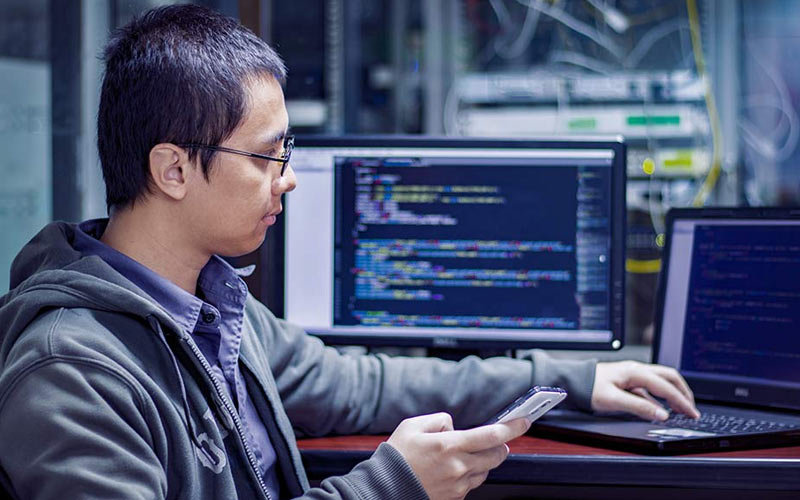 Now is the right time for a career in cyber security.
As it becomes more common for companies to implement remote and hybrid working, this creates a greater risk for data breaches, software/hardware damage, and information leakage. This has also led to a greater need for cyber security experts.
According to the U.S. Bureau of Labor Statistics, in 2021, the median pay for cyber security experts was $102,600, and there's an anticipated 33% job growth from 2020-2030. If you are a technical individual who is interested in this path, there's no better way to take advantage of the job opportunities than by earning a certificate from Cal State Fullerton (CSUF).
CSUF Extension & International Programs has two upcoming certificate programs that will help you enter the field or advance your current job: the Cyber Security Analyst program (Fall 2022) and the Cyber Security Engineer program (Spring 2023).
What are some distinctions between the Cyber Security Analyst and the Cyber Security Engineer certificate programs?
Analyst

Interested in the business side of cyber security

May have a client-facing background

Seeks exploration in Governance, Risk, and Compliance

Development, process improvement, and management of a security plan

Engineer

IT experience with a client-facing background – Help Desk, Security Analyst, and others

Technical staff seeking to advance to security leadership roles

Influencing security integration from a technical perspective

Improvement of process maturity across multiple domains
Have questions? An info session will educate you on the certificate program so you can envision your next career move. Reserve your seat for the next session scheduled Wednesday, August 31, 2022 at 6 p.m. Pacific Time. Become part of the change.
Learn more at https://extension.fullerton.edu/professionaldevelopment/new-tech