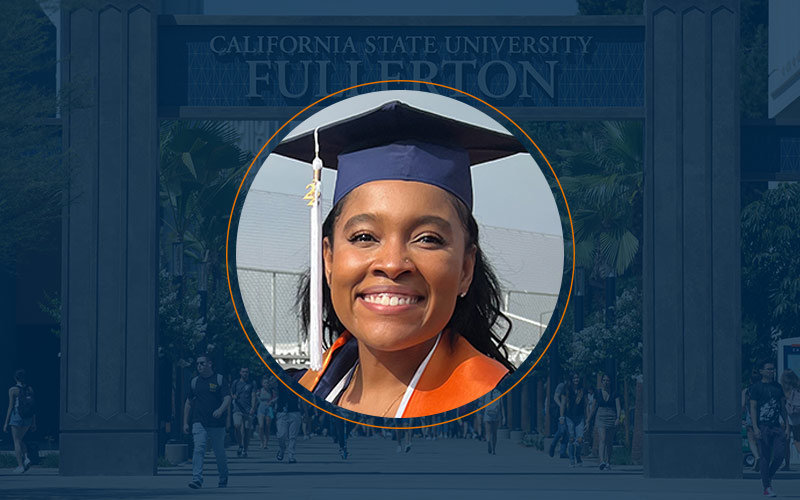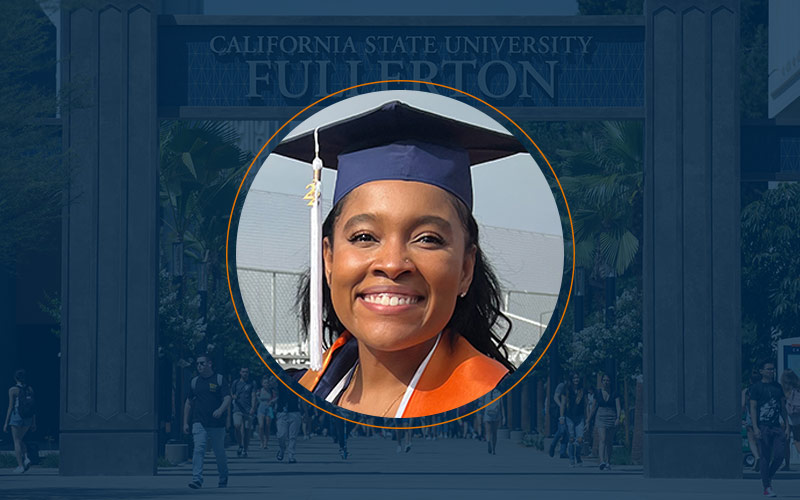 Adelia Jones, an alumna of Cal State Fullerton's Online Bachelor's Program in Humanities & Social Sciences, was recently accepted into an accelerated nursing program at Delaware State University.
However, her journey to this accomplishment was not that simple. It all began two years ago.
In 2020, Jones graduated from Solano Community College and was set to start a nursing program that fall…and then the pandemic hit. The nursing cohort that Jones was supposed to join would be delayed until Spring 2021. This caused a conflict in her schedule.
"I'm a military spouse, so my family and I have to move a lot," said Jones. "Before the pandemic, I had timed everything so that I would start that nursing program in the fall and finish it by the time we moved to Delaware in February 2022.
"Once the pandemic happened, though, I couldn't join the cohort in spring because I wouldn't be able to complete it by the time we moved. My kids and husband would've had to leave without me, and I would've had to wait until I finished the program to join them. I needed a Plan B, so my advisor at Solano suggested an online degree program."
Earning a degree online from Cal State Fullerton worked perfectly for Jones because she was able to attend classes even while moving to Delaware. "The online option was the best thing that ever could have happened. Without it, I wouldn't have gotten my degree. I would 100% recommend it, especially to military members and spouses."
Jones was part of the first cohort in the Online Bachelor's in Humanities & Social Sciences program. Why did she choose this particular program? "I'm going into Nursing, and in the medical field, people don't always take into account how social sciences and anthropology affect us physically," Jones explained. "The way we were raised and our culture affect our physical health. Just learning about cultural differences can make such a huge impact, especially in the medical community. It's helping me so much with my future nursing career."
When asked what her favorite part was about the cohort, she remarked, "Not having to fight for a spot in a class! It was a relief knowing that I didn't have to stress about classes being full and that there was a seat saved for me."
Earning a bachelor's degree allowed Jones to apply and get accepted into the Fall 2022 Delaware State University nursing program. She'll now be able to pursue her nursing career while being with her husband and children in Delaware. "Without the online degree program at Cal State Fullerton, I wouldn't be in the position that I am right now."
Are you ready to earn your own bachelor's degree online with a convenient, flexible schedule? Get started at https://extension.fullerton.edu/onlinedegrees/