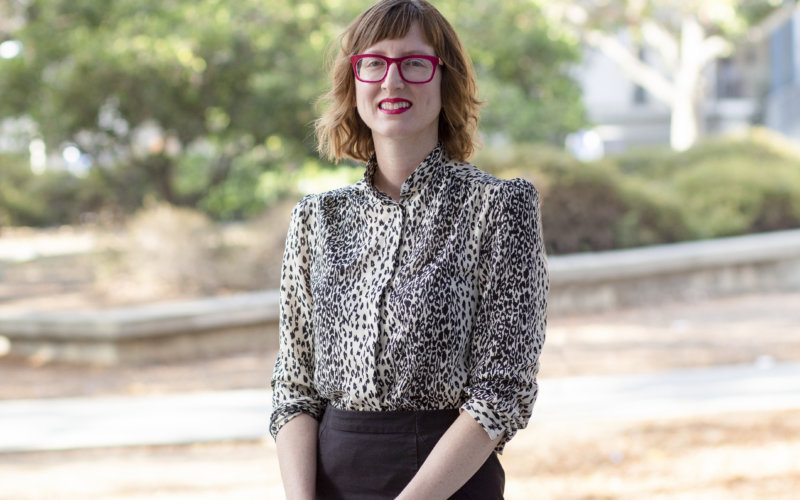 During Pride Month, one CSUF professor asks what queer ecology can teach us about environmentalism. Nicole Seymour, associate professor in the Department of English, Comparative Literature, and Linguistics, examines how environmental destruction connects to gender and sexuality, as well as racism and classism. 
"Pride Month is a great time to reflect on the consumerism and waste that has grown up around Pride itself and to consider alternatives. Maybe you don't need to go to the parade with police and elaborate floats and people throwing out plastic swag that you'll never use again! Maybe you organize a Pride Ride on bicycles or a low-cost Pride picnic with your friends—or see if there's something similar already happening in your town," Seymour suggests.
Seymour was recently featured as a guest on The Takeaway, hosted by Melissa Harris-Perry on the NPR talk radio station. The two discussed the biases and limitations in the field of environmental studies. You can listen to the whole conversation or read the transcript at the WNYC Studios website.
Seymour is the author of many publications. Her most recent book, Glitter (Bloomsbury's "Object Lessons" series), focuses on glitter and how the substance is related to consumerism, emotion, environmentalism, and gender/sexual identity. Seymour enjoys working with students on research and public activism projects such as Climate Change Theatre Action. She recently served as the vice president of the Association for the Study of Literature and Environment (ASLE) and as an area team coordinator for the UC-CSU Knowledge Action Network for Transformative Climate and Sustainability Education and Action.